Coolness Cubed: Apple's Radical New Mac
Harry McCracken
DESKTOP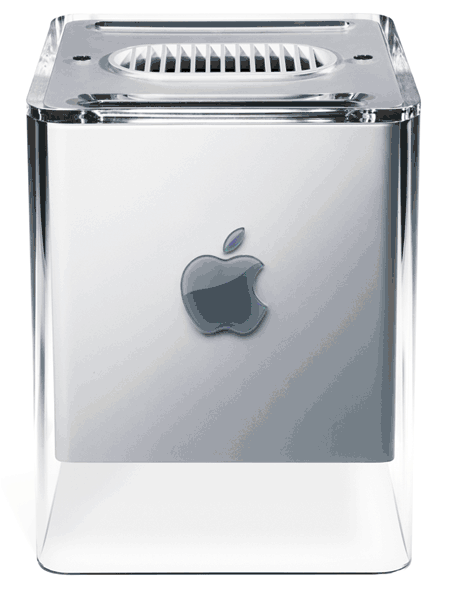 Apple's Power Mac G4 Cube makes such an in-your-face design statement that a cynic might assume this new Macintosh is all beauty and no brains. Not so fast. Sure, its compact steel-and-clear-plastic body, high-style cooling vents, and top-mounted DVD-ROM slot make it look like the Jetsons' toaster (or maybe their Kleenex box). But the Cube also packs features so sensible that you wonder why all PCs haven't had them for years. These innovations help justify its somewhat steep list price: $1799 for a machine configured with a 450-MHz PowerPC G4 processor, 64MB of RAM, a 20GB hard drive, and a DVD-ROM drive, but no monitor. That's $200 more than Apple's entry-level Power Mac G4, which, at 400 MHz, has a slightly slower CPU.
Despite its flamboyant shell, the shipping unit I tested looked rather unobtrusive once set up. Its footprint is only 7.7 inches by 7.7 inches, and its convection cooling system renders it essentially silent. (By comparison, my PC roars like a blast furnace.) In my informal tests, the system's performance was adequate (unfortunately, PC WorldBench 2000 doesn't run on Macs), but the standard RAM allotment seemed tight when the system ran more than one app. So consider bumping the Cube up to at least 128MB of RAM. Adding the appropriate chips is a snap as the Cube's innards easily pop out.
Both the baseball-like Harman/Kardon speakers and the display (if you spring for a new Apple Studio Display monitor) draw power from the system without requiring extra cords, minimizing cable clutter. Even its mouse is a cut above its typical PC equivalent. It's a ball-free, buttonless optical model--to click, just press the mouse itself down.
Apple has a long record of releasing brilliant computers with one inexplicable design glitch. (Think of the original iMac's unwieldy hockey puck of a mouse.) Here, it's the on-off switch, a glowing, touch-sensitive spot on the case's top. Brush it accidentally--I did, repeatedly--and the system goes into sleep mode. Traditionalists may also decry the Cube's lack of a floppy drive. And the absence of free drive bays means you can't add an internal Zip or CD-RW drive.
Still, I hope PC manufacturers take cues from Apple's innovations, as they've often done in the past. We may not need copycat cubes. But we certainly could use more systems that challenge our notions of how a computer looks, feels, and performs.
Buying Information

Apple Power Mac G4 Cube

Great-looking, compact, quiet, reduces cable clutter, nifty mouse.
Troublesome on-off switch, no internal drive bays, a tad pricey.
Neither cheap nor perfect, but Apple's typical elegance and innovation abound in this unit.
List price: $1799


Apple
800/692-7753
http://www.apple.com