CD and MP3: A Match Made in Music Heaven
Melissa J. Perenson
Never mind those pricey, pocket-size MP3 players with limited storage: Give me a portable CD player that can handle 10 hours of MP3 music (about 150 files) burned to a single CD. In addition to providing dual-mode (CD/MP3) playback, these players run $50 to $180 cheaper than their all-digital MP3 counterparts.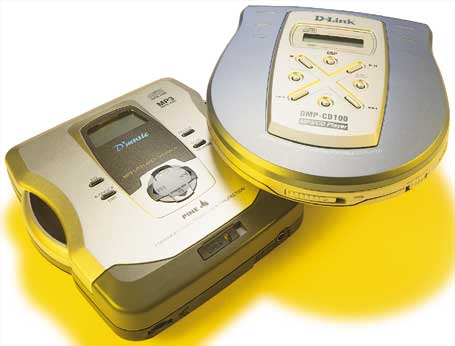 I tested the newest such players from TDK, Pine Technology USA, and D-Link with a CD holding 134 MP3s of varying bit rates (96 kbps to 360 kbps). Many of the songs' ID3 tags--which contain artist, track, and album information--were incomplete or improperly formatted.
Fortunately, the preproduction, $180 TDK Mojo was not bothered by this. The black, sleekly contoured Mojo had no difficulty reading the associated (and often unorganized) ID3 information on my music CD. Plus, TDK throws in a PC utility that lets you reorganize your music's ID3 tags before you select which MP3s to burn to CD via the included MusicMatch 6 software and your PC's CD-RW drive. The utility flags each music file so the Mojo can browse through a CD by track, album, artist, or genre. Although the device made it a snap to create playlists of song subsets, I could not put the songs in a specific playback order.
The TDK's large, easy-to-read backlit LCD screen is packed with icons and text information, including the track title and artist, equalizer presets, battery life, and repeat modes. Menus are generally well organized and simple to navigate, and the button controls are conveniently placed.
Thanks to an anti-skip 8-minute buffer for MP3 files, no matter how roughly I jostled the unit, the music never missed a beat--either with an audio CD or an MP3 CD.
Also handsomely designed is the D'music MP3 CD Player SM-200C+ from Pine, with sound quality that's on a par with the Mojo's. This silvery $229 shipping unit features a handy, rocker-style button for playback controls. Though the D'music's LCD is significantly smaller than the TDK's, it provides most of the pertinent information you'll need (track time, track number, battery life, playback mode, and a single scrolling line that provides the track title). As I soon learned, however, if your MP3 files are improperly formatted, the player won't display track title and artist information.
You can't create playlists, but you can scan ahead to a point within a track (TDK expects this scan feature to be available in the shipping version of the Mojo, too). Pine's model has 50 seconds of electronic shock protection (ESP), which proved adequate for weathering most jolts it suffered while using either standard audio CDs or CDs with MP3 files.
Like the Mojo, the D'music has several equalizer pre-sets. Although neither player offers a significant sound boost through its presets, the D'music's settings were slightly more effective than those on my preproduction TDK unit.
If your budget is tight and you're willing to make compromises, the bare-bones, blue-and-silver DMP-CD100 by D-Link may be for you. My shipping copy of this $120 player lacked a detailed track information display, but it did provide a shortcut button to simplify skipping to higher-numbered tracks.
One attractive feature of the DMP-CD100 is its programming mode, which lets you establish an ordered playlist. There are no equalizer presets, but a bass boost switch does its job nicely. Still, the sound isn't as good as on the other two players, and 10 seconds of ESP did little to prevent skipping.
Overall, the TDK Mojo is the best-designed, best-sounding player in this group, with the Pine SM-200C+ finishing a close second. But any of these three units will support hours of enjoyable music playback.
Buying Information

DMP-CD100

Low cost; programming mode.
Display lacks track information; inadequate shock protection.
Entry-level player at insignificant price premium over a standard portable audio CD player.
List price: $120


D-Link
800/326-1688
http://www.dlink.com

Buying Information

D'music MP3 CD Player SM-200C+

Excellent player controls.
Does not have a programming or playlist mode.
Good choice if playlists aren't a priority.
List price: $229


Pine Technology USA
626/912-9100
http://www.pineusa.com

Buying Information

Mojo

Full track and artist info; easy track search and playlist generation.
Can't specify a particular song order within a playlist.
Best design and playback options available today.
List price: $180


TDK
800/835-8273
http://www.tdk.com