Adobe Premiere 6 Video Editor
Jeff Sengstack
GRAPHICS
A great leap forward for a well-regarded and popular video-editing product, Adobe Premiere 6 offers vastly improved editing tools, techniques, and Web integration. Its solid features will satisfy pros, while its intuitive ease-of-use could attract serious beginners.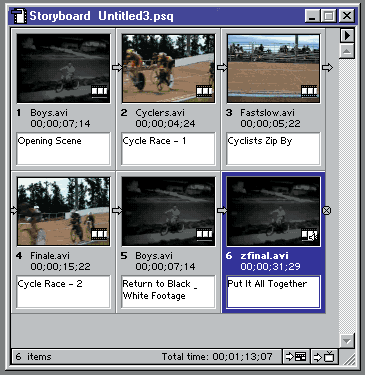 At $549, version 6 isn't cheap, but it has plenty to offer, including true plug-and-play capability and simple, precise controls for capturing digital and analog video. In tests of a beta version, moving from video capture to finished product took only a few minutes with the new storyboard approach. You drag and drop video clips to the storyboard window, rearrange them if you like, trim individual clips, and then click to transform your project into a timeline for additional fine-tuning.
Premiere will convert your finished project to play on a Web site as streaming video or as a download optimized for common bandwidth speeds. Version 6 supports all popular and professional video formats, as well as MP3 audio. An audio mixer, which version 5.1 lacked, lets users manually change volume and balance during editing while Premiere captures their actions.
A full palette of special effects and scene transitions is available in one window; apply them to a scene by dragging and dropping. Experimenting is encouraged, and mistakes are easy to repair: A new history tab can track up to 99 changes and lets you go back as many steps as you need.
Another improvement: If you have a fast processor--700 MHz or higher--you can see all of your edits, special effects, and audio fixes play back in real time or while you drag your cursor through your project. Slower processors may incur minor delays during more complex transitions.
For most current Premiere users, the new features make the upgrade well worth its $149 cost (users of competing products can switch for $299).
Buying Information

Adobe Premiere 6

Full-featured video editor.
It's just too expensive for simple editing projects.
Software with complete digital-video-to-Web capability.
Street price: $549, upgrade $149, competitive upgrade $299


Adobe Systems
800/685-3504
http://www.adobe.com/premiere