Make Desktop Text Easy to Read
Scott Dunn
You stare at your computer screen for hours each day. You owe it to your eyes to make the text on your screen as easy to read as possible, but choosing the right system fonts can be difficult. Windows lets you use TrueType and other scalable fonts of almost any size, but many scalable fonts quickly become illegible when shrunk, and a too-large font can clutter your workspace.
These tips will help you get compact yet readable fonts for your icon labels and other Windows elements.
Basic steps: To change the size of the text labels that Windows uses in your icons, title bars, menus, and other interface items, select Start, Settings, Control Panel and open the Display applet, or right-click the desktop and choose Properties. Click the Appearance tab and choose a screen element, such as Active Title Bar, from the Item drop-down list. Now select a typeface from the Font drop-down list and a size from the box to the right. Click Apply to see the results, and then click OK.
Stick to bitmaps: Most bitmap fonts are designed specifically for on-screen viewing, and they're often easier than PostScript, TrueType, and other scalable formats to read on a monitor. The problem is figuring out which fonts listed in Display Properties are bitmap fonts. Click Start, Settings, Control Panel and open the Fonts applet. Make sure you have Large Icons selected in the View menu. The icons labeled with a red capital A are bitmap fonts, and those with two capital T's are TrueType fonts. Though some dialog boxes show these icons in the drop-down list, Display Properties does not.
See all available fonts: If only TrueType fonts are listed when you open your Fonts folder, your system is probably configured to hide all other fonts. To change this setting, click Start, Settings, Control Panel, open the Fonts applet, and then choose View, Options or Tools, Folder Options, depending on your version of Windows. Click the TrueType tab and make sure the box next to Show only TrueType fonts in the programs on my computer is unchecked. Now click OK and follow the prompts to let Windows restart.
Try an Adobe system font: Many Adobe applications--including Photoshop, InDesign, and recent versions of the free Acrobat Reader--use a special bitmap font for dialog boxes and floating palettes. The small version of this font creates crisp, readable icon labels and maximizes screen real estate. If you have one of these applications, chances are you already have the font.
To tell Windows how to use it, choose Start, Find, Files or Folders or Start, Search, For Files or Folders, depending on your version of Windows. In the top box, type ad*.fon. To save time, have the search start in the folder where your Adobe applications are installed--for example, c:\program files or c:\program files\adobe. Click Find Now or Search Now. Look for a file named AdobeUI.FON or Admui316.FON (see Figure 1)--either of these names will do.
Now click Start, Settings, Control Panel and open the Fonts applet. Go back to the Search Results or Find Files window, and drag either of the.fon files to the Fonts window to create a copy of the file there. If you see an error message, you've selected a version of the font that doesn't work with Windows. In that case, try using a font from a different Adobe application folder (if you have one).
Once you've found a font that doesn't trigger an error message, close the Search/Find and Fonts windows. When you reopen the Font drop-down list under the Appearance tab in Display Properties, you will see fonts with such names as AdobeLg, AdobeSm, ADMUI3LG, and ADMUI3SM. Experiment with these fonts to find one that suits your needs (to do so, select Icon in the Item drop-down list).
Fix the width: Once you've customized your icon and folder labels, you may find that the text under the icons is too wide or not wide enough. To fix that, return to the Display Properties dialog box. Select Icon Spacing (Horizontal) from the Item drop-down list. Increase or decrease the Size number to the right, and click Apply to see the width of the area occupied by the text change. This setting changes the spacing between icons when you right-click the desktop or a folder with large icons and choose either Line Up Icons or an option from the Arrange Icons menu.
Create a 'Show Desktop' Shortcut
If you have Windows Millennium, 2000, 98, or 95 with Internet Explorer's Desktop Update installed, the Quick Launch toolbar on your Windows taskbar probably includes a Show Desktop icon (with a little blotter, paper, and pencil) that toggles between minimizing and restoring all open windows. But what happens if you or some errant application deletes this icon?
To restore it, select Start, Find, Files or Folders or Start, Search, For Files or Folders. In the Named box, type "Show Desktop.scf" (including the quotation marks). Specify Local Hard Drives in the Look In field. Click Find Now, and if you're in luck, the Find utility will locate a copy of this file. When it does, drag the file from the Find window to the Quick Launch bar to place a Show Desktop icon there.
If your search turns up nothing, you can re-create this file yourself. Open Notepad and type the information you see in Figure 2, exactly as shown. Then choose File, Save As, and navigate to the folder where Quick Launch items are stored. To find this folder, right-click an empty area of the Quick Launch toolbar (or the gripper line that you drag to resize the toolbar) and choose Open. The folder name appears in the Address bar. In the 'File name' box, type "Show Desktop.scf". Make sure that you include the quotation marks to prevent Notepad from adding its default.txt extension. The shortcut should reappear on the Quick Launch toolbar.
If you have difficulty finding the Quick Launch folder, you can always save the Show Desktop.scf file on the desktop, and then drag it to the Quick Launch bar. You don't have to keep the Show Desktop icon on that toolbar; you can copy the icon (or a shortcut to it) onto any customizable toolbar or menu (such as the Favorites menu). And if you have a Windows keyboard, you can press Windows-D instead of clicking the Show Desktop icon (see "Windows Toolbox.")
Start WordPad the Way You Want
Every time I start my WordPad program, it uses the default font setting of point size 10 and I have to change it manually to the size I prefer. How can I change the default font size, style, and other properties?
Sam Cimino, Merrillville, Indiana
The short answer is, you can't. But you can work around this limitation fairly easily. Start WordPad, and if you have any boilerplate information, such as a logo or a letterhead graphic, type or paste that into a new document. Move the cursor to where you want to start typing your text, and type a space. Select the space you just typed, and apply the desired typeface, size, alignment, and other settings (see Figure 3).
Now choose File, Save As, select a location that is unlikely to be moved or deleted, and give the file a name such as Template. Click Save. Now choose File, Save As again, but this time right-click the file you just saved in the dialog box, and select Properties. Check the Read-only box and click OK. This will protect the file from accidental changes. Click Cancel in the Save As dialog box.
Right-click the Start button and choose Open. Navigate to the shortcut that you use to launch WordPad, right-click it, and choose Properties. Select the Shortcut tab, click the Target box, and press End to make sure the cursor is at the end of the command line. Type a space, followed by the path to your template file. If the path contains any spaces or long file names, enclose the entire path in quotation marks. If the program (Wordpad.exe) is already enclosed in quotation marks, you'll end up with two sets of quotation marks. For example, your final Target command line might read "C:\Program Files\Accessories\wordpad.exe" "C:\My Documents\Template.doc" (your path may differ). Then click OK.
The next time you launch WordPad, it should open your template with the font you prefer. Because you made the file read-only, you won't have to worry about overwriting the template. If you choose File, Save instead of File, Save As, WordPad will still open the Save As dialog box, prompting you to save the file with a new file name each time you start a new document. You can extend this tip to create multiple WordPad shortcuts, each opening a template for a different purpose.
Make 'My Documents' Point to the Folder You Choose
Windows wisely encourages you to keep your work documents separate from your application files and folders by providing a folder called My Documents. This folder is located on your C: drive by default, but why let Microsoft micromanage your hard disk? Store your work files wherever you want.
To use the My Documents icon to access work files stored in the folder of your choice, right-click the icon on the desktop and choose Properties. Select the Target tab, click inside the Target box, and either type the path to the drive and folder you prefer, or click Browse, select the folder of your choice, and click OK. You can also change the name of the icon by selecting it and then clicking its name or pressing F2, or you can right-click it and choose Rename. Then type a new name and press Enter.
Explorer Window Dressing
Windows Explorer lets you view your files and folders in a single pane (showing only the contents of the drive or folder currently selected), or in two panes (the left showing your drive and folder hierarchy). But too often the first view you see when you open Explorer isn't the one you want. If you usually open your files in a single-pane folder window, you can easily open any folder within that window as a two-pane Explorer window. Just right-click a folder icon and choose Explore. You can also select a folder icon and Shift-double-click it to get the same two-pane view. Be sure to select the desired folder first, though. If another folder is selected, you'll end up opening multiple folder windows.
If you want to view your current single-pane folder window in a two-pane Explorer window, just right-click the Control icon (in the upper-left corner on the title bar) and choose Explore. But in Windows 98 SE, 2000, and Me, you don't have to open a new window: To change the current window, simply choose View, Explorer Bar, Folders. Alternatively, you can use the Folders icon on the Standard Buttons toolbar (select View, Toolbars, Standard Buttons if your Folders icon isn't showing).
You have yet another option: If you prefer not to see a single-pane folder window, you can make sure that double-clicking My Computer or a folder icon always opens a two-pane Explorer window. To do this, choose either View, Options or View, Folder Options (in Windows 9x) or select Tools, Folder Options (in Windows 2000 and Me). Click the File Types tab, and in the 'Registered file types' box, click the File Types column heading; then scroll down and select Folder (not File Folder).
Now click either Edit (in Windows 9 x) or Advanced (in Windows 2000 and Me), and select explore in the Actions list. Click Set Default and close all dialog boxes. You can still open a single folder when you want to by right-clicking the folder and choosing Open. It's nice to have options, as long as you know what they are.
Windows Toolbox: Get More Out of Your Windows Key
Almost all PC keyboards now come with a special key on the bottom row displaying the Windows logo. You can use this Windows key for many useful shortcuts, but why stop with the ones Microsoft gives you? Copernic Technologies' WinKey utility lets you assign almost any unused combination of the Windows key and another keyboard key to open a folder, launch an application, or change the current window. The program is so easy to use, you'll be up and running in just a few minutes. And best of all, WinKey is free. It's available from our Downloads library and at the vendor's site.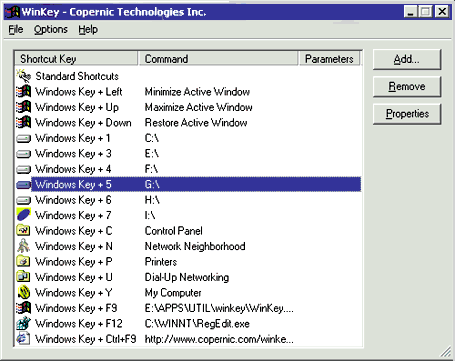 We pay $50 for published tips and questions. Scott Dunn is a contributing editor for PC World.