Bulk Up Your PC's RAM
There's never been a better time to add more memory to your PC. Here's what to do.
Stan Miastkowski
For a low-cost, potentially dramatic boost to your system's performance, nothing beats adding memory. And there's never been a better time to do it: RAM prices are amazingly low (about $25 for 128MB at press time), and applications and operating systems continue to demand more and more of it. For Windows XP alone, 128MB is recommended. Add a few concurrently running applications, and it no longer seems ridiculous to equip your PC with 256MB, 512MB, or even more.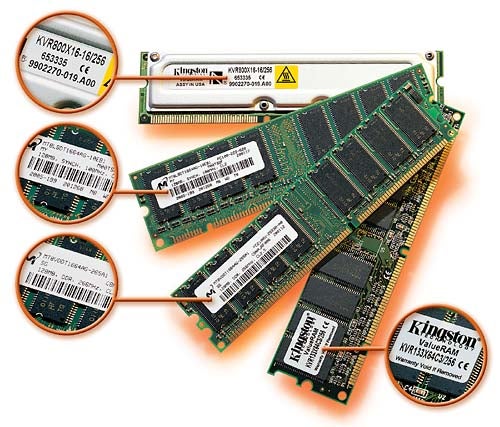 Adding RAM makes your PC work better because it makes data instantly available. If you start a task and your PC has insufficient unused RAM to handle the job, Windows copies a dormant task to a swap file on your hard drive, freeing RAM for the new task. Switch to a swapped-out task, and Windows makes it trade places with some other dormant task, causing a significant performance hit.
Most recently made PCs use Dual Inline Memory Modules to hold RAM. Most common are PC-100 (100-MHz) and PC-133 (133-MHz) SDRAM DIMMs. Newer systems based on high-speed AMD processors use PC2100 DDR (double data rate) SDRAM, which runs at 266 MHz. Some Intel-based PCs instead use more expensive Rambus modules (called RIMMs), available in speeds up to 800 MHz.
If your PC is four or five years old, it's probably designed for 66-MHz SDRAM, but you should still be able to use 100-MHz or 133-MHz SDRAM modules. Although they won't work at full speed, they remain the best value. Some older computers use Single Inline Memory Modules for RAM. We show DIMM installation here; SIMMs pivot into their slots and must be installed in pairs.
Stan Miastkowski is a PC World contributing editor.
1. Find out how much RAM your PC has.
Most PCs check RAM as they start up and display the total amount. Alternatively, you can check your system BIOS (details for accessing it vary by PC). Or from within Windows 95 or above, right-click My Computer and select Properties. The amount of RAM is displayed at the bottom of the screen.
2. Ground yourself.
Memory modules are extremely sensitive to static electricity--it can destroy them. The safest bet is to purchase an antistatic wrist strap from your local RadioShack. You'll have to unplug your PC in order to work inside it, so you'll need to connect the wrist strap to a ground. If you opt not to use a wrist strap, touch a grounded metal object before working with your RAM.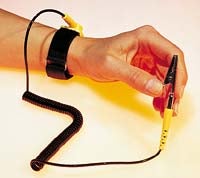 3. Find the RAM.
Turn off your PC, unplug it, and remove the case. The RAM slots are normally located on the right side of the motherboard toward the front of the case. Use masking tape to mark any cables you remove to get to the slots. Motherboards have two, three, or four RAM slots, each marked by a number on the board. Insert new modules in the lowest-numbered empty slots first.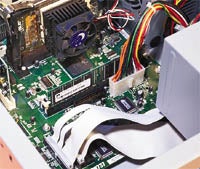 4. Remove old RAM (optional).
The easiest way to upgrade your RAM is to add to what you have. But if all the slots are filled, you'll need to remove some of the old modules. DIMMs have clips on each side. Move the clips to the side, and pull the old modules straight out of the slots. If they feel tight, rock them gently.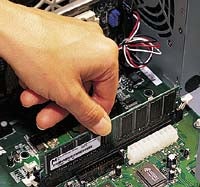 5. Insert the new RAM.
Note the notches on your DIMMs. Modules fit into slots only one way. Carefully press them in straight down. The clips will snap into place when the DIMMs are fully inserted.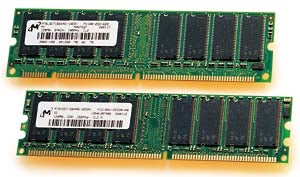 6. Power up your PC and check it out.
Don't put the cover back on your PC until you're sure that everything works. Turn the machine on and see if it recognizes the new RAM (see step 1). If your PC fails to recognize the new RAM, locks up, or won't start, turn it off, unplug it, and make sure the memory modules are firmly seated in their slots. If you had to remove cables to install the RAM, make sure you've reconnected them. Defective memory modules are rare. If you still run into problems, call your memory vendor's tech support line.
The Top Down
Benefits: Increased system performance, ability to keep additional concurrent applications open, smoother graphics and video editing
Cost: 128MB $25, 256MB $50, 512MB $125 (prices were averages at press time--check your dealer for the latest figures)
Time required: 15 to 30 minutes
Tools required: Phillips screwdriver, antistatic wrist strap (recommended)
Expertise: Intermediate
Vendors: Crucial Technology, Kingston Technology, PNY Technologies, SimpleTechnology, Viking Components
Frequently Asked Questions
We get mail, lots of mail, with questions about RAM upgrades. Here are some answers.
Q: Can I mix different-capacity RAM modules?
A: No problem for SDRAM. You can fill your PC's RAM slots with virtually any combination of standard 32MB, 64MB, 128MB, and 256MB modules as long as they're the same type. In fact, it's the best way to upgrade without pulling RAM from your PC.
Rambus memory is different. You can install a single RIMM, but if you're using a Pentium 4 processor, installing in pairs will increase performance through memory interleaving. In this case, RIMM capacities and speeds must match.
Q: Can I mix memory modules of different speeds?
A: Yes. But all modules must be the same type. It's okay to add higher-speed modules; they just won't run at full speed. The most common speeds for SDRAM are 100 MHz and 133 MHz. Rambus modules currently come at speeds of 700 MHz and 800 MHz, and higher-speed modules are expected to become available soon. DDR (double data rate) modules come only in PC1600 (200 MHz) and PC2100 (266 MHz) varieties.
Q: Do I need to fill all the memory slots?
A: Not with SDRAM or DDR RAM. But with Rambus, every slot must be filled. You can buy continuity modules (about $10) that fill Rambus slots without adding memory.
If your PC is more than four or five years old, it probably uses SIMMs, which must be installed in pairs.
Q: Can I mix modules from different manufacturers?
A: Sure, as long as they're the same RAM type. Don't believe dealers who say it can't be done. They want you to buy the RAM they have available, which is usually from one manufacturer.
Q: What's ECC RAM, and should I buy it?
A: Error-Correcting-Code RAM modules have special circuitry that corrects memory errors on the fly. They're used primarily in servers and high-end workstations. ECC SDRAM will work in non-ECC motherboards, but you won't get the benefit of the ECC circuitry, so it doesn't make sense to pay the extra cost.
Q: I just filled my RAM slots with 768MB of RAM. Now my system doesn't work right and locks up.
A: You're running into a problem with Windows or the limitations of your PC's BIOS. Windows 95, 98, 98 SE, and Me aren't designed to work with more than 512MB of RAM. (Windows NT, 2000, and XP don't have this limitation.) If you run into this problem, check out this workaround.
Some older motherboards aren't designed to take 256MB and 512MB RAM modules. Check your manual or your PC manufacturer's Web site; sometimes a BIOS upgrade solves the problem.