Set Up a Network in a Snap
Many homes and most small businesses have multiple PCs. More than ever, it makes sense to hook them together in a network to share files, printers, and Internet connections (especially broadband).
Setting up a network has become easier over the past couple of years, with automated software installation largely eliminating the need for geek-level skills. On the hardware side, add-in cards are still the norm for most networks; but USB options are available for people who don't want to perform PC surgery. On laptop PCs, hardware installation is as simple as sliding in a PC Card. And even doing that may not be necessary. Many contemporary laptops are equipped with built-in network connections, and some of the newest have wireless network capabilities.
For low cost and high speed, traditional wired networks are still the best bet. But if you prefer not to snake wires across rooms and through walls, phone line networks let you use your existing wiring, albeit at slower speeds. The hot technology is wireless, where the 802.11b protocol (more commonly dubbed WiFi) has all but won the wireless networking standards battle.
If no single type of network is best for you, you can buy devices (routers and bridges) for creating hybrid networks with both wired and wireless products.
Stan Miastkowski
Stan Miastkowski is a contributing editor for PC World.
How to Choose the Best Network for You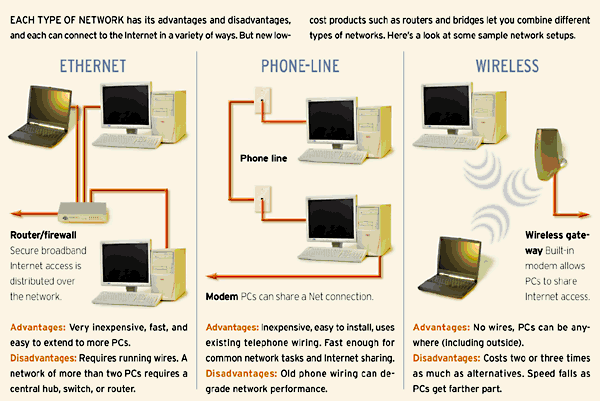 Before You Begin
Installing a network significantly changes the configuration of each PC involved. Always do a complete backup first. Barring that, you should at least back up your critical data files and settings to removable media before you begin. Different makers' network hardware and software require you to take different steps in different sequence. The steps outlined here are typical, but you should read your manual or installation poster carefully.
Install the Network Adapter
1. Add-in card
Turn off and unplug your PC, then remove the cover. To avoid static damage, wear an antistatic wrist strap while working inside your PC. Find a free PCI slot, carefully insert the network card into it, and fasten it down with a screw. When you restart your PC, Windows should automatically detect the card. Follow the manufacturer's directions for installing the driver.

USB adapter (phone-line and wireless networks). Plug the USB connector into a free USB port. Windows should automatically detect the unit. Follow the manufacturer's directions for installing the driver.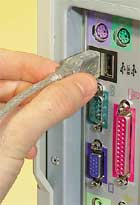 PC Card. With your notebook running Windows, insert the PC Card into an unused PC Card slot. Windows should automatically detect the unit. Follow the manufacturer's directions for installing the driver.

Hook Up Your Network and Get It Running
2. Hook up your router
If you have a broadband Internet connection, you will need to hook up the router/firewall to the cable modem or DSL box, using the cable that came with the router.

3. Hook up the wires
If you're using a standard network, plug a Category 5 network cable from each PC network card (A) into your hub or switch (B). Do the same with your router/firewall if you have one. For a phone-line network, plug one end of a phone cable into the correct jack on the card (C) or USB adapter (usually there's an additional jack for hooking up a phone), and plug the other end into a phone jack. With a wireless network, as the name implies, you normally don't need to run any wires unless you're using a router or access point to integrate it with a wired network.



4. Install the software
In addition to installing the drivers for the network adapters, you'll probably have to install product-specific software in order to set up the hardware and to customize the settings. In each instance, follow the manufacturer's directions.
5. Get connected
Test your network to make sure everything is talking to everything else. If you can't access the Internet or communicate with other PCs on your network, first check your network product manual or the maker's Web site. Alternatively, go to Start, Help, select Network Troubleshooter (in Windows 98) or Home Networking Troubleshooter (in Windows Me), and follow the directions. No luck? It's time to call tech support.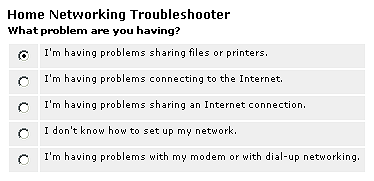 The Top Down
Benefits: Share files, printers, and an Internet connection among multiple desktop and notebook PCs
Costs: Standard wired adapter, $20 to $40 per PC; phone-line adapter, $25 to $75 per PC; wireless adapter, $100 to $250 per PC; router/firewall for shared broadband Internet access, $100 to $300
Expertise level: Intermediate
Time required: 30 to 60 minutes per PC
Tools required: Phillips screwdriver, antistatic wrist strap (recommended)
Vendors: 3Com, Agere Systems, D-Link Systems, Intel, Linksys, NetGear, SMC Networks