Must-See DV
We pick the best camcorders and software for professional-looking digital videos.
No longer a pricey technology reserved for news crews and documentary filmmakers, digital video is growing as a mainstream tool for creating everything from simple home movies to presentations and professional training films. For instance, Dr. Steven Schwaitzberg, an associate professor of surgery at the Tufts University School of Medicine in Boston, tapes most of his operations so that he can demonstrate new surgical techniques to his peers. "I record the video with a mini-DV recorder," he explains, "and then transfer it to either a desktop or a laptop system, where I can edit it and dump it out onto videotape." Just think: ER without the commercials.
But you don't have to be a doctor with university funding to afford today's video editing equipment, and you don't have to be a brain surgeon to figure out how to operate it. We looked at seven digital video camcorders and found that, for the most part, they're easy to use, capture impressive footage, and offer substantial value. We also examined seven video editing software packages to see which applications can best help you craft your rough footage into a polished movie.
Choosing a Camcorder

As camcorder prices have fallen from the stratosphere, more people have begun to realize the benefits of digital video over its analog predecessor; DV captures sharper pictures, and the images don't degrade when you copy tapes or transfer footage to a PC for editing. According to Ron Glaz, an analyst with International Data Corporation, around 4 million digital camcorders will be sold in 2002. Furthermore, he predicts, mini-DV camcorders will outsell analog models by 2004.
Camcorder vendors certainly offer plenty of variety to address the DV market. We found models in a range of shapes, sizes, and prices--from $500 to $1499. Our test units included the Canon Elura 20MC ($1299), the JVC GR-DVL815U ($799), the Panasonic PV-DV701 ($899), the RCA CC9390 ($1499), the Samsung SC-D67 ($500), the Sharp VL-NZ10U ($1200), and the Sony DCR-TRV17 ($1100).
Like most DV camcorders, all of the models we tested use tiny mini-DV tapes, but some camcorders record on other media. Hitachi's new DZMV100A, for instance, records to a DVD-RAM disc (see our review in this month's New Products). If you already have video that was shot with an analog camcorder, many DV models can bring your old footage into the digital age. Five of these camcorders (all except the JVC and the Samsung) can record from an external composite or S-Video source, allowing you to copy your old analog videos onto mini-DV tapes.
For comparison purposes (not as part of our review)--to put the image quality of our seven camcorders in perspective--we also tested an analog unit and a high-end digital model. The $320 Canon ES420V uses 8mm analog tapes; the $3500 Canon XL1, a semiprofessional digital camcorder, has a built-in sound mixer, interchangeable lenses, far better audio capabilities than the units in our roundup, and greater control over video adjustments. (Canon recently launched an updated version, the XL1S, but it was not available in time for our testing.) The XL1 uses separate charge-coupled devices to convert light in each of the three primary colors into electrical signals. Less expensive models, in contrast, rely on a single CCD.
A Good View?
We tested video quality by mounting each camera on a tripod and shooting an identical scene--a colorful toy train running in a loop--first inside the PC World Test Center and then outside on a sunny day. We used Fujifilm DV tape in each camera (except the analog model), and a panel of judges compared the video clips on identical color televisions. We also conducted some informal tests by asking several PC World editors to shoot several outdoor scenes simultaneously. Our image-quality impressions depended on three factors: color, image stability, and the camcorder's ability to capture motion.
Camcorders adjust their color settings depending on the lighting. In a process called white balancing, the camcorder analyzes all the colors in an image, then interprets them to best match what the human eye would see. All camcorders handle this automatically; some more-expensive models, like the Canon XL1, let you make manual adjustments as well. Each of the seven models we reviewed captured realistic colors both indoors and outdoors. They also did a good job of transitioning from one lighting situation to another.

We encountered one minor problem with the Sony: Whereas the other camcorders use the entire field of view to determine the white balance, the Sony reads only the center of the image. In our lab tests with the Sony, that caused colors to shift whenever a brightly colored boxcar on our model train passed through the center of the frame.
Image stability wasn't a problem in our lab tests, where the devices were mounted on tripods, but once you put a camcorder in your hand, some degree of shakiness is inevitable. Fortunately, all the cameras include some form of digital image stabilization: They adjust for small movements that could create blurry video, by shifting the image on the CCD slightly to compensate. Image stabilization worked pretty well on all the camcorders, but you won't get the rock-steady images you could achieve by using a tripod.
In our tests, we found relatively little difference in image quality among all the digital camcorders--including the semi-pro Canon XL1. The JVC and the Sharp models did produce the weakest images, which we rated Average and Good, respectively. But even these two units provided noticeably better footage than the analog model could. All the other DV camcorders earned a score of Very good, but in our judgment, the Panasonic's especially sharp images and accurate colors were the best of the bunch. We also liked the unit's bright LCD screen, which made it easy to frame our subjects.
With the exception of the RCA and the Samsung, all of the camcorders also double as digital cameras for taking snapshots. But don't toss out your digital still camera: Our test models could capture images at a resolution of only 640 by 480 pixels, considerably less than today's digital cameras can muster.

Some of the camcorders (such as the Panasonic and the RCA) come with clip-on lights, and you can buy optional lights for the others. But there are times when you might want to shoot video in dimly lit settings, such as when someone's giving a presentation. The JVC, Panasonic, RCA, and Sony offer low-light modes that use low shutter speeds to capture more available light. The Panasonic, RCA, and Sony units also include an infrared illuminator, which allows you to film in settings with little or no visible light. A camera's CCD can convert the infrared light, which is invisible to the human eye, to black-and-white video. None of the camcorders produced images of the same quality in the dark as they produced in daylight, but the best overall was again the Panasonic: It captured the nicest color in low light, and it took the best-looking video when using the infrared illuminator.
Up Close and Personal

Each of the seven camcorders offers both optical zoom (via lens movement) and digital zoom (via software). The Samsung has the longest optical zoom, at 22X; the others offer 10X. All of the optical zooms moved smoothly, and the camcorders yielded good image quality at both ends of their ranges. The JVC, Panasonic, RCA, Samsung, and Sony models all boast incredibly high digital zooms (up to 500X for the Samsung and the Panasonic). But at their higher settings, the cameras are magnifying such a small part of the image that all you can see is a blur. We wouldn't recommend attempting to film at any setting above 50X.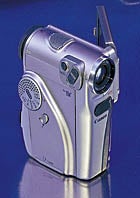 The camcorders have some notable differences in their designs. The Canon Elura 20MC is by far the smallest model. Standing at approximately 2 inches wide by 4 inches tall and weighing less than a pound, it's the only model here that you could comfortably fit into a coat pocket. Its small size does have disadvantages, however: Some of our testers found that their fingers didn't sit comfortably on the tiny controls. Also, you must plug in an included dock in order to use some basic features, such as an external microphone jack or an S-Video or composite output for sending video to a television. Another drawback of the diminutive Elura is its smallish color LCD screen, which measures only 2.5 inches on the diagonal. The Samsung SC-D67 has a 2.5-inch screen too, but all the other camcorder screens here measure 3 or 3.5 inches diagonally.
At the other extreme, the Samsung felt excessively bulky and awkward. And the Sharp, which more closely resembles a digital camera than a camcorder, was difficult to handle because of its unusual design. We found that no matter how firmly we gripped the unit, our fingers were prone to slipping and blocking either the lens or the microphone.
Loud and Clear?

All of the camcorders captured reasonably good sound with their built-in microphones; but in general, models with front-mounted microphones performed better than those that had the mike positioned on top, such as the Canon Elura and the Sharp. In particular, if the person holding the Elura spoke, that person's voice would drown out everything else. Fortunately, all the camcorders except the JVC GR-DVL815U allow you to connect an external mike.
Several of the camcorders suffered other sound problems: The microphones on the Panasonic, Samsung, and Sharp models often picked up the sound of the lens mechanism when we zoomed the optical lens in or out. Speaking of zooming, the Sharp and the RCA each include a good zoom microphone, which consists of several individual mikes that pick up sound from different directions. As the lens zooms in on a subject, the zoom microphone adjusts to pick up more sound from the front and less from the sides.
Going the Distance

Even the best camcorder is just dead weight if the battery gives out. But that doesn't seem to be a problem for the camcorders we reviewed: When we set them to record, with the LCD screen on, all but the Canon Elura ran for well over an hour. In fact, four of them exceeded their rated battery lives. The JVC and the Panasonic had the next shortest battery life, at 1 hour and 13 minutes apiece. The Sharp lasted longest, at 1 hour and 47 minutes.
All of the manufacturers offer bigger batteries. We tried the Canon Elura, for example, with the BP-422 extended battery pack (about $95). Though it was heavier, the BP-422 extended the Elura's battery life from 53 minutes to over 3 hours.
Director's Choice
Of the models we tested, the Panasonic PV-DV701 provides the best overall package, combining a moderate price with the highest ratings in our video quality tests. It also includes plenty of nice features such as a big, bright LCD. Honorable mention goes to the cute Canon Elura 20MC. Its diminutive size makes it the easiest to lug around, but the tiny controls are tricky to handle. The Elura is also one of the most expensive models.
by Richard Baguley
Digital Camcorders: Features Comparison (chart)
| | | | | | | | | |
| --- | --- | --- | --- | --- | --- | --- | --- | --- |
| Camcorder | Street price (11/30/01) | Image quality/ease of use | Rated/tested battery life (minutes)1 | Weight (pounds) | LCD size (diagonal inches) | Zoom power (optical/digital) | Warranty for parts/labor | Comments                      |
| Canon Elura 20MC (http://pcworld.pricegrabber.com/search_prodsummary.php?masterid=538465) | $1299 | Very good/Good | 45/53 | 0.9 | 2.5 | 10X/40X | 1 year/1 year | Cute, expensive camcorder lacks some features--such as a night vision mode--but includes a remote control. |
| JVC GR-DVL815U (http://pcworld.pricegrabber.com/search_prodsummary.php?masterid=431647) | $799 | Average/Good | 75/73 | 1.3 | 3 | 10X/400X | 1 year/90 days | This JVC produced the lowest-quality images in our tests--though they were still respectable. Lacks analog inputs. |
| Best Buy Panasonic PV-DV701 (http://pcworld.pricegrabber.com/search_prodsummary.php?masterid=496681) | $899 | Very good/Very good | 75/73 | 1.3 | 3.5 | 10X/500X | 1 year/90 days | Great image quality, intuitive controls, and a good price make this camcorder the best of the lot. |
| RCA CC9390 (http://www.rca.com/) | $1499 | Very good/Good | 75/101 | 1.4 | 3.5 | 10X/400X | 1 year/90 days | This pricey model includes a bright, detachable LCD touch screen; a zoom microphone; and an external light. |
| Samsung SC-D67 (http://pcworld.pricegrabber.com/search_prodsummary.php?masterid=469796) | $500 | Very good/Fair | 120/77 | 1.3 | 2.5 | 22X/500X | 1 year/90 days | Large unit is hard to handle. Has small LCD screen and no analog inputs, but is also the least expensive model here. |
| Sharp VL-NZ10U (http://www.sharp-usa.com/products/FunctionPressReleaseSingle/0,1080,194-20,00.html) | $1200 | Good/Fair | 90/107 | 1 | 3 | 10X/300X | 1 year/90 days | Hard to grip (fingers easily slip over the microphone or lens). Includes a remote control and a zoom microphone. |
| Sony DCR-TRV17 (http://pcworld.pricegrabber.com/search_prodsummary.php?masterid=446815) | $1100 | Very good/Good | 80/82 | 1.4 | 3.5 | 10X/120X | 90 days/90 days | Captures good video and sound. Includes a remote, plus MGI PhotoSuite 8.1 and VideoWave III SE software. |
1Approximate number of continuous minutes recording, with the LCD screen turned on.
Sharper Shooting
Digital camcorders produce much better results than analog models, as these images show. The left frame is from our Best Buy mini-DV camcorder, the Panasonic PV-DV701; the right is from the Canon ES420V, which uses 8mm analog videotape. Details, such as the railroad crossing sign and the buttons on the CD player, are much sharper with the Panasonic.

Editing Software That Makes the Cut
Digital video camcorders take fantastic video, but without judicious editing you're likely to end up with more material than your audience can stand. Good video editing software makes it easy to harvest the best footage and assemble it with scene transitions, music, and other effects to make a slick, interesting movie.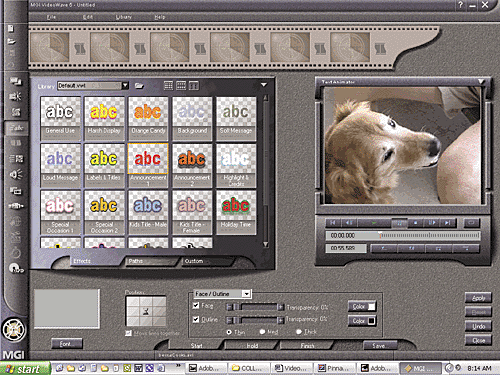 To test video editing software, we took an hour of footage of a company picnic and then trimmed it down to a peppy 1.5-minute movie using seven leading packages: Adobe Premiere 6 ($549), AIST MovieDV 4 ($50), Discreet IntroDV ($70), MGI Software VideoWave 5 ($120), Pinnacle Systems Studio 7 ($99), Sonic Foundry VideoFactory 2 ($60), and Ulead VideoStudio 6 ($100). Is your system DV-capable yet? Many vendors also offer their software bundled with an IEEE 1394 card; Pinnacle, for example, sells its Studio DV 7 package for $129.
The video editors we looked at are designed for beginner- or intermediate-level filmmakers and are moderately priced, with the exception of Premiere 6. We included Premiere because it has long been the standard by which other applications are judged. Most of the other manufacturers offer higher-end packages as well, but Premiere 6 is Adobe's least-expensive video editing application.
We created an editing script and then used each application to produce an identical movie. In the process, we evaluated how successfully each program handled five main editing steps: capturing video, importing audio tracks, organizing and trimming clips, adding transitions, and finally, outputting the finished movie.
Capturing Video
To get started, we dropped the mini-DV cassette into a camcorder and connected it via a cable to the IEEE 1394 port of a computer running Windows XP Home Edition. Importing video to our PC (sometimes called transporting) was easy because all the programs are compliant with the so-called OHCI-standard, which means that they should recognize any DV camcorder and control it remotely via on-screen controls (as long as the IEEE 1394 card is also OHCI compliant).
Pinnacle Studio 7 offers a handy feature to save hard drive space during transport. Typically, digital video is captured at a set data rate--about 3.6MB per second. With Studio 7's Preview mode, you can save small, temporary video files to lay out your edits. When you're done, the application will capture only your selected video clips at full quality to implement your edits and render a completed movie.
Importing Audio
Most filmmakers will tell you that viewers can tolerate imperfect video, but that poor audio is much harder to bear. To perk up our tape's weak soundtrack, we captured one song from a CD and imported another from an MP3 file. (See the software feature chart for a list of the audio formats that each program accepts.)
Once again, Pinnacle Studio 7 wins kudos for its straightforward interface. It offers an impressive array of audio-importing choices, and it describes them in simple terms such as "Record Voice-over" and "Add CD Music." It also includes royalty-free instrumental music.
None of the other programs matches Pinnacle Studio 7 for putting so many key audio options so close to your fingertips. For example, IntroDV allows you to import existing audio files from your hard drive, but it can't capture your voice from a microphone or record audio from a CD. With that program, you'll need to use Windows' Sound Recorder or another audio capture program instead.
Adobe Premiere 6 has the same limitation. Once you get the audio in, however, Premiere offers a strong set of editing tools, including controls for setting sound levels that vary over the length of the movie, and controls for panning audio--taking the sound of a speeding truck, for instance, and sending it from the left speaker to the right. Sonic Foundry, best known for audio programs like Sound Forge XP, delivers such cool audio features in VideoFactory 2 as the ability to apply audio filters in order to improve sound quality or to add funky effects.
Organizing and Editing Clips
The programs automatically break video into clips, based on differences in the camcorder's time code. They allow you to further divide clips into smaller pieces, and to trim footage from a clip's beginning or end by dragging an icon.
To start editing, you typically select the icon that represents a clip and drag it into a timeline or a storyboard interface. The benefit of a storyboard is its simplicity: You set the order of your video and audio clips by placing them in a set of sequential blocks, moving from left to right. You manage overlaps between clips via settings in dialog boxes. A timeline stacks the various video clips, sound tracks, and effects vertically and thus is more complicated, but it offers more control because you can see exactly how the clips overlap.
Premiere 6, MovieDV 4, Studio 7, and VideoStudio 6 offer both storyboard and timeline modes, which we found useful. You can quickly organize a rough movie project in the simple storyboard mode, and then fine-tune it on a timeline.
Nearly all the programs function similarly and are easy to grasp. The one exception was MovieDV 4. We had to refer to the online manual throughout the editing process, and the documentation is too focused on explaining obscure technical specs, such as "adaptive line mesh technology," rather than basics like importing a still image. In contrast, VideoFactory 2's online help shows you how to accomplish a task, and even shows you where to click by using animations for each step.
Tying It All Together
Both storyboards and timelines let you add a transition by dragging an icon between clips. Most professional film editors prefer simple edits, or straight cuts--just one clip of video placed next to another--but all the packages we tried offer many more options. Some twirl your video as if it were turning in a pool of water; others "wipe" one clip across the screen as the next clip takes its place. Besides using these fancy transitions, you can add filters (effects) to provide artistic touches, such as a watercolor look.
Studio 7 and Premiere 6 offer premade transitions and tools to edit them, but Premiere 6 lacks some often-used transitions we'd like to see, such as fade to black. You must create those elements on your own, but you can save them for future use. In contrast, VideoFactory 2 makes transitions especially easy to control: Right-clicking a transition opens a contextual menu of ways to modify it, such as making a title screen fade out or scroll up.
To finish our movie, we imported some still shots and used the programs' titling features to add end credits. Ulead's VideoStudio 6 offers 18 predesigned title styles--templates that you can customize to your taste. You may well want to make modifications: We found the templates a bit garish. MGI VideoWave 5, on the other hand, had some of the classiest title styles and the clearest menus for adjusting formatting. After we became accustomed to MovieDV 4's unorthodox controls--including an on-screen joystick for positioning text--we found them quite handy.
Premiere 6 and, unsurprisingly, Studio 7 include Pinnacle's Title Deko, a popular tool for creating titles and editing text formatting. It works much like a page-layout program such as QuarkXPress or Adobe InDesign. Anyone who has used a word processor can quickly learn to use Deko.
Going to the Movies
All the packages let you export your movie back to a DV camcorder, and all of them offer compression options such as MPEG-1, for the Web or for a CD, and MPEG-2, for creating DVDs (if you have a DVD-Recordable drive). The Features Comparion chart lists key output formats for the programs, and the Choosing the Right Format table that helps you pick the best format for your needs.
Premiere 6 offers the most extensive Web output tools, including the ability to choose audio compression independently of video compression, but it doesn't permit you to export your work directly to a DVD-Recordable drive. In contrast, MGI VideoWave 5 has a prominent button for creating DVDs that can be played in most computer DVD-ROM drives and set-top players. You can also create video CDs that will play in any CD-ROM drive. MovieDV 4 offers plenty of formats to choose from, but it doesn't provide much guidance in choosing the best format to suit a particular need. Pinnacle Studio 7 offers fewer options, but its interface is also far less complicated.
Video Editor's Choice
With a very friendly interface and a modest price, Pinnacle Studio 7 takes our Best Buy award. It's especially good for novices, but it's powerful enough to make business presentations.
Premiere 6, which includes tools such as professional-quality transitions and filters, is the most full-featured application, but it's not the best choice for beginners or casual users. Offering a similar interface to Premiere's at about one-ninth the cost, Sonic Foundry's VideoFactory 2 deserves an honorable mention for its sophisticated timeline, top-notch audio tools, and unique tutorial system.
by Paul Heltzel
Richard Baguley is a senior associate editor for PC World. Paul Heltzel is an author, video editor, and traveler who happily wanders the country in his 1969 Airstream Safari.
Video Editing Software: Features Comparison (chart)
Product
Street price (11/30/01)
Recommended CPU/RAM
Number of included transitions/filters
Type of editing format
Number of video/audio tracks
Key audio input formats
Key video output formats
Comments                                    
Adobe Premiere 6 (http://pcworld.pricegrabber.com/search_prodsummary.php?masterid=380610)
$549
Pentium II-300/64MB
75/74
Storyboard, timeline
99/99
MP3, WAV, Windows Media Audio
AVI, DV, MPEG-1, QuickTime, RealVideo, Windows Media Video
Professional-level video editor is pricey and has the toughest learning curve of the programs reviewed here.
AIST MovieDV 4 (http://pcworld.pricegrabber.com/search_prodsummary.php?masterid=517798)
$50
Pentium II-400/128MB
20/161
Storyboard, timeline
6/4
CD-Audio, DAT, MP3, WAV, WMA
Autodesk Movie, AVI, DAT, DV, MPEG-1, MPEG-2, QuickTime, RealVideo, WMV
Inexpensive, feature-filled editor has precise tools for customizing the look of your footage, but it's hard to learn.
Discreet IntroDV (http://pcworld.pricegrabber.com/search_prodsummary.php?masterid=544925)
$70
Pentium II-400/96MB
10/0
Timeline
1/2
AIF, MP3, WAV
AVI, DV, QuickTime
Straightforward video editor is almost as easy to learn as Pinnacle Studio 7, but has more-limited audio capabilities.
MGI Software VideoWave 5 (http://pcworld.pricegrabber.com/search_prodsummary.php?masterid=456320)
$120
Pentium III-500/64MB
60/27
Storyboard
1/5
CD-Audio, MIDI, MP3, WAV, WMA
AVI, DV, MPEG-1, MPEG-2, RealVideo, Video CD, WMV
Beginner-friendly program provides solid video-editing capabilities and a simple storyboard interface.
Best Buy
Pinnacle Systems Studio 7 (http://pcworld.pricegrabber.com/search_prodsummary.php?masterid=456394)
$99
Pentium II-300/128MB
155/7
Storyboard, timeline
1/3
MP3, WAV
AVI, DV, MPEG-1, MPEG-2, RealVideo, WMV
Very user-friendly; versatile enough for most people. Advanced users will want more customization options.
Sonic Foundry VideoFactory 2 (http://www.sonicfoundry.com)
$60
Pentium II-400/128MB
174/115
Timeline
2/3
AIF, MP3, Sonic Foundry Perfect Clarity Audio, WAV
AVI, DV, MPEG-1,2 MPEG-2,2 QuickTime, RealVideo, Sonic Foundry Wave 64, WMV
Intermediate-level editor comes at a great price. Not as easy to learn as Pinnacle Studio 7.
Ulead VideoStudio 6 (http://www.ulead.com)
$100
Pentium III-700/128MB
113/30
Storyboard, timeline
2/2
AIF, MP3, WAV
AVI, DV, MPEG-1, MPEG-2, QuickTime, Super VideoCD, VideoCD
Capable video editor at a reasonable price. Nonstandard interface takes some time to learn.
1Additional transitions and filters sold as downloads.2Though included in the base product we evaluated, MPEG-1 and MPEG-2 support may be offered only as added-cost plug-ins by the time you read this.
Storyboard vs. Timeline
A storyboard format, as shown below left in Pinnacle Studio 7, lets you assemble thumbnail images representing video clips in linear order. A timeline format, shown in Adobe Premiere 6 below right, uses separate, stacked bars to show the duration of each element--such as video clips, audio tracks, and transitions--and how they overlap. Some programs, including Studio 7 and Premiere, let you switch between storyboard and timeline.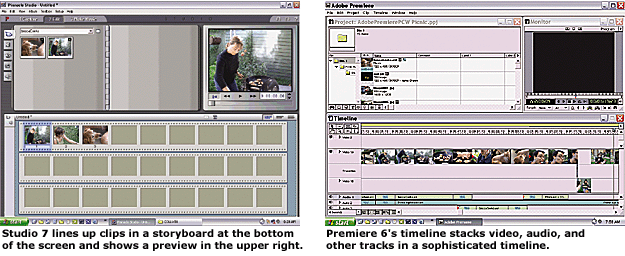 Best Buy Software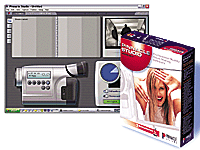 Pinnacle Systems' Studio 7 is a breeze to learn and a cinch to use. At $99, it's excellent for both novice and intermediate editors who want to create basic, professional-looking videos. People with higher artistic aspirations can try Sonic Foundry VideoFactory 2 or Adobe Premiere 6.
Putting It in the Can: Choosing the Right Format for Your Video
After you've created your movie, you can save it to different formats, depending on how people will be viewing it. All the editing programs we reviewed will export video in DV format back to your mini-DV camcorder; from there, you can play the movie on your television. Many camcorders also offer analog outputs for transferring the video to a VCR to make VHS tapes. Video-editing applications usually offer one or more other formats for other uses, such as DVDs or video over a Web site. The following chart helps you decide what format is best for distributing your film.
Putting It in the Can: Choosing the Right Format for Your Video (chart)
| | | |
| --- | --- | --- |
| What you want to make | Common formats | Comments                                    |
| Mini-DV | DV | Allows you to play videos from a camcorder on a television. |
| VHS tape | DV | Using the analog output on your DV camcorder, you can export video to a VCR to record inexpensive VHS tapes. |
| DVD | MPEG-2 | For high-quality playback on home DVD players or PCs equipped with DVD-ROM drives. |
| Video CD or high-quality Web video | QuickTime, MPEG-1 | With smaller file sizes than MPEG-2, both QuickTime and MPEG-1 are useful for creating videos you'll present over a broadband Internet connection or on a CD. (Some home DVD players can also read video CDs.) |
| Video for e-mail or dial-up Internet connections | QuickTime, Real, or Windows Media Video | These highly compressed (but low-quality) files can be viewed over a dial-up modem connection. |