Screen Smarts Give You an Unobstructed View
Scott Dunn
In the long-lost days of DOS, your PC ran just one application at a time. The application used the whole screen, and you had to close it before you could launch another program. In these modern times, multitasking allows a horde of programs, toolbars, and icons to compete for every on-screen pixel. You could expand your Windows desktop to a second monitor, but if you don't have the space or resources to do that, use these tricks to maximize your existing screen real estate.
Make a new resolution. To compact everything on your screen, switch to the highest resolution your video card, monitor, and eyesight can tolerate. (Remember: The higher the resolution and number of colors, the slower the refresh rate, which can make your eyes tire faster.) Right-click the desktop and choose Properties. Click the Settings tab and use the control under 'Screen area' or 'Screen resolution' (the name will vary with your video driver) to increase the screen size (see FIGURE 1).
As you increase the screen size, your color-level indicator may automatically decrease--from 'Highest (32-bit)' to 'Medium (16-bit),' for example. Be sure to choose the highest resolution that maintains the color level you want.
Click Apply to test your new resolution. Most video systems will ask if you want to keep this resolution. If everything seems too tiny, click No and try a lower resolution. If your screen is unreadable because the resolution you chose is incompatible with your monitor, 'No' will often be selected automatically within 15 seconds. If you wait but still can't read your screen, reboot your computer and press F8 as Windows loads, then press the number that corresponds to the Safe Mode option and press Enter. Repeat the steps above to reduce your screen resolution to one your system can tolerate. Restart your PC to return it to normal mode.
Expand your workspace. The title bars, scroll bars, and other on-screen elements in an application window usually just take up space. To compact these elements, right-click the desktop, choose Properties, and click the Appearance tab. (In Windows XP, click the Advanced button as well.)
To increase the screen space available for applications, choose Active Title Bar or Inactive Title Bar (or select the corresponding picture at the top of the dialog box) and click the down arrow next to the Size control to make these elements smaller. Title bars don't get any smaller than the space occupied by their text, so to reduce them further, use the Font control and its corresponding Size control. The Tahoma font that ships with most versions of Windows is surprisingly readable even when shrunk down to 7 points.
Now choose Scrollbar from the Item drop-down list, or click the scrollbar in the picture above it. Once again, use the Size control to shrink the scroll bar to a petite, but legible, size (see FIGURE 2).
Open applications maximized. You may sometimes want to maximize your application windows to give them as large a workspace as possible. You can do this by clicking the middle button on the right end of any title bar, but you can also switch between the maximized and normal state by double-clicking anywhere in the title bar. In addition, you can maximize an application each time you launch it by editing its shortcut properties. Find the application on the Start menu, right-click its icon, and select Properties. Choose Maximized from the Run drop-down list, and click OK (see FIGURE 3).
Scrunch desktop icons. If your icons are taking up too much of your desktop space, right-click the desktop and choose Properties. Click the Appearance tab (in Windows XP, you'll also need to click Advanced) and choose Icon from the Item drop-down list. Select a smaller size for your icons (such as 16) and click Apply (in Windows XP, you have to click OK, and then Apply). Experiment with the setting until you find a size that suits you.
If you auto-arrange your icons by right-clicking the desktop and selecting Arrange Icons by, Auto Arrange you may be able to get more icons per square inch by adjusting the Icon Spacing (Horizontal) and Icon Spacing (Vertical) settings in the Appearance controls. You can also save a little bit of screen space by giving desktop icons shorter names so that each label takes up only a single line.
Match the screen to your app. To get the best view possible of your application windows while retaining access to your taskbar and desktop icons, adjust the screen to the type of document you're working on. For example, when you work on tall documents such as word-processing files, drag the taskbar to the left or right edge of your screen. (In Windows XP, you may need to right-click the taskbar and uncheck Lock the Taskbar.) Arrange your desktop icons vertically along the opposite edge and keep the middle of the screen open for your word processor or other application.
On the other hand, when you work on spreadsheets and other wide documents, keep the taskbar at the top or bottom of the screen and arrange desktop icons horizontally along the opposite edge.
Bonus tip: If you'd like to use a single key sequence to enlarge application windows horizontally or vertically and leave room to view your desktop icons and taskbar, check out the Wonderful Icon freeware in this month's Windows Toolbox.
Tweak the taskbar. You get more control over your taskbar's thickness when it's on the left or right side of your screen. Just drag the edge until the taskbar is skinny enough to suit you. (In Windows XP, you may need to right-click the taskbar and uncheck Lock the Taskbar.) You may not be able to see the full name of each open file on its taskbar button, but you can distinguish the files by their icons--or pause the pointer over each one until an identifying tool tip appears.
To change the size of the icons on the taskbar, right-click the desktop, choose Properties, and click the Appearance tab. (In Windows XP, click the Advanced button as well.) Choose Caption Buttons from the Item list, or click a minimize, maximize, or close button in the picture at the top of the dialog box.
Lower or raise the number in the Size box--but keep in mind that some icons, such as those used by firewalls and other network software, provide useful information, so make sure you can see them. And if you're thinking of going gigantic, you should know that not all icons scale well, resolution-wise. Making them big also makes them fuzzy. Note that in Windows XP, the Size setting also affects icons on the toolbars you create when you right-click the taskbar and choose an option from the Toolbars menu.
You save a few pixels from Windows XP's taskbar when you lock it. Right-click the taskbar and make sure Lock the Taskbar is checked. This saves a bit of space by removing some draggable borders.
Put away palettes. The floating palettes in such programs as Adobe Photoshop, QuarkXPress, and Macromedia FreeHand take a considerable amount of your workspace. The $17 Interface Improvers hides the palettes of several Macromedia and Adobe applications, magically popping them back into view when your mouse touches the edge of the screen. The palettes disappear again when your mouse moves away from them. You can set an Interface Improver to make palettes pop in and out one by one or all together (see FIGURE 4).
If you don't want to bother with additional software, here's a tip that works in such Adobe applications as Photoshop, Illustrator, and InDesign: Make sure there is no active text insertion point and press Tab to hide all palettes. Press Tab again to bring them back.
Send Windows-related questions and tips to scott_dunn@pcworld.com. Windows Tips pays $50 for published items. Scott Dunn is a PC World contributing editor.
Don't Let your Toolbars Waste so much Space
Do the toolbars in your folder windows hog too much space? If your screen resolution is high enough and your folder window large enough, you can make your window panes a little larger by putting two or more toolbars on a single line. (In Windows XP, you may have to unlock the toolbars first by right-clicking the toolbar area at the top of the window and unchecking Lock the Toolbars, if it isn't unchecked already.)
To combine toolbars, simply drag the left edge of one and drop it onto any other. A toolbar can share space with the menu bar, or two or more toolbars can be placed side by side. (In Windows XP, you may want to recheck Lock the Toolbars when you're done to freeze your selected alignment.) Any buttons that get pushed off the right edge of the toolbar for lack of space can still be accessed--just click the double-greater-than symbol (>>).
In Windows 2000, Me, or XP, you have other ways to abbreviate toolbars. Right-click the Standard buttons toolbar and choose Customize. To put your toolbar on a diet, select the buttons you don't need from the list that appears in the right pane and click Remove. You can also drag and drop buttons between the lists of current buttons and available buttons; or use the Move Up and Move Down buttons to place the icons that you use less frequently to the right, where they will disappear into the >> menu but remain accessible. To save even more space, choose No text labels from the 'Text options' drop-down list. When you've achieved your preferred button lineup, click Close.
If you press Enter rather than clicking the Go button after you choose or type a file or folder name in the Address bar, you can save space by right-clicking the button and unchecking Go Button.
Windows Toolbox: What a Wonderful Windows Freebie!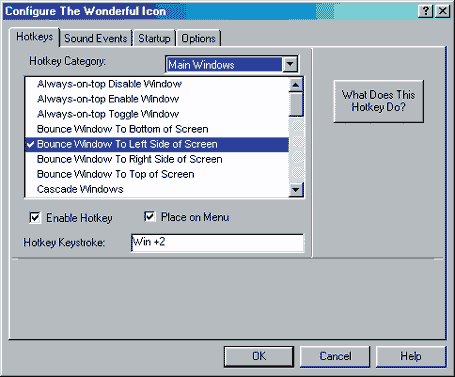 The Wonderful Icon freeware for Windows is as useful as its name is meaningless. The utility lets you force a window to stay on top, put minimized applications in the system tray (the area near the clock), change system sound effects at regular intervals, and maximize application windows in a single direction (vertically or horizontally). And you can assign these and other chores--such as muting or changing the volume, and minimizing or restoring applications--to a keyboard shortcut. You can also put these functions on the utility's pop-up tray menu. If you've been wishing you could perform routine tasks with a quick keystroke, and without having to learn a macro program, Wonderful Icon may be for you. And you can't beat the price. Now that's wonderful. Go to The Wonderful Icon freeware for Windows to download your copy.