Upgrade Your System With a Motherboard Swap
Changing a motherboard is the ultimate upgrade project, the PC equivalent of a heart or lung transplant. But with the pace of processor, RAM, and bus speed improvements, it's a project that's often well worth the effort involved.
If your computer's more than a couple years old, a motherboard switch usually isn't worthwhile because small, slow hard drives and previous-generation add-in cards will bog things down. And if your PC is really long in the tooth and uses an AT-style case instead of an ATX one, you'll need to start with a new case; AT motherboards are no longer available.
Unless you're swapping CPUs on a fairly recent machine, installing a cutting-edge processor of the AMD Athlon XP or Intel Pentium 4 lines effectively requires a new motherboard. Plus, new motherboards often include built-in network support, high-quality audio, USB 2.0 ports, and even FireWire (IEEE 1394) ports.
Most motherboards sell in the $100 to $150 range. Add a 1.7-GHz processor (AMD or Intel) and 512MB of DDR RAM, for example, and you'll have a lightning-fast system upgrade for about $500. (Prices are averages at press time.) You might also consider getting a new case and power supply.
One warning: If you are running Windows XP, a motherboard swap may trigger a new round of Microsoft's irritating Product Activation. Before you'll be able to use your upgraded system, you will have to call Microsoft and try to get a new Product Activation code.
As always, do a full backup before you start to work on your system. It's particularly important for this project.
The Top Down
Benefits: Improved system performance.
Costs: Motherboard, $100-$150; CPU, $125-$300; RAM, $150-$200; Fan/heat sink, $15-$30
Expertise level: Advanced
Tools required: Phillips screwdriver, antistatic wrist strap (recommended)
Time required: 3-6 hours
Vendors: Abit, AOpen, Asus, Epox, Intel, MSI, Soyo, Supermicro, Tyan
1. Remove the cards and cables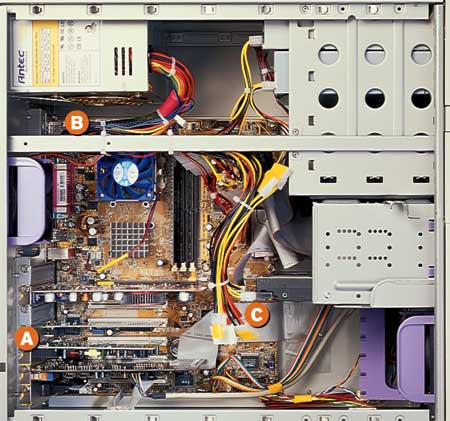 Turn off your PC and unplug it from the wall. Disconnect the mouse, keyboard, monitor, printer, and any other external cables. Remove the PC's cover and look at what you need to remove and disconnect to reach the motherboard. In some cases, you'll have to remove a hard drive or other hardware.
Use an antistatic wrist strap according to the manufacturer's directions while working under your PC's hood.
Remove the screws holding add-in cards (A), carefully remove the cards, and lay them on a clean, flat surface. If your new motherboard includes features such as a LAN connector or integrated sound, put the boards you won't be reinstalling aside.
Label each cable with masking tape and write down what it connects to. Unplug the power connector (B), floppy-drive cable, and EIDE connectors (C). Note which cable connects to the primary EIDE connector and which one goes to the secondary.
Finally, unplug the small connectors attached to the front-panel switches and LEDs, as well as any other cables connected to the motherboard.
2. Remove the old motherboard and (optional) power supply
Most motherboards are attached to the case by four to eight screws. Find the screws, carefully remove them, and set them aside in a handy container, such as a coffee cup.
Remove the old motherboard by sliding it slightly toward the front of the case (so the connectors on the rear are clear of the case) and then pivoting the front of the motherboard upward and out.
If you're installing a new power supply, remove the screws (usually four) holding it, remove the supply, slide the new one in, and replace the screws.
3. Install the RAM and processor

Before you mount the motherboard in the case, carefully insert your new RAM modules into the slots (A) until the brackets on each side of the slots snap in. Begin with the slot marked "Bank 0."
Find the CPU socket, lift the lever on its side, and then carefully insert the CPU (B), making sure that Pin 1 on the CPU matches up with Pin 1 on the socket. Hold the CPU firmly in place, and lock the lever down.
Install the fan (C) that came with the CPU (if a fan was not included, you'll need to buy one), and plug it into the designated fan connector on the motherboard.
4. Install the new motherboard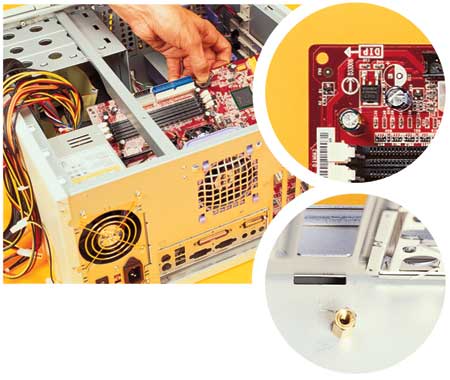 Slide the new motherboard into the case. The mounting holes will line up when it's in the correct position.
Mount the motherboard with the screws you removed in step 2. Just "snug up" the screws; mounting them too tightly will damage the motherboard.
5. Reinstall the cards and cables
Now you can reinsert the cards and cables that you removed. Work slowly and carefully, and double-check each connection.
Secure add-in cards with the screws you removed earlier.
Reconnect the mouse, keyboard, monitor, printer, and other external devices. Don't put the cover back on your PC until you're absolutely sure that everything's working.
6. Start it up
Plug in the AC power cable and turn on your PC. If it beeps once and you see messages on the screen, that's a good sign.
Windows will require several reboots as it adjusts to your new hardware. Windows should detect components such as network, sound, or USB 2.0 support and then start the Add New Hardware Wizard. Follow the directions in your manual to install the motherboard drivers.
If nothing happens, or if your PC gets only partway through start-up and then hangs, turn off your PC, disconnect the AC power, and recheck all your connections. If that doesn't help, contact your motherboard maker's tech support.
Typical ATX Motherboard Components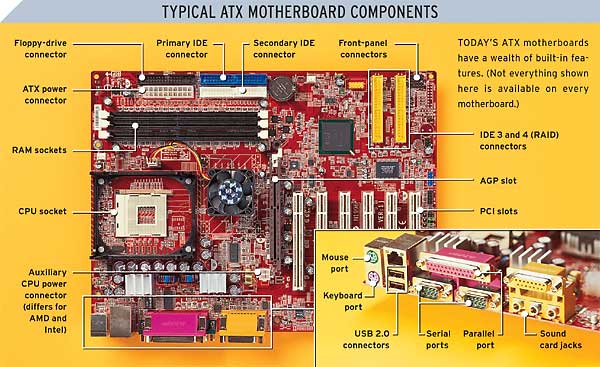 Power Supplies and Cases
If your current power supply is rated at 200 watts or less (check the rear panel or look for a sticker on the supply), you'll want a new one to go with your new motherboard. We suggest a power supply of 275 watts minimum. Expect to pay $50 to $100. If your new motherboard uses a Pentium 4, you need a ATX12V power supply, which has an additional four-pin connector for P4 boards.
If you're changing your power supply, you should also consider upgrading your PC case. Cases start at about $40; large cases or custom "designer" cases can go up to several hundred dollars. Most have power supplies included, so the extra cost is minimal, and a new case can give you more room for expansion and allow better air circulation (very important for today's high-speed processors).
Power supplies and cases are both available from Antec, PC Power and Cooling, and Sparkle Power.
Stan Miastkowski is a contributing editor for PC World. Send questions and comments to him at stan_miastkowski@pcworld.com.