Tablet Software Packages Get Graphic
Jacqueline Emigh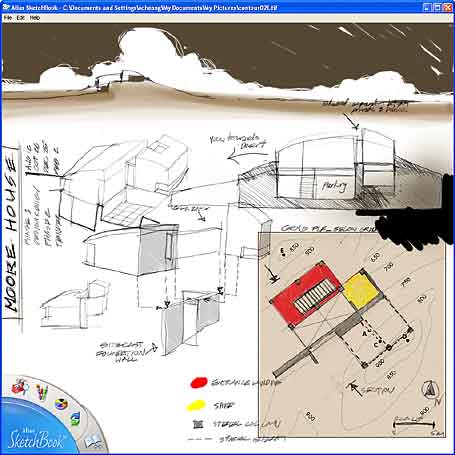 New tablet PCs already come bundled with Windows Journal--Microsoft's software application for taking notes by hand--as well as other programs that take advantage of tablets' pen functions. Why stop there, though?
I tried out three Tablet PC software packages: a preproduction version of Alias|WaveFront's Alias SketchBook Pro, a free download of Corel's Corel Grafigo, and FranklinCovey's $170 TabletPlanner. All use a tablet PC's support of pen input to expand the functionality of traditional PC software.
Alias SketchBook Pro is far more versatile than its name might imply. Beyond freeform drawing, you can use its toolbox of 20 brushes and 300 built-in background templates to jazz up handwritten notes before sending them.
The user interface is based on a set of "floating" or movable menus. Each time you press your tablet's pen on a tool palette--say, for brushes or colors--choices pop up. Other features include pan/zoom and controls that enable you to rotate, vertically flip, and mirror your images.
Draw the Line
SketchBook Pro offers you the option of using a nearly limitless supply of transparent "layers," or overlays, to add written comments and sketches above your document. You might, for instance, grab a digital photograph or Web page, scrawl "Check this out!" on a SketchBook layer, and then e-mail the whole kit and caboodle to a friend or colleague. Though SketchBook Pro supports Outlook file attachments in JPEG, PNG, and TIFF file formats, you can preserve the layers only by using TIFF.
My version of SketchBook Pro lacked backgrounds and had limited brush and color controls. The final version is expected to include those features and to cost $129.
Like most other early software packages available for Tablet PCs, Corel Grafigo is geared mainly toward mobile employees in large businesses, some of whom should get a lot of use from the application's great graphics tools and Symbols palette.
One particularly handy tool is shape recognition, which produces geometrically precise shapes when you doodle anything roughly resembling your desired figure, whether it's supposed to be a triangle or an ellipse.
In my tests, Corel's shape recognition seemed to work more accurately than Windows XP Tablet PC Edition's much-ballyhooed handwriting recognition, which Corel Grafigo also supports. You might wait until the full version arrives this summer to get improvements to collaborative work and shared whiteboarding.
Familiar Interface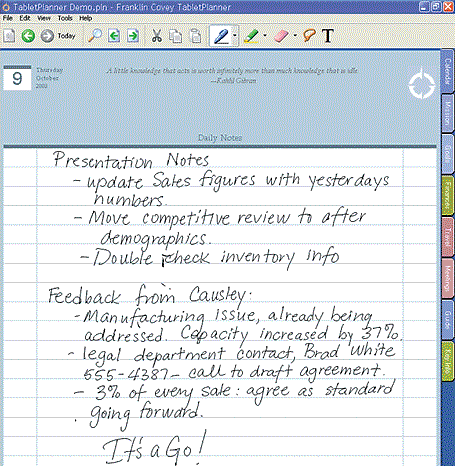 About 6 million people worldwide already use FranklinCovey Planner, either on paper or electronically. Its familiar interface is in TabletPlanner, offering a daily task list; daily, weekly, and monthly calendars; a contact list; and financial forms such as a car mileage log, a check register, and a monthly budget.
TabletPlanner adds handwriting tools and the ability to search through handwritten and text information. In addition, you can import any document that you've created in a Windows application--such as Word--into the program so that you can consolidate your information there.
You can write with the pen tool, of course, or use it to draw symbols showing the status of daily task items. Unfortunately, writing with my shipping TabletPlanner's digital ink was noticeably slow. According to FranklinCovey, the next version of the software will have an improved search engine, as well as an address book that should possess a Microsoft Outlook-type look and feel.
If you'd like to try any of these three applications before you commit to them, just go to this Microsoft Tablet PC page to get a free download.
Buying Information

Alias|WaveFront Alias SketchBook Pro
4 stars (03/01/2003)

Good for labeling digital photographs and for freehand business drawing purposes.
List: $129



Buying Information

Corel Grafigo
3.5 stars (03/01/2003)

Makes schematic drawings and any type of hand drawings look more professional.
$ Free download



Buying Information

FranklinCovey TabletPlanner
4 stars (03/01/2003)

An excellent handwriting-enabled central space to store and search notes, contacts, and calendars.
List: $17