The Entertainers
New media-savvy PCs aim to replace your TV, VCR, and stereo. We test six models--plus upgrades that turn any PC into a living-room powerhouse.
Most ordinary PCs are big and boxy--and they have no business inhabiting a spot in your living room. But new home theater PC systems are designed to serve as digital entertainment hubs, marrying the latest hardware and software to provide DVD and digital music playback, photo slide shows, TV, and video recording capabilities. Many of these computers sport the same look as your other components, with physical dimensions that fit nicely into an entertainment cabinet.
The home theater concept isn't entirely new; you can even upgrade a current PC to make it an entertainment hub. But Microsoft has given the idea a push with Windows XP Media Center Edition, a superset of Windows XP with a launcher interface that lets you control the PC's DVD player, music application, photo viewer, digital video recorder (DVR) application for recording TV shows, and TV program guide. The interface's large text is easy to see from your couch or desk chair.
A PC in Every Living Room?
Microsoft created Media Center PCs for college students and urbanites who live in cramped quarters that don't have room for a computer, a television, and a home theater system. PC vendors have a different vision, however. In fact, every vendor participating in our review said its system was designed for the living room.

For this review, we tested six home theater PCs. Four of the systems ran Windows XP Media Center Edition: ABS's $1799 Media Center PC 8500, Alienware's $2900 Navigator Extreme, Cyberpower's $1753 Media Center PC, and Gateway's $2114 Media Center PC (which cannot be purchased without a display). Except in the case of the Gateway, we priced each system without a monitor, because vendors said their systems were designed to work with a television.
Other systems offer functionality similar to that of Media Center systems but use custom packages. We looked at the $2999 SleekLine 2800AV from PC Power & Cooling and the $2300 VAIO PCV-RZ26G from Sony. The VAIO uses Giga Pocket software for TV viewing, and a VAIO Media Player for music, digital video, and photos. The SleekLine 2800AV uses an ATI Radeon 9700 All-In-Wonder Pro graphics card and ATI's Multimedia Center software for TV viewing and recording, CyberLink's PowerDVD for playing movies, and Windows Media Player for music.
To help the computers fit more comfortably in the living room, ABS, Cyberpower, and PC Power & Cooling wrapped their models in stereo component-like cases. Whereas the SleekLine 2800AV is slim--only 2.25 inches high--the ABS and Cyberpower PCs are a bit bulkier than your average stereo receiver, though they'll fit into a living-room entertainment cabinet better than a typical tower would. Alienware's Navigator Extreme is small, boxy, and cubic, which may make it difficult to integrate with stereo components. Gateway and Sony opted for traditional tower cases, which would look out-of-place in most living rooms but would probably work fine if you're using them in a small apartment or dorm room.
If you're looking to inject some computer power into your home theater, ABS's Media Center PC 8500 performed the best in our tests and earns a Best Buy, although the model we tested had no rewritable DVD drive. PC Power & Cooling's SleekLine 2800AV offers high-end hardware, but its speakers were far too difficult for us to configure. Sony's VAIO has the necessary processing power and applications to work well as a digital video editing and photo viewing machine, but its hard-to-use software, lackluster sound, and lack of a channel guide mean it can't compete as a home theater PC.
Home Theater Tests
We performed a series of living-room usability tests and scored each system's performance on DVD, TV, music, and photo display tasks, emphasizing general ease of use. We hooked up each PC to a 36-inch Sony FD Trinitron Wega KV-36FV300 television through its S-Video connection; though the Sony TV has a DVI interface, most televisions offer only an S-Video interface. For DVD image and sound quality tests, we played the Star Wars: Episode I pod racer scene and the Moulin Rouge can-can scene. For music quality, we listened to swing tunes from Squirrel Nut Zippers, industrial music from Nine Inch Nails, trippy guitar riffs from Pink Floyd, and jazz piano from Brad Mehldau. We also watched live and recorded TV, and tested each of the PCs' photo album software. If the system had a rewritable DVD drive, we burned a disc. In addition, the PC World Test Center ran PC WorldBench 4 on all six units to evaluate their performance on common business tasks, and we checked their graphics performance on a computer monitor.
During testing, we also listened to the noise each system generated. We heard the Navigator Extreme's loud fans, even with the volume on music tracks turned up, while the SleekLine 2800AV was the quietest system--it was barely audible.
Our conclusion: Every PC did one or two things quite well, but none could completely supplant a home theater system without upgrades. For example, none can replace a cable set-top box, and none offer high-definition TV decoding. All of the home theater PCs in this roundup lack a radio tuner, though you can connect any of them to your stereo simply by running a cable from the line-out jack on the computer's sound card to the peripheral.
An Easier-to-Use Windows
Windows XP Media Center Edition's clean interface works well, for the most part. Setting it up is easy, and the functional remote control that came with all of the Media Center models helped us forget we were using PCs. With all the media applications accessible from one location, watching TV and operating the digital video recorder feels like using a single application. In contrast, on the non-Media Center PCs you feel a disconnect between watching live TV and recording it--you have to switch applications, instead of getting everything in one place with one touch of the remote.
But we do have a few gripes with Windows XP Media Center. For starters, it doesn't let you tweak settings on your speakers, sound card, or other hardware; to do that, you have to exit the Media Center launcher, put down the remote, pick up your mouse and keyboard, and go to the Windows XP Control Panel. Another: If your home theater PC is hooked up to a TV using S-Video, the Windows interface (including items on the Desktop and most application interfaces) will look blurry; the icons and text will quickly give you a headache. During testing, Media Center crashed once during audio tests and once when we started a DVD. This highlights our biggest concern: Putting a PC in the living room means dealing with reliability and maintenance issues when you don't necessarily expect it. No one wants to be rebooting when Barry Bonds steps up to the plate to hit his 700th home run.
While much of the software we tested was simple enough to figure out, setting up some of the hardware was not. Gateway's Media Center PC had ample and easily digested documentation. But despite our poring over the included documentation for the PC Power & Cooling SleekLine 2800AV, the system's complex sound connections prompted two phone calls to the vendor and considerable head-scratching in setting up its speakers; we learned that we had to connect the speakers to the digital-out port on the PC.
To test the systems on normal PC applications, we ran PC WorldBench 4 tests. We found that speed differences among the systems weren't extreme. At the front of the pack was ABS's Media Center PC 8500, with a score of 125, followed by PC Power & Cooling's SleekLine, with a score of 123--akin to similarly configured systems we've tested. Gateway's system--carrying a 2.66-GHz Pentium 4 processor, a skimpy 256MB of memory, and a low-end GeForce4 MX 440 graphics card--brought up the rear with a score of 115.
Home Theater PC in a Box
Most of the systems we reviewed delivered crisp, clear DVD video: The fast action and digital effects of the pod racer scene in Star Wars: Episode I looked sharp, while the vibrant colors of Moulin Rouge popped from the screen. The Alienware Navigator Extreme, however, produced a blurry image on the television, despite our installing two patches, one from Microsoft, and one from Alienware. The company says it is still working to address the problem, which it attributes to video driver bugs. (Our test movies looked crisp when we used the Navigator Extreme with a computer monitor, however.)
The SleekLine 2800AV, the VAIO PCV-RZ26G, and the Navigator Extreme all include a DVI connection and produced startlingly clear images when we connected them to the Sony TV's DVI port.
Once we got the SleekLine 2800AV's sound system set up, its Creative Sound Blaster Audigy 2 sound card and Logitech Z-680 5.1-channel speakers blew us away. The combination reproduced the rumble of the pod racers at high volume without distortion and made elements of the Moulin Rouge can-can scene discernable that we hadn't heard since the movie was in the theater.
At the other end of the scale, the VAIO came with two weak, basic PC speakers and a low-end Yamaha AC-XG sound card that was ill equipped to handle our DVD tests because--unlike the 32-bit Sound Blaster card--it was a 16-bit sound card. For its part, Gateway's 2.1-channel sound didn't offer any surround-sound options.
Playing digital music is another important function of a home theater system. With a good sound card and speakers, these PCs can become your home sound system as well. Windows Media Center makes it easy to access music files, but you can't rip a track to MP3 or WMA from it, nor can you burn a CD; to do that, you have to use a separate application.
Who Needs TiVo?
The reception of these systems' TV tuners is only as good as the signal feed. Almost all of them can record shows as a TiVo would (except that they don't learn your viewing habits). Using a PC also gives you the ability to burn recordings to DVD or add another hard drive.
On the VAIO, we could watch television only while using the PC's Giga Pocket application, and we had to change settings each time to get S-Video to work. With other models, we just connected the PC and television, and the PC recognized the TV as a computer monitor (the Gateway required a minor tweak).
Setting up the Windows Media Center preferences for television viewing was fairly simple. The free program guide generates an easy-to-use interface for browsing or recording shows. PC Power & Cooling's SleekLine 2800AV uses ATI's Multimedia Center software for television and video recording; its included Gemstar TV guide was nowhere near as easy to use or as attractive as the Media Center one. An update to ATI's Catalyst drivers--which should be available as you read this--will incorporate a new version of Multimedia Center, 8.1, with a much slicker interface and many other improvements. Our VAIO, on the other hand, did not have a program guide loaded on it, limiting the system's immediate usefulness as a video recorder. (You can download a free one called IEPG, however.)
Setting up the Windows Media Center recording feature is far easier than programming your VCR, and easier than ATI's or Sony's offerings as well. You record a show in Media Center by clicking the show's name and pushing the record button on the remote, or by using the program guide to schedule a recording. All of the PCs pause or rewind live TV. However, none of the systems let you record one program while you watch another live show (though you can watch a recorded show while you record a live one).
At Media Center's highest recording quality, recorded shows appeared a bit fuzzy and didn't look as good as live TV. With ATI's DVR, on the other hand, capture quality was excellent when we set it to record at "DVD" quality. (By default it records at a lower bit rate, which degrades picture quality.) The VAIO displayed a fuzzy live-television signal, with ghosting, and its recorded shows reflected those image-quality problems.
Once you've recorded shows to your hard drive, you can burn them to DVD for archiving. Burning a DVD on a Windows Media Center PC--if it has a rewritable DVD drive--requires that you exit the Media Center application and use the DVD software bundled with the system. On Gateway's Media Center PC, we burned a DVD with InterVideo WinDVD 4 Creator about as easily as we could burn a CD. The VAIO featured "Click to DVD" software, the easiest option here for burning recorded TV--but the Sony was the slowest in producing a finished disc.
Not Ready for Prime Time
Each unit we reviewed would need a hardware or software change before we'd put it in our living room entertainment cabinets. You can overcome some of the shortcomings, however--such as a subpar sound card or lackluster speakers--by upgrading when you buy. It will also help to buy a rewritable DVD drive and a 5.1-channel surround-sound card with a digital 5.1- or 6.1-channel speaker set. If you're not in the market for a new PC, you can upgrade your existing system to function as a home theater PC.
Michael Gowan frequently writes about digital entertainment for PC World.
Features Comparison: Home Theater PCs (chart)
Home Theater PC                                   
Street price (without monitor, 3/21/03)            
Case type
Features                         
Operating system
PC WorldBench 4 score
Setup and documentation
DVD quality
Sound quality
Noise level
TV image quality
DVR ease of use
Best Buy
ABS Media Center PC 8500 (http://www.abspc.com/app/config.asp?mono=1490)

$1799
Stereo-like
2.8-GHz Pentium 4 CPU, 512MB of DDR333 SDRAM, NVidia GeForce4 MX 440, Creative Labs Sound Blaster Audigy 2 sound card, Creative Inspire 6.1 6660 speakers, 16X DVD-ROM drive, 48X/24X/48X CD-RW drive, 120GB hard drive
Microsoft Windows XP Media Center Edition
125
Very good
Very good
Very good
Audible
Very good
Very good
Alienware Navigator Extreme (http://www.alienware.com/mce_main_sff.aspx)

$2900
Cube
3.06-GHz Pentium 4 CPU, 1GB of DDR333 SDRAM, NVidia GeForce4 Ti 4600, integrated sound, Klipsch Promedia GMXD-5.1 speakers, 16X DVD-ROM drive, DVD-R/RW drive, 180GB hard drive
Microsoft Windows XP Media Center Edition
120
Fair
Fair
Outstanding
Loud
Good
Very good
Cyberpower Media Center PC (http://www.cyberpowersystem.com/highendsystem/MEDIACENTER9000.htm)

$1753
Stereo-like
2.53-GHz Pentium 4 CPU, 512MB of DDR333 SDRAM, NVidia GeForce4 Ti 4200, Creative Labs Sound Blaster Live 5.1 SB0220 sound card, Creative Inspire 4.1 speakers, 16X DVD-ROM drive, 120GB hard drive
Microsoft Windows XP Media Center Edition
118
Fair 1
Good
Fair
Audible
Very good
Very good
Gateway Media Center PC (http://www.gateway.com/home/prod/hm_500mdia_proddetail.shtml)

$2114 2
Tower
2.66-GHz Pentium 4 CPU, 256MB of DDR333 SDRAM, NVidia GeForce4 MX 440, Creative Sound Blaster Audigy sound card, Boston BA745 speakers, DVD-R/RW/RAM drive, 120GB hard drive
Microsoft Windows XP Media Center Edition
115
Very good
Very good
Fair
Audible
Very good
Very good
PC Power & Cooling SleekLine 2800AV (http://www.pcpowerandcooling.com/products/sleekline/sleekline_2800.htm)

$2999
Stereo-like
2.8-GHz Pentium 4 CPU, 512MB of DDR333 SDRAM, ATI All-In-Wonder 9700 Pro, Creative Labs Sound Blaster Audigy 2 sound card, Logitech Z-680 speakers, DVD-RW drive, 120GB hard drive
Microsoft Windows XP Professional
123
Fair
Very good
Outstanding
Very quiet
Good
Good
Sony VAIO PCV-RZ26G (http://pcworld.pricegrabber.com/search_getprod.php/masterid=705022)

$2300
Tower
3.06-GHz Pentium 4 CPU, 1GB of DDR333 SDRAM, NVidia GeForce4 MX 440, 16X DVD-ROM drive, DVD-R/RW/+R/RW drive, 16X/10X/32X CD-RW drive, 160GB hard drive
Microsoft Windows XP Home
121
Fair
Fair
Fair
Quiet
Fair
Fair
Entertainment systems come in a range of shapes, sizes, and configurations, and they offered very different performance in our tests. ABS's Media Center PC 8500 performed the best overall, but the PC lacks a rewritable DVD drive.1 Lacks documentation.2 With monitor, a required purchase. How We Test: We tested systems by playing two DVD movie scenes, watching and recording live TV, listening to MP3s and CDs, and displaying photos, scoring each PC on performance and emphasizing general ease of use. We ran PC WorldBench 4 to test speed. Setup and documentation scores were based on how easy a system was to put together and on the quality of vendor documentation. We also assigned scores for the noise each system generated.
Look and Feel: Three Different Interfaces
The home theater PC interfaces from Sony, Microsoft, and ATI offered three different menus to access TV, DVD, music, pictures, and settings. Microsoft's Media Center Edition was by far the easiest to use, making us forget at times that we were using a PC.
Sony
The menu on Sony's VAIO PC was relatively straightforward, but we didn't like the omission of a TV program guide. Its "Click to DVD" software, however, was the easiest option for burning recorded TV to DVD.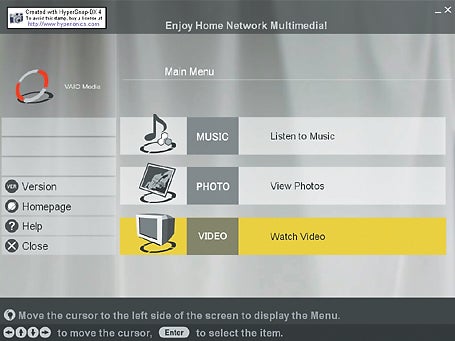 Microsoft
Microsoft's Windows XP Media Center Edition offered the easiest-to-use interface of the three: DVD, TV, music, and the photo album were all accessible from a central location with a click of one button on the remote.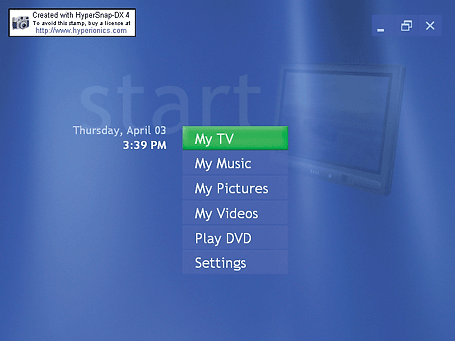 ATI
PC Power & Cooling's SleekLine 2800AV takes advantage of ATI's Multimedia Center software. However, with only a launcher bar that sits on the desktop, this option made made us feel like we were using a PC.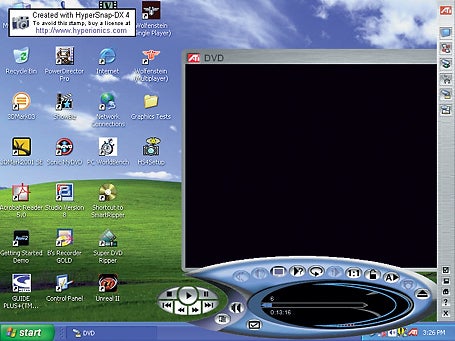 Future Features: Media Center Wish List
We like many things about Microsoft's first version of Windows XP Media Center Edition but believe it could use some improvements--which may be included in the next iteration.
More PC options: Right now only a few vendors produce PCs based on Windows XP Media Center. That will soon change, with Media Center notebooks aimed at residents of small apartments and dorm rooms. Microsoft says that Media Center notebooks from Toshiba and Alienware may be available by the time you read this.
And Dell spokesperson Lionel Menchaca says the company will come out with Media Center PCs by year's end. He cites Microsoft's strict hardware requirements as one reason why Dell is waiting to release its Media Center system. Updated versions of the Media Center OS will support more hardware.
But home theater PCs aren't limited to using the Windows operating system. Online retailer Idot.com has released one based on the LindowsOS Linux distribution; prices for that model will start at a mere $329, with limited hardware.
FM tuner: Joe Belfiore of Microsoft's EHome Division says that a radio tuner is a common request, and that future Media Center PCs will probably offer it.
Multiroom control: If you're playing a song in one room, you can't rewind it from a networked Media Center PC in another room--yet. Microsoft will offer this software soon. Sony already offers a RoomLink receiver that connects to your stereo or TV and allows you to access files from a PC in another room. This option requires a separate $200 piece of hardware, though.
The Upgrade Route
By Eric Knorr
A Media Center PC sounds like a compelling proposition--a device that can capture and play back digital audio and video, acting as either a digital-entertainment hub for your existing home theater or an all-in-one PC-based home theater for a small room.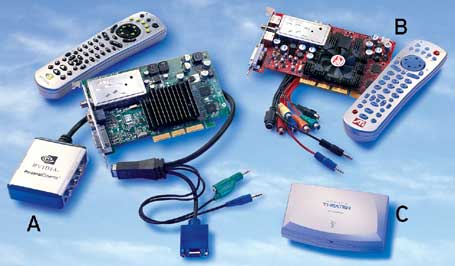 But you don't need to buy a Media Center PC to take advantage of all that digital media goodness. If your current PC has at least a 500-MHz processor and 128MB of RAM, it can probably do the job with some upgrades. Add a TV-tuner card and some software to any fairly capable PC, and you'll have a computer that can rival almost any Media Center machine. The only thing you won't have is Microsoft's Media Center OS. That's okay, though: Several software packages offer similar large-screen interfaces for recording TV and managing digital media.
One thing you will have is some leftover cash--you'll probably spend much less to upgrade a PC than you would on a new Media Center system. And while upgrading can be a very complex process, it's the best way to get an audio/video setup with exactly the right mix of hardware, software, and consumer electronics.
Digital video recording is probably the most compelling element of the home theater PC puzzle, but it's not all you must consider. You'll need the right balance of high-quality sound hardware and speakers, plenty of storage space, and a convenient means of selecting and controlling media. Depending on how you plan to use your PC, you may want to consider upgrading each of these elements.
Get Your Graphics Going
Creating a media-capable machine starts with graphics hardware. Your home theater PC needs to be multitalented--able to record The Simpsons, and then play it back on your television. Plus, you'll occasionally want to view a Web page or Word document. A home theater PC's graphics system must handle several tasks, such as capturing video and tuning in TV signals, as well as displaying video on a high-definition or analog TV set.
First, check your graphics card for an analog video, or TV-out, port. The port usually comes in one of two types, S-Video or composite video, and sometimes both. S-Video produces somewhat sharper images than composite video, and all but the cheapest TVs take S-Video input.
If your graphics board has a TV-out port and you're otherwise happy with your graphics performance, you can simply add a separate $50 PCI or USB TV tuner, such as Hauppauge's PCI-based WinTV Go or ATI's TV Wonder VE, to tune in and capture analog video. For $50, you're looking at a bare-bones card that captures audio in mono only. More-expensive cards come with a remote control and include support for stereo audio capture. If you have satellite service or digital cable, however, you'll need the ability to change channels on your set-top box automatically--which requires a device known as an IR blaster that emulates the remote controls for consumer electronics. DVR software maker SnapStream sells an IR blaster as an accessory for $25.
Buyers looking for a new graphics card can turn to several products that pack a TV tuner onto a standard board. ATI's All-In-Wonder line features such boards built around several of the company's graphics chips, from blazingly fast models like the $399 All-In-Wonder 9800 Pro down to the $129 All-In-Wonder VE. Graphics boards based on NVidia's Personal Cinema can also do the job.
Once the hardware's ready, you need to install and configure your DVR software. We like SnapStream PVS 3, a popular DVR software package that sells for $80 plus $5 per month for the program guide, but there are several other options, including InterVideo's WinDVR 2, ATI Multimedia Center, and NVidia Personal Cinema PVR. Most TV-tuner cards ship with DVR software included. If you choose to install a different program, make sure it supports the tuner or capture device you've purchased.
If you're a stickler for video quality--and if you can receive HDTV broadcasts through an antenna, digital cable, and/or satellite setup--you might try a digital TV-tuner card. One of the best is the $399 Telemann HiPix DTV-200, which decodes and records HDTV signals. But this technology is so new, we recommend it only for the fearless, especially since helpful software like SnapStream isn't compatible with digital TV tuners yet.
CRTs, LCDs, and TVs, Oh My!
A standard PC monitor works fine for a dorm room or a small apartment, but it won't do to have your friends and family gathered around the old 15-inch CRT for your classic-Seinfeld marathon. Fortunately, hooking your PC up to your living room TV is usually fairly easy.
With most TVs, you'll have to settle for an interlaced 480-line image driven by your graphics card's TV-out connection. That's fine for watching recorded TV programs, but the screen image may look pretty fuzzy when you're computing. In that case, you may want to opt for two displays: the existing TV for home theater and perhaps a 15-inch LCD for Web surfing, e-mailing, and configuring.
If you already have an HDTV-capable set or you're thinking about getting one, you might not need a separate monitor because a wide range of sharper display settings will be available to you. For more information on choosing and hooking up an HDTV-ready monitor, see "Computing on the Big Screen."
Sound Possibilities
Any home theater worth its salt needs at least five speakers, including a subwoofer for complete DVD surround sound and perhaps some occasional big-screen gaming. The best way to do it if you're looking at a living-room setup is to run your PC's sound out to a home theater receiver using a digital audio connection. In that case, almost any sound card with a coaxial or optical Sony/Philips Digital InterFace (S/PDIF) output on the PC side will do. The $70 Sound Blaster Audigy from Creative Labs will work just fine.
If you don't plan to hook up your PC to a receiver, you might not get enough wattage for living-room home theater. A good sound card and powered speaker set, however, can fill a small- to medium-size room with good-quality sound. Among sound cards, one of the best values is Creative Labs' Sound Blaster Audigy 2, which sells for about $120. If you hate opening your PC, consider M-Audio's Sonica Theater, an impressive-sounding external $99 sound card that connects to your system via USB port.
You have an abundance of choices for PC-based home theater speakers. Logitech's $300 Z-680 5.1 speaker set, for example, can pump out sound that rivals most home-theater-in-a-box systems. Less-expensive surround speaker sets such as Creative's $99 Inspire 6.1 6600 are also available.
Remote Control
Unless you like the idea of keeping a wired mouse and keyboard on your coffee table, you're going to want a better way to control your living-room PC. Many TV-tuner cards come with a remote that's capable of controlling DVR software. SnapStream, for example, has an optional $30 remote that's preprogrammed to work with it. ATI's All-In-Wonder and NVidia's Personal Cinema cards also have optional, preprogrammed remotes.
Of course, you'll probably want to use your remote to control other software as well. The $49 ATI Remote Wonder is one of the most popular units around. It's an RF remote, which means that you don't need to be in line of sight of the receiver for it to work. Unfortunately, it's not very programmable. That's where Girder, a $5 shareware package, comes in: With a certain degree of diligence, you can use it to remap the capabilities of the ATI Remote Wonder and other remotes, so you can get exactly the couch-potato control you want.
A wireless keyboard and mouse combo like Logitech's $100 Cordless Elite Duo can provide more-traditional control without wires.
Storing Your Recordings
Nothing chews up disk space like video. Recording TV in DVD quality requires about 2.4GB per hour. If you drop down to VHS quality at roughly 500MB per hour, you'll lose a bit of quality, but a 250GB drive (Maxtor and Western Digital sell 250GB models starting at $350) will let you store a lot of video.
If you want to play that video back in another room, we recommend a DVD-RW or DVD+RW drive. Their write-once DVD-R and DVD+R formats are compatible with most current DVD players. Sony's $300 DRU-500AX writes to both DVD-RW and +RW formats, burns CDs, and is a current PC World Best Buy.
Eric Knorr is a California-based freelance writer covering PC technology.
Upgrade Checklist: Home Theater PCs (chart)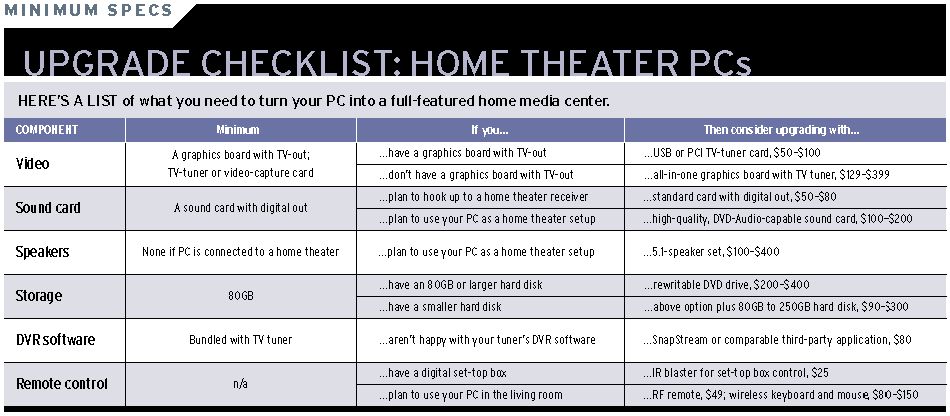 High-Definition: Computing on the Big Screen
We'll all need high-definition TVs once broadcasters eventually move to digital TV, so a home theater PC project provides the perfect excuse to start looking at sweet high-res big screens. And if computing in your living room is a priority, the increased resolution of HDTV-ready sets will greatly enhance the experience.
The best and most expensive display would be a 32-inch or larger HDTV-capable monitor that can serve both as a home theater screen and as a monitor you can use across the room with a wireless keyboard. If price is no object, get an HDTV monitor that features 720 progressive scan (720p), which in HDTV lingo means 720 lines of noninterlaced vertical resolution. That is, the lines are scanned sequentially on each pass, creating a sharper image than the interlacing method of scanning every other line per pass. With 720p and the right graphics card settings, you'll get an image close to the crisp 1024 by 768 resolution of PC monitors. On the other hand, you'll save considerable cash by choosing an HDTV monitor that tops out at 480p or 1080i (the i stands for interlaced) instead. This usually results in a cramped 640 by 480 desktop resolution, though you may be able to tweak your graphics card to display 1920 by 1080 interlaced. The resulting image quality can vary widely depending on the monitor you're using.
A $30 shareware program called PowerStrip, from EnTech Taiwan, can increase your odds of success by providing endless tweaking options for most graphics cards. Also consider asking a boutique home theater shop if you can bring your PC in and try out HDTV displays to make sure your settings work.
As for connecting an HDTV-ready display, the best case is that both your HDTV monitor and your graphics card have a digital video interface connector, so you can simply run a DVI cable between them. Otherwise, your only HDTV input will probably be a component-video (often labeled YPrPb) connector; several graphics boards have optional VGA-to-component-video adapters.
HDTV displays have a dizzying array of video connectors. Here's how to sort them out.
A. Composite video: Standard connector that delivers the worst quality.
B. S-Video: Slightly better than composite.
C. DVI connector: Convenient, high-quality, high-definition connector.
D. Component video: Typical hi-def connection.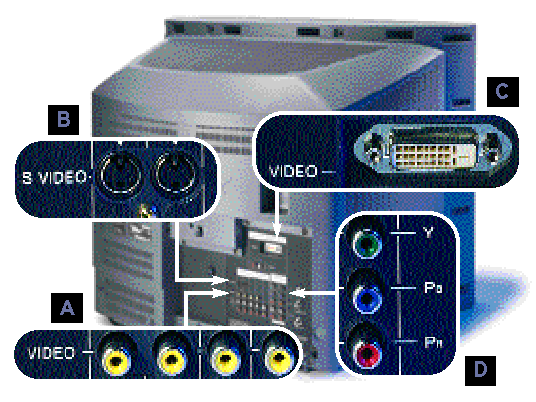 The No-Upgrade Route: Keep That PC Out of the Living Room!
Okay, so a PC in the family room isn't for everyone. Fortunately, there are plenty of ways to bring digital audio and video to your home theater setup without dragging a tower system into the same room. TiVo is the classic example: You pay $250 for 40 hours of TV recording space plus about $13 a month (or $299 for the life of the machine). No fuzzy tuner cards, no quirky software, no ugly PC in the living room. Pricier new devices like Toshiba's $1500 RD-X2 and Panasonic's $1000 DMR-HS2 pair a hard drive with a DVD burner to offer unlimited-storage digital recording, though neither features a program guide.

A number of new products extend TiVo-like panache to PC audio. With a box tailored for your living room, you can access MP3s kept on networked PCs elsewhere in the home. TiVo itself has added this feature as a $99 option. On the higher end, Onkyo's ethernet-networkable Net-Tune receivers have their own LCD interfaces, which display song lists and Internet radio stations organized with Net-Tune Central software installed on a host PC. A basic 15-watt-per-channel model costs $400; a high-powered THX Select 7.1-channel home theater receiver costs $1500.
Want wireless access to PC content? We've taken a look at three options: the CD3O C300 Network MP3 Player, the HP Digital Media Receiver EW5000, and the Prismiq MediaPlayer. Each offers 802.11b connections and requires jukebox software installed on a remote PC. The $249 CD3O is the quirkiest, with an interface that combines a remote control with text-to-speech (imagine Stephen Hawking saying "Christina Aguilera"). The $300 HP and the $250 Prismiq hook up to your TV and provide video-driven interfaces for accessing songs and photos. The Prismiq even lets you stream video from your PC--but at 802.11b speeds, the video quality is unimpressive.