Check Your Disks for Errors, With a Single Click
Last February I described how to automate hard-disk scans in Windows 98 and Me. Several readers have written to ask for the lowdown on automatic disk scans in Windows 2000 and XP. You can create a shortcut and automate disk scans in these operating systems, though doing so takes a little work and know-how.
Unlike previous Windows versions, 2000 and XP won't let you fix errors as you check a disk whose files are in use. Windows can override this in some cases (as I describe below). But checking your Windows drive while Windows itself is running is out of the question: Windows simply asks whether you want to schedule the process to occur the next time you restart your computer.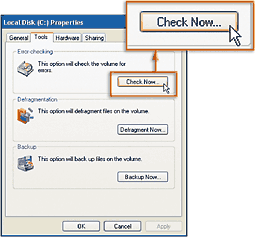 The Windows approach: If you're new to Windows 2000 or XP, you may have difficulty finding the error-checking feature at all, since the ScanDisk icon doesn't appear in the System Tools menu as it does in other Windows versions. To get to this feature, double-click My Computer or open an Explorer window, right-click the icon for the drive you want to check, and choose Properties. (Alternatively, you can open Properties by Alt-double-clicking a drive icon or by selecting it and pressing Alt-Enter.) Click the Tools tab, and under 'Error-checking', click Check Now. For many drives, that button is misnamed, if you choose to fix file system errors; when you tell the utility to begin, instead of "checking now" it will ask to schedule the scan at the next restart.
In the Check Disk dialog box, select your options and click Start. If you leave both check boxes empty, the scan will begin immediately, as it will only be checking the disk and not fixing any errors it finds. If you mark one of the check boxes, the program may say that you need to restart your PC before the process can begin. If that's okay, click Yes. If it isn't, try the shortcut approach described below. To schedule several disks for error-checking the next time you reboot, repeat the steps above for each drive.
The shortcut approach: If you prefer not to open Properties for every drive that needs checking--and then futz with various tabs, buttons, and prompts--you can launch the error-checking process from a shortcut icon, complete with the settings you use most often. You may have to answer prompts in some cases, but this technique entails a lot less clicking.
To create a batch file that launches the Chkdsk program, click Start, Programs (All Programs in XP), Accessories, Notepad, and type chkdsk followed by a space, the letter of the drive you want to check, and a colon (for example, chkdsk d:).
Add to this line the appropriate switches for the options you want, separated by spaces. Among the most useful switches is /f, which has the same effect as the Automatically fix file system errors option in the Check Disk dialog box described earlier. If the drive you're checking is already in use, you can add the /x switch to allow Windows to lock the drive for its exclusive use while it performs the error check (a feature you get only by employing this technique). You won't be able to save files to that drive until the error check is complete, at which time everything returns to normal. Unfortunately, even with the /x switch, you can't run Chkdsk on a Windows drive. Windows will ask if you want to schedule the procedure for the next reboot, just as in the previous method. Take it (enter y) or leave it (enter n).
Command and Control
To make a batch file that always gives the same reply to this prompt, use the pipe symbol (|) to send a y (for yes) or n (for no) to the command on the same line. The full command would look something like this: echo y|chkdsk c: /f /x. Naturally, your drive designation and chosen switches may vary. And you should replace the y with an n if your answer is always no.
To keep the command prompt window from closing after the program executes your batch file, add a final line consisting of a single word: pause. When you launch your batch file, the pause command will hold the command prompt window open so you can see any messages or spot problems. When you're satisfied that all is well, press any key to close the window.

After formulating your command line, test it in a command prompt window. Choose Start, Programs (All Programs in XP), Accessories, Command Prompt to open such a window. This is also a good place to learn about additional Chkdsk switches: Type chkdsk /? and press Enter to get the full scoop. Add the switches and commands you prefer to the command line (above the word pause).
If you want your batch file to check more than one disk, press Enter at the end of your first command line, and type another command that designates a different drive. Repeat these steps for each drive that you want your batch file to check.
Finally, choose File, Save As, navigate to the folder where you store your batch files (or to the Windows folder), and give the file a name like "checker.bat" (be sure to include the quotation marks so your text editor won't add its default.txt extension). To launch the disk-check command from the Start menu, locate and select the batch file in Explorer. Use the right-mouse button to drag the file to the Start button, and pause until the menu appears. Drag the file to the submenu of your choice. When the file is over the desired spot, release the mouse button and choose Create Shortcut(s) Here. From now on, when you want to check your disks for errors, just choose your new command from the menu.
The scheduled approach: Now that you've created a batch file for checking your disks, automating the process is simple. Choose Start, Programs (All Programs in XP), Accessories, System Tools, Scheduled Tasks. Double-click the Add Scheduled Task icon. Click Next in the Scheduled Task Wizard dialog box, and then click the Browse button to locate your batch file. Select the file and click Open. Follow the remaining prompts in the Scheduled Task Wizard to make the disk checking occur when you want it to.
Stay Home or Be a Pro?
Windows XP Professional and Home can run on nearly any PC manufactured in the last few years. These days, most new systems come with XP Home installed (because it's cheaper). But is that the version of Windows XP you want? If you use Windows in your business or consider yourself a PC hobbyist, leave Home alone.
As its name suggests, XP Professional is designed for business and power users. If you take your XP Pro laptop to work or school, you should have no difficulty connecting the system to a secure network. XP Home users may not be able to do this, or the connection may require you to install special software (contact your network administrator) or accept less-stringent security. XP Pro supports offline files, which means that you can work on documents stored on the network even when your computer isn't connected (for example, if you take your laptop on the road). The offline copies of the files automatically synchronize with the network versions when you restore the connection; not so with XP Home. XP Pro's Remote Desktop feature lets you see and work with another PC's Windows desktop (and its apps and documents) via a network or Internet link. XP Home has the software for connecting to an existing shared XP Pro desktop, but it can't share its own desktop remotely.
Security is another reason to go with XP Pro. That version supports the NT file system (NTFS), so you can encrypt folders for greater privacy. If XP Home users want to password-protect a folder, they must adopt a workaround like the one described in last month's Windows Tips column. XP Pro also provides more-secure access to network resources (drives, folders, and files).
People who love to customize and take control of their computer will prefer XP Pro's Group Policy Editor for tweaking myriad system settings. And Pro's Automated System Recovery feature restores your machine from a backup when problems occur. XP Home doesn't even offer the Windows Backup utility as an option.
Before you buy a PC, ask which version of XP you're getting on your system. Don't go with XP Home just to save a few bucks (XP Pro can add $60 to $100 to the price of a system). But if your new PC is exclusively for home, and you aren't concerned about the lack of security and customizing features, take the Home road. Just don't say I didn't warn you.
Send Windows-related questions and tips to scott_dunn@pcworld.com. We pay $50 for published items.Visit here for more Windows Tips. Scott Dunn is a contributing editor for PC World.
Power Menu Gives Your Apps New Versatility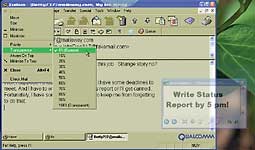 Say you want to place on your screen a reminder message that's transparent, so other application windows remain visible. Or suppose you want to keep a program that you rarely interact with running all the time, but you'd rather have its minimized icon in the system tray (the area of the taskbar by the clock) than in the Quick Launch toolbar. Or maybe you just want to give a sluggish application full access to all of your computing power.
These are some of the many functions you'll find as options on almost any Control menu (the icon in the upper-left corner of your application window) when you use the multifaceted Power Menu utility, which is the creation of Thong Nguyen (also known as "Tum"). Even if you need just one or two of these features, check Power Menu out--after all, it's free. The transparency effects work only in Windows 2000 and XP. Click here to download a copy.