Misadventures in Tech Support
As companies move service offshore and online, are you still being served? We went undercover to put major vendors to the test. Not everyone gets a passing grade.
Michael Desmond is a freelance writer based in Vermont. PC World Test Center Senior Performance Analysts Jeffrey Kuta and Elliott S. Kirschling, Senior Editor Aoife M. McEvoy, Senior Technical Editor Karl Koessel, and freelance writer Jeff Bertolucci contributed to this article.
We've all experienced it: the moment your PC (or some vital part of it) just up and quits on you, at the worst possible time. Mine was last December, when I fired up my four-month-old laptop to finish a project due the next day, only to have the screen display the dreaded Windows Blue Screen of Death.
Fortunately, an astute tech support rep recognized the symptoms of faulty RAM. Rather than have me send back the system--and my precious data--he shipped me fresh RAM modules to replace those in my notebook. Less than 24 hours later, my problems were solved.
Alas, not all tech support tales end so happily. In fact, in recent years our annual Reliability and Service survey has shown a groundswell of dissatisfaction among PC World subscribers with the support they receive from their technology vendors (although satisfaction with service generally improved in the most recent survey; go to the "Reliability and Service Report Card"). Whether it's interminable hold times, clueless technicians, the difficulty of understanding the heavy accents of some offshore reps, or just plain bad advice, PC users aren't getting the quality of service they expect from tech vendors.
We went undercover to try out support for PCs, software, and ISPs. The PC World Test Center concocted two failures--one simple and one more complex--for three PCs, one notebook, three software packages, and three broadband ISP accounts. For example, the PCs suffered a loose power plug (easy) and a bad hard-drive cable (difficult).
We then tried to solve the problems using all the support options the vendors offer. Most of our interaction with vendors took place on the phone, but we also used their FAQ pages, knowledge bases, and other online support resources.
Based on the 21 calls we made, there are still some support stars out there. We found knowledgeable and experienced technicians manning the phones at Dell, and one of the reps for budget-PC vendor Polywell wowed us with his spot-on advice and cool demeanor. Unfortunately, we also found that there's no shortage of bad advice emanating from call centers, wherever they happen to be located. Please take our limited, first-hand experiences with a grain of salt, however. We set out to get a reality check on the state of tech support in general, not to damn or praise specific vendors. Your experiences with the companies we dealt with may not mirror ours.
'Your Call Is Important'
Topping most people's tech support complaint list is long hold times. We were pleasantly surprised to find our wait times sufferable, especially for our calls to PC vendors and ISPs. We waited less than 2 minutes to get through to HP and IBM (Dell had us listening to canned music for an average of 12.5 minutes, however). The three ISPs we called had us talking to a human after only a few minutes on hold. The news isn't so good on the software side: Microsoft made us wait a half hour--twice--whereas our two calls to Symantec were answered in 12 and 13 minutes, respectively. We waited 24 and 10 minutes on our two calls to Adobe.
During our calls we chatted up the support techs to find out where they were located, whether they worked for the product's vendor or a third party, and how long they had been working in tech support. Only three of the reps we spoke to acknowledged being located overseas--all in India. Whether overseas or in the U.S., several other reps spoke with foreign accents. In our limited experience, the techs with identifiable accents were as likely as those who spoke standard American English to give us good advice.
Offshore reps were generally more difficult to get off script as they diagnosed a caller's problem. A script serves as a decision tree for technicians, but it can also keep them from doing any critical thinking about the problem. Too often the script is a crutch for someone without technical experience. Luckily, most of the reps we dealt with dropped the script soon enough (or at least appeared to).
Hardware Support: Trial and Error
Products: Desktop PCs from Dell, HP, and Polywell; a notebook computer from IBM
Easy problem: Unplugged power cord
Difficult problem: Bad hard-drive IDE cable (loose drive link in the notebook)
Good news: On our first call, the Polywell rep was efficient and knowledgeable--and from a third-party contractor, no less.
Bad news: HP's tech agent nearly had us ship our PC back to HP to fix a bad IDE cable. Polywell's contractor took 2.5 hours to call us back about our second problem.
Our three desktop machines were midrange Pentium 4-based systems with between 512MB and 1GB of RAM. The laptop came with a 1.4-GHz Pentium M processor and 256MB of system memory.
It usually didn't take too long for us to get through to the hardware vendors: IBM and HP answered in less than 2 minutes, while Dell picked up after 12 and 13 minutes, respectively. Polywell's call-back service responded to our first phone call after 29 minutes, but took 2.5 hours to answer our second call.
Dell, HP, and Polywell aced the "Oops, I left the computer unplugged" challenge--all immediately asked us to check the power cord. For the IBM notebook, we weren't so lucky. We unplugged the system's AC converter block to mimic what might happen if you repositioned it on your desk. When we called IBM's tech support to complain of a battery that seemed to be draining, the agent was quick to suggest that we check both the wall outlet and the back of the machine for loose connections. However, he never thought to ask us if the converter block itself had come unplugged.
Instead, he assumed we had somehow undercharged our battery, which was not the case. His solution: Remove the battery and hard drive from the laptop, press the power button ten times in a row, and then hold the power button down for 15 seconds. This bizarre routine apparently drains the PC's capacitors, at which point we were to run the PC for a couple of hours to see if the battery held a charge. Of course, that didn't solve our problem, so we called IBM the next day. The second IBM technician resolved the situation in less than a minute.
Our second problem proved more difficult for the support reps to solve, because they had to diagnose a system that would not boot up. Our goal was to have the support rep discover the bad cable and send us a replacement. With our three desktops, the reps for Dell, HP, and Polywell immediately recognized that the problem was related to the hard drive. However, this task separated the script readers from the true technicians, in part because broken IDE cables are a rare thing, especially in new computers. As a hint, we offered that we may have tugged on or clipped the IDE cable when working inside the case.
HP's rep, located in India, offered some wooden readings from a script. She barreled through corporate boilerplate about having a new drive sent out or possibly having us ship the PC back to HP for repairs. Communication sometimes broke down with this agent: She tended to speak at a rapid-fire clip, and she was lost by our attempts at humor. Our conversation included a lot of repetition.
The news wasn't much better at Polywell, where the tech had us reseat drive cables and attempt a disk restore from a hidden partition--neither of which solved the problem--before giving up.
Our calls to Polywell show that two calls to the same company at the same location can yield very different results. Our first call to Polywell's third-party provider, Integrated Automation International, was arguably the best of the entire test. That technician was friendly, energetic, funny, and--most important--knowledgeable. He happened to be a hardware nut who builds his own systems. Though he handled only the no-brainer question, his tech knowledge, confidence, and calm manner came through loud and clear.
Two days later, however, our second call to Polywell went unreturned for 2.5 hours. When a technician did call back, he seemed reluctant to work with us.
Only Dell came through with flying colors in this test. The knowledgeable tech identified a bad cable as a possible culprit, prompting us to say that we had an old one lying around. Ten minutes later, the "good" cable was installed and the problem was solved. One plausible reason for Dell's success: The two techs we talked to at the company said they had nine years and six years of tech support experience, respectively. Their expertise bore that out.
Since we couldn't swap IDE cables in the IBM ThinkPad, we simulated a disk failure by removing the hard drive from the Ultrabay housing. This time, the IBM tech quickly diagnosed the problem--a possible loose drive connection--and had us remove and reseat the hard drive.
Hardware Answers Online
All four of the hardware vendors we dealt with recommend that their customers search for solutions to their problems on the companies' Web sites prior to calling tech support. These sites offer step-by-step troubleshooting guides, as well as searchable knowledge bases. Unfortunately, the volume of information they offer can be daunting, especially for novice users. The online troubleshooters are still more time-consuming and difficult to use than calling the vendors' support lines. Also, if your machine isn't working, the sites' automated troubleshooting tools won't do you any good.
Of the company sites we visited, IBM's provides the most proactive online support, including browser-based diagnostics that detect your PC model and steer you toward relevant troubleshooting solutions. The site's Hints and Tips page helps guide users to solutions for problems with specific products or situations.
Neither Dell nor HP can match the helpers on the IBM site, but their support sites provide detailed information for all of their PC models. Dell's support pages are easier to navigate than those on HP's Web site (see FIGURE 1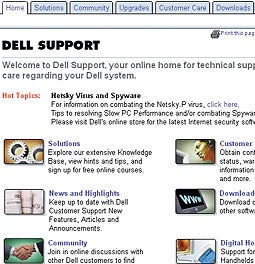 Figure 1: Browse support topics and resources by category on Dell's support site.
). Among the useful resources on the Dell site are a knowledge base, online tutorials, and several discussion forums. Polywell's online support is sparse by contrast, consisting primarily of a brief FAQ section, a driver download page, and a technical support request form.
PC SOS: Call Hotlines for Help
When your PC gear acts up, give the vendor a shout (literally or virtually).
So-So Support for Software
Products: Adobe Acrobat 6, Microsoft Office Outlook 2003, and Symantec Norton AntiVirus 2004
Easy problem: Missing Start shortcut
Difficult problem: Missing system file
Good news: Adobe was the only software vendor to recognize and remedy both our easy problem and our difficult one.
Bad news: Microsoft twice put us on hold for more than half an hour, and both times opted for using the repair/reinstall tools on the Office CD rather than simply restoring the missing file to the app's system folder.
For our software tests we used the fee-based support services offered by Adobe and Symantec, but relied on Microsoft's free service. Adobe's service costs $39 per call, while Symantec's is $30 per call. Note that both Adobe and Symantec waived the fees for our second calls to them; Adobe identified the problem as an "installation issue."
We waited longer for the three software firms to answer than we did for the four hardware vendors and three ISPs to pick up. Symantec answered in 12 minutes and 13 minutes, respectively, while Microsoft saddled us with half-hour hold times twice. Adobe's support staff picked up in 24 and 10 minutes, respectively.
In both of our problem scenarios, we explained to the support reps that our computer was in an area where children and cats could get at it, making accidental file deletion a distinct possibility. We hoped the techs would have us re-create the app's Start menu shortcut manually to solve the easy problem, and restore the missing file to the program's system folder.
Only Adobe diagnosed both the deleted Start menu shortcut and the missing application file. A rep out of Oregon nearly aced the first problem right out of the chute, guiding us to the Acrobat 6 application folder before putting us on hold to consult with someone offline. He eventually talked us through the process of creating a shortcut to the acrobat.exe file and moving it to the Start menu. The Symantec rep also recognized the missing shortcut, but after putting us on hold for a couple of minutes, he had us reinstall the entire application, which took longer than simply restoring the missing system file.
For the missing Start menu shortcut, the India-based Microsoft tech insisted that corruption during an Office upgrade was the culprit. She had us run Office's Add or Remove Features function, which brought the shortcut back, but it took longer than re-creating the shortcut manually. The second Microsoft rep, also based in India, had a hard time understanding our Outlook problem. She put us on hold, and then told us to use our Office CD to repair our installation. This restored the missing system file, but it wasn't as fast as restoring the file manually.
Keeping tech-support call centers in the U.S. doesn't guarantee a successful solution. Both our calls to the Symantec support center based in Oregon were marred by technically unsure agents who repeatedly put us on hold to work out relatively simple Windows file-navigation issues.
Only half the software reps would divulge how much experience they had in tech support, but those who did had been working for their company only a few months. The result: questionable answers, multiple stints on hold as reps called for help, and a whole lot of application reinstalls.
The software vendors pushed their free online support and fee-based phone support as a way to cut costs. They often subjected us to a customer-service interview to assess our call before putting us on hold to speak to an actual technician.
Web-Based Software Help
All three software vendors offer searchable knowledge bases, remote diagnostic applications, and user forums on their support sites. The Symantec site features a browser-based utility that warned us that our virus profiles were out of date (see FIGURE 2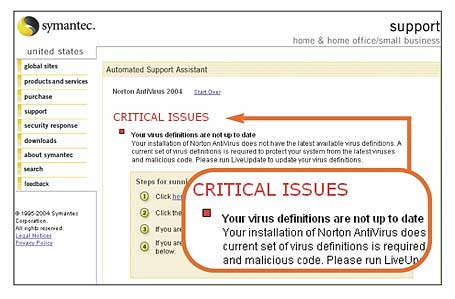 Figure 2: The automated support assistant on Symantec's site starts by prompting you to update your virus definitions.
). However, when we ran the utility to restore our missing AntiVirus system file (our difficult problem), the software failed to recognize the issue.
Microsoft's online support site is dominated by the company's Knowledge Base, a vast repository of information and articles addressing the complete range of Microsoft products. Unfortunately, a simple search can turn up so many hits that it's difficult to find the specific item you need to solve your problem. For example, we couldn't resolve either our missing-shortcut problem or our missing-file one using the Knowledge Base.
Adobe's Acrobat support page is also search driven, though visitors can get help by running a series of step-by-step tutorials and by accessing the product's user forum. Still, we didn't find the solutions to our problems on Adobe's site.
Software SOS
Try these contacts when your apps go on the blink.
ISPs Get Passing Grade
Services: Adelphia Communications, Comcast Cable, and SBC Yahoo DSL
Easy problem: Unplugged modem
Difficult problem: Altered IP setting
Good news: Calls to all three providers were answered quickly, and their reps were generally on the ball.
Bad news: Adelphia's support tech came that close to solving our complex technical issue, then reversed course and told us to call our system vendor.
In contrast to the software firms, cable-Internet providers Adelphia and Comcast, and DSL provider SBC Yahoo, responded quickly: Adelphia averaged 3.5 minutes for our two calls, Comcast answered each call within 2 minutes, and SBC Yahoo picked up within 3 minutes both times. The technicians we dealt with appeared to be in the U.S. or Canada.
The ISP reps had an advantage: They could tell if we were on the network. This made it easy for the agents to diagnose both our problems.
The technician at SBC was friendly, knowledgeable, and fast--he resolved the unplugged-modem challenge within a few minutes. Both of the Canada-based Comcast support reps we spoke with helped us solve our problems, although the first, who found our unplugged modem in just a few minutes, was much more efficient (and confident) than the second, who led us down a few blind alleys before discovering our misconfigured IP setting. Adelphia's tech rep was every bit as quick in resolving our simulated failure. He also surprised us by asking if we had a cat.
"In winter, some cats like to sit on the modem because of the warmth," he told us. "One lady had a cat that slapped at the modem because it didn't like the lights. It was slapping at the power button to make the lights turn off. We finally caught the cat in the act."
Our second call to Adelphia about the IP setting was answered by a support rep who quickly ascertained that the modem was properly logged on and working. Some adroit questioning revealed that we had an active connection and that the problem wasn't in the cabling between the PC and the modem.
Unfortunately, the tech, who said he had a year and a half of experience, failed to close the deal. We told him that someone had hooked the PC to a friend's system while gaming the night before. But the rep failed to follow up on this piece of evidence, though he did mention that changes to our network settings could disable our Internet connection. In the end, he advised us to contact our PC maker. Surprisingly enough, the solution to our second "failure" is posted right on the Adelphia support pages (see FIGURE 3
Figure 3: Cable ISP Adelphia's site had the solution to our problem, even though the company's tech rep didn't.
). Alas, the Adelphia technician didn't suggest that we check the company's Web site for a fix--or check it himself.
Online ISP Support
If your Internet link is down, your ISP's online support may not be your most convenient source for help. Still, you might find the solution to your problem in the ISP's FAQ pages or its knowledge base.
Adelphia's FAQs cover installing and securing your connection, but the site doesn't offer any speed-check tools such as those at BroadbandReports.com, for example. Comcast's support page includes step-by-step instructions for restarting your modem, setting up an e-mail account, and other common activities. The site's FAQs have information on troubleshooting a dodgy Internet link, but most of its support-related links simply refer you to the company's toll-free support line.
SBC Yahoo's support page includes a DSL Internet Throughput Test. The company's help site also features an extensive section explaining how to set up and troubleshoot your DSL modem.
Paying the Support Price
Bob Igou, principal analyst in the IT Services and Management group for industry research firm Gartner, says shabby support is due to simple economics. "It's pretty tough for these companies to offer free technical support," Igou says. "If they take many technical support calls, it will just kill their [profit] margin."
Igou says vendor call centers are ill-equipped to field diverse complaints from consumers and small businesses. Unlike a company's help desk, the people supporting commercial products can't predict your hardware and software configuration, he says.
Ron Silliman, principal analyst in Gartner's Infrastructure Support Service group, says online service is catching on with business users, but vendors have not committed to serving consumers. "Just because something comes in on e-mail doesn't mean it's not urgent," he says.
Whether by Web site, phone, or pony express, support must improve--or else tech vendors may find that their telephones stop ringing altogether.
Third-Party Services: Tech Support Home Delivery
If your ailing PC puts you in desperate straits, you might consider calling in a consultant to perform a home or office visit. Computer service companies such as Panurgy have offices across the country that serve clients with everything from small, five-system networks to sprawling enterprises with thousands of PCs. Costs generally start at about $150 an hour. Home users, however, may be better served with firms specializing in domestic setups. These services usually cost less than their business counterparts, and they're likely to have more experience with games and other nonbusiness applications on home systems.
To get a sense of what a PC house call is like, I phoned a Burlington, Vermont-based outfit with the memorable name of Rent-a-Geek. Founded by a pair of former University of Vermont students in 1997, the small firm now has four employees who address the home, home-office, and small-business markets in the Burlington area. At 4:45 p.m., I placed a call complaining that my system was producing an 'Operating system not found' error. (For this call, I used our "difficult" PC problem and installed a bad hard-drive IDE cable in the machine.) I booked a consultation for 10 the next morning.
The technician, Marc Leone, showed up a half hour late, but he got right down to work. Within minutes he confirmed that the problem was with the hard drive and not the operating system. He opened the case and reseated the IDE cables. When the system still failed to detect the hard drive, he removed the hard-drive cable, which we had doctored to prevent disk access. In its place he plugged in the cable that used to connect the DVD-ROM drive.
Just like that, the system booted up. It cost me $75 and under an hour to get my problem fixed (subsequent hours would have cost $75 each). If I had been in a real pinch, the house call would have been money well spent.
My experience shows that a competent support technician on the scene can get a lot more done than someone talking to you over the phone. Rather than relying solely on a phone-directory ad, however, ask your friends and colleagues for referrals. Also, search online for local PC-repair listings (assuming your PC is functioning), and follow up on customer referrals or testimonials by checking out contenders with your local Better Business Bureau.
Tech-Call Smarts: Win the Support Game
Here are a few things that you can do to help tilt the support odds in your favor.
Time your calls: A technician for Dell advised us to call support in the late morning or early afternoon to avoid being routed to international call-overflow centers. He also singled out Mondays, holidays, and the back-to-school season as bad times to call.
Know your problem: Telling a tech that your system is broken won't help them resolve your issue. Take the time to write down any error messages that appear on screen when the problem arises. Also, try repeating the failure before you call so you can jot down exactly what happens and when.
Consider what changed: Things usually happen for a reason. If your Internet access is out, could it be that a circuit breaker was tripped during a storm? Perhaps a drive cable got knocked loose when you moved a PC. Or maybe your children got into the office and mucked with your software.
Keep it simple: Many problems are astonishingly easy to fix--like the unplugged power cord that virtually all our technicians confirmed is a frequent source of calls. Before you spend time on hold with a hardware or Internet service company, check that your system's power and data cables are firmly seated.
Have all your system info handy: Pull together any documentation you have on the affected product. Software vendors will almost certainly ask for a product ID code, while most PC vendors require the system's serial number and/or the invoice number.
Get in front of your system or software: The biggest advantage to phone support is being able to perform trial-and-error troubleshooting. Before you call, make sure you have the ailing hardware or software immediately accessible. You don't want to have to set down the phone every time you perform an action.
Dodge fees: Software vendors in particular like to charge for phone support, but technicians may have latitude to waive fees if they deem the call to be related to an installation problem. If you can present your glitch as being associated with your software installation, you may be able to save a few bucks.
If you own cats, reveal it up front: Technicians from Adelphia, Dell, and IBM all asked if we had cats in the house. Apparently, rambunctious felines--especially those with a thing for blinking lights--are a significant source of tech support call traffic. Who knew?