These devices bring high-quality digital audio to your stereo or home theater. Nevertheless, we haven't yet found one that offers a perfect combination of sound and video quality.
Home Theater Sets: Convenient, Feature Rich
Home Theater in a Box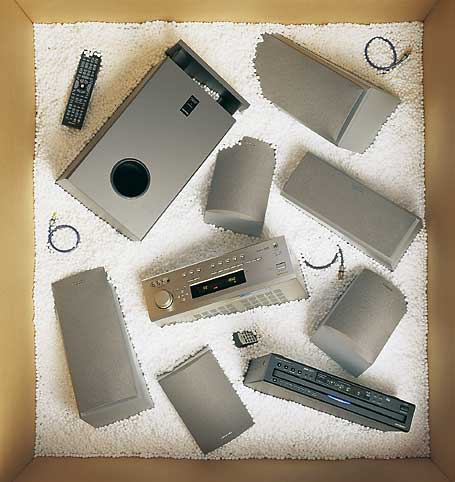 Onkyo's HT-S777C home theater system, our Best Buy Choice.
Setting up a home theater system--the audio and video components that bring the movie experience into your living room--is a real pain. Should you get 5.1, 6.1, or 7.1 speakers? And what do all of these numbers mean anyway? What's a watt, and how many do you need for a 6.1 speaker system? What kind of digital connection to the DVD player should you use--optical or coaxial? S-Video or component video? Ugh. A few years ago someone had a great idea: Put all the components for a home theater into a single package. The simplicity of the concept--not to mention affordable prices--made it easy for the masses to jump on the home-theater bandwagon.
I tried five home-theater-in-a-box units--Gateway's KAS-303 & Connected DVD Player Bundle, Onkyo's HT-S777C, Panasonic's SC-HT720, Philips's LX3750, and Toshiba's SD-V55HT--and found that today's models improve on the original concept. Current HTiBs combine simplicity with prices as low as $299 (see chart)--and with features that only a year or two ago were available only in high-end systems. I particularly admired the fine audio qualities of our Best Buy model, Onkyo's HT-S777C, which comes with excellent speakers and a six-disc DVD changer--a component that continues to command a significant premium in a stand-alone DVD player. Read more about home theaters in a boxhere.