Keep others from adding unwanted programs. Plus, learn the purpose of those mysterious files with a tilde in their name.
Restrict Software Installs on a Shared Computer
Send your questions to answer@pcworld.com. Answer Line pays $50 for published items. You'll find Contributing Editor Lincoln Spector's humorous writing at www.thelinkinspector.com.
Other family members keep installing software--some of it undesirable--on the PC that all of us share. How do I stop them?
Daniel Otten, Englishtown, New Jersey
Short of disabling your CD drive and Internet link, there's no guaranteed way to block software installations. But the following suggestions worked with every Windows installation I tested.
With Windows 2000 and XP, you can stymie installs by having the only administrator account on the PC, if the account is password protected. In Windows XP, select Start, Control Panel, User Accounts. Click Change an account, your account, Create a password. (If you see a 'Change my password' option, the account already has a password.) Follow the instructions to create a password. The User Accounts window is where you create 'Limited' accounts for others who share the system.
In Windows 2000, press Ctrl-Alt-Delete, click Change Password, and fill in the form. Leave the Old Password field blank if you don't have one. When you're done, click OK, and then Cancel. To create other accounts in Windows 2000, select Start, Settings, Control Panel, Users and Passwords. Check Users must enter a user name and password to use this computer. Click Add to launch the Add New User wizard. When you're asked 'What level of access do you want to grant this user?' select Restricted user.
In Windows 98 and in Windows Me, you must use a third-party utility to keep other people from installing software. I recommend the $25 WinGuard Pro; you can download a limited-function trial version. After you install the program, click the Lock Programs tab, and then check both Registry Editor and System Configuration Utility (see FIGURE 1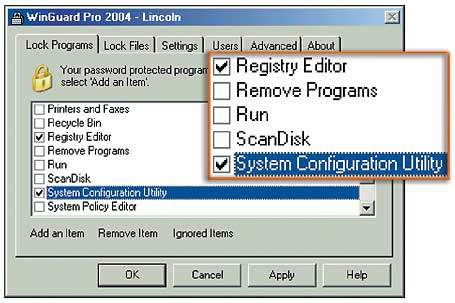 FIGURE 1: Stop unauthorized installations with WinGuard Pro, which blocks two vital Windows utilities.
). On the Users tab, change the Setup Password and the User Password. On the Advanced tab, check
Lock Software Installations
.
Recheck 'Always Ask'
I accidentally unchecked the 'Always ask' option in the File Download dialog box when I downloaded a.zip file. Now I'm no longer asked about whether I want a downloaded.zip file opened. How can I get that choice back?
Jonathan Kwan, Edmonton, Alberta
In Windows Explorer, select Tools, Folder Options (View, Folder Options in Windows 98). Click the File Types tab. In the 'Registered file types' list, select the appropriate type (ZIP in your case). Click the Advanced button (Edit in Windows 98). Check Confirm open after download, and click OK and/or Close as necessary.
What Are Those ~ Files?
I often see files named with only a tilde (~) and no extension. What are they, and can I delete them?
Herb Daum, Powell River, British Columbia
A file name with a tilde and a number just before the period, as in 'thisis~1.doc', means that its Windows long file name has been lost, leaving only a short DOS name. Tildes elsewhere in a file name suggest a backup file. If the name consists only of a tilde, however, it's probably an Outlook Express Address Book backup file, which preserves your address book as it was before your latest changes. The file is supposed to have the extension.wa~ and go into the same folder as your address book. But if you have Internet Explorer 5.5 or 6 and have updated Windows, your backup gets named '~' and is saved in not-always-predictable locations.
If you delete the files, you lose your address book backups; but if you back up regularly, this won't be a problem.
More Hardware Info
In April I recommended several ways to get the details on your hardware. Reader Sam Noe of Spring Valley, New York, pointed me to two others: one built into Windows, and the other freeware. The first is Windows' own DirectX Diagnostic Tool. To launch the tool, select Start, Run, type dxdiag, and press Enter. Much of the information given there is about DirectX, but the applet also displays lots of hardware information. For a more thorough report on your hardware, try Tamas Miklos' AIDA32, which is free for nonprofessional use.