Epson's Hands-Free Scanner
New flatbed is a great choice for home shutterbugs with an undigitized film archive.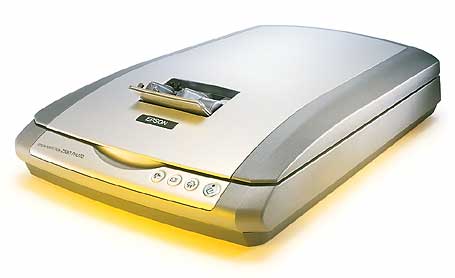 Epson Perfection 2580.
If you're looking for a fast and easy way to digitize loads of 35mm negatives, Epson's new Perfection 2580 Photo scanner may be just what you need. This innovative $149 flatbed model has an automatic film loader--a nifty device that scans individual frames of 35mm filmstrips at the touch of a button.
With most flatbeds, scanning negatives is a cumbersome chore that involves lifting the lid and then carefully mounting each strip in a special adapter. But with the 2580, the procedure is almost as simple as inserting a bank card into an ATM. You just open the film loader door--right on top of the scanner lid--insert the positive or negative film, and push the start button. The 2580 automatically scans and saves each frame in a strip of up to six shots, and lets you use the bundled image editing software (ArcSoft's PhotoImpression 5) to easily view or edit them.
Until now, only dedicated film scanners that cost several hundred dollars could scan negatives this easily. And unlike those models, the versatile 2580 can also scan photo prints, documents, and even books (processing slides requires an included adapter).
The shipping version I tested did an excellent job of scanning film and produced fine results from prints. Various test scans featured vibrant colors and good tonal details, and the 2580's USB 2.0-based speed matched that of other 2400-dpi scanners I've tested.
The Perfection 2580 Photo is an affordable choice for anyone who wants to scan scads of film negatives with minimal effort while also enjoying the flexibility of having a standard flatbed scanner.
Epson Perfection 2580 Photo
Affordable flatbed scanner features an automatic film loader perfect for home photographers. Price when reviewed: $149 Current prices (if available).