Give multiple PCs on your home network access to one printer. Plus: Add options to the right-click menu.
How Do I Share a Printer on My Small Network?
Send your questions to answer@pcworld.com. Answer Line pays $50 for published items. You'll find Contributing Editor Lincoln Spector's humorous and other writings at www.thelinkinspector.com.
What's the best way to share a printer between two or more computers on a home network?
Alex Jennings, Pasadena, California
The easiest and cheapest way is to connect the printer to one PC and allow the other systems on the network to print through that computer. Unfortunately, however, to permit users to print from any other machine on the network, the host computer (the one that has the printer plugged into it) must be powered on.
A print server solves that problem. But first, I'll describe how to share a printer that's attached to one computer.
Open Control Panel on the host PC: In Windows XP, select Start, Control Panel, Printers and Other Hardware, View installed printers or fax printers (if you have Control Panel in Classic view rather than in Category view, click Start, Control Panel, Printers and Faxes). In Windows 98, Me, and 2000, choose Start, Settings, Printers. In the Printers window, right-click the printer in question and select Sharing. Fill in the dialog box and click OK.
Now open Control Panel's Printers applet on the other PCs and select Add a printer (XP) or Add Printer (98, Me, and 2000). Follow the instructions in the Add Printer Wizard, making the appropriate choices for your network printer.
If you get tired of booting two PCs just to print, you may be ready for a print server, which links your printer directly to your network (see FIGURE 1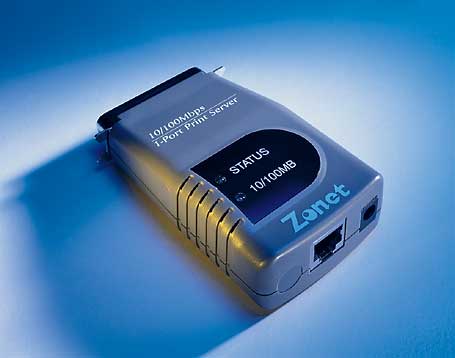 FIGURE 1: Zonet's 1-Port Print Server makes it easy to allow two PCs to share a single printer.
). A stand-alone print server costs $40 to $45. If you're in the market for a network router anyway, consider buying one that has a built-in print server. Such models cost about $20 more than otherwise equivalent routers, so you'll save money and have one less AC adapter to deal with.
You can buy either a parallel or a USB print server, but I recommend that you choose a parallel model because USB print servers tend to encounter compatibility problems more frequently. If your printer lacks a parallel port, make sure that the USB print server you buy supports your printer. There should be a list of supported printers on the server manufacturer's Web site.
Custom Right-Click Menus
How can I add an option to the context menu that pops up when I right-click a file?
Jolly Hansen, Phoenix
If you want to add an option for a specific file type, such as.doc or.zip files, open Windows Explorer and select Tools, Folder Options (View, Folder Options in Windows 98). Click the File Types tab. Scroll down the 'Registered file types' list to the appropriate type. Select it and click the Advanced button (Edit in Windows 98). In the Edit File Type dialog box, click New. In the Action field, enter a name for the option; this will become the text you see and select when you right-click a file. In the 'Application used...' field, enter the path and file name to the program that you might want to use to load the file--or click Browse to find and select the program. For folders, use the instructions given above, but for file type, select File Folder (the extension is '(NONE)').
To add an option for every file's context menu, put an appropriate shortcut inside your SendTo folder. First, select Start, Run. In Windows 2000, type "c:\documents and settings\yourname\sendto" (where yourname is the name you use to log on; be sure to include the quotation marks). In Windows 98, Me, or XP, just type sendto in the Run dialog box. Then press Enter. To launch the Create Shortcut wizard, right-click a blank spot inside the SendTo folder and choose New, Shortcut. Your added shortcuts will appear as options in the context menu's SendTo submenu.
Sort IE Favorites, Part II
Last June I told you how to sort your Internet Explorer Favorites menu by right-clicking an item and selecting Sort by Name. The problem with this technique is that you must repeat it for each submenu. I have since discovered a way to sort the Favorites menu and its submenus at one go. Select Start, Run, type regedit, and press Enter. Navigate the left pane to HKEY_CURRENT_USER\Software\Microsoft\Windows\CurrentVersion\Explorer\MenuOrder\Favorites. Once there, delete the Order value in the right pane. Exit and reenter Internet Explorer. Now your Favorites menu and submenus will be alphabetized by name.