Give Your Storage a Boost
Lower costs and higher capacity make hard drives a great bargain right now.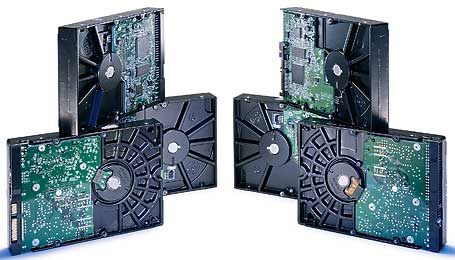 Spacious hard drives: Though Serial ATA drives are picking up steam, Parallel ATA drives retain a price advantage.
Funny how your once-ample hard drive seems to be awfully crowded lately. Maybe it's all those images from your digital camera. Or perhaps you've been downloading too many albums from the ITunes store. Another potential culprit is the slew of home videos that you might have digitized for a DVD montage.
Fortunately, it's a fine time to add a massive new hard drive to your system. The average price per gigabyte is at an all-time low--just under a buck for the typical Serial ATA interface model, and about 75 cents for tested models that use the earlier but still very common Parallel ATA interface. Whether you want to swap out your old drive for a new 400GB behemoth, or you're ready to make your existing drive part of a two-drive RAID configuration for better speed or for redundancy, we've found a model for you.
The PC World Test Center tested units from all five major manufacturers of hard drives: Hitachi, Maxtor, Samsung, Seagate, and Western Digital. We ran seven SATA drives and six PATA drives through a suite of tests designed to compare write speeds and seek times. Then we examined each drive's retail bundle as a whole to determine which package provided the best overall value for the money.
SATA-iated
SATA hard drives arrived on the scene about two years ago, but they're becoming the mainstream drive of choice only now. The lag was not wholly unexpected: Since most motherboards supported only the Parallel ATA interface at the time SATA drives debuted, early SATA adopters had to buy PCI adapter cards. Today, however, most new motherboards offer integrated SATA connections (as well as legacy PATA connectors); and market research firm IDC expects SATA drive shipments to outstrip PATA by mid-2005.
SATA's refined design represents a step up. PATA ribbon cables are wide and impede air flow; SATA cables are easier to attach and significantly less bulky. SATA drives are simpler to connect and configure, too, with no master/slave jumpers to set. And finally, SATA offers greater bandwidth. Its maximum transfer rate of 150 megabytes per second is an improvement on PATA's maximum rate of 133 MBps. The transfer-rate headroom may not translate into extraordinary performance gains in single-drive systems, but it can pay off nicely in multidrive and RAID setups in which several drives access the data bus simultaneously.
After SATA
Drive vendors are already looking beyond the original SATA specification. The next evolution of SATA doubles SATA's peak transfer rate to 300 MBps. Another new feature is native command queuing (NCQ), which enables a drive to store and execute commands independently in the most efficient order possible. Of the 13 drives we tested, only the models from Maxtor and Seagate support NCQ.
Whether you're upgrading your hard drive or buying one for a system you're building from scratch, you'll need to make a number of decisions. First, decide which interface you want. If you have an older PATA system, you might still consider buying a SATA drive, along with an inexpensive SATA interface card (but make sure that you have an available PCI slot). In our Test Center appraisals, SATA drives did better than their PATA rivals. On average, the SATA group copied files and folders in 17 percent less time than the PATA drives, and copied a single 3GB file in 20 percent less time. You may not see the same gains with a different configuration or an older PC, but the improved cabling can still help your system's airflow. And it will be easier to transfer the drive you get today to the next PC you buy.
Other buying criteria include capacity, price, rotational speed, and buffer size. Capacity needs are very user-dependent; but graphics, music, and video mavens should go for the biggest size they can afford, since media files eat up hard-drive real estate in a hurry. At current prices, 250GB drives are the most economical--about 68 cents per gigabyte. But newer, 400GB drives are priced just 7 cents higher per gigabyte, making them suitable as a hedge against future storage needs.
The great majority of mainstream hard drives spin their platters at 7200 rpm. You should avoid the increasingly rare 5400-rpm drives if performance is a primary consideration. Only one manufacturer--Western Digital--today makes a 10,000-rpm ATA drive. The company's 74GB Raptor WD740GD uses the SATA interface; it was designed for use in enterprise RAID configurations. It's no slouch in a desktop RAID 0 setup, either: When we paired Raptors in a RAID configuration, we got outstanding performance (see "Hard Drives Gain Racing Stripes")--even though the Raptor lagged slightly behind the average SATA drive in some of our single-drive tests. Because of its relatively small capacity and high performance in arrays, the Raptor is often configured in RAID arrangements in high-end desktops and servers. Gamers and video editors, in particular, can benefit from this type of setup.
Though buffer size is a basic drive spec, assessing the merits of different buffer sizes is difficult. The PC World Test Center's evaluation of these drives didn't reveal any direct correlation between buffer size and improved speed: In both the PATA and the SATA categories, the fastest drives used 8MB buffers, while several runners-up employed 16MB buffers.
Pass the Screwdriver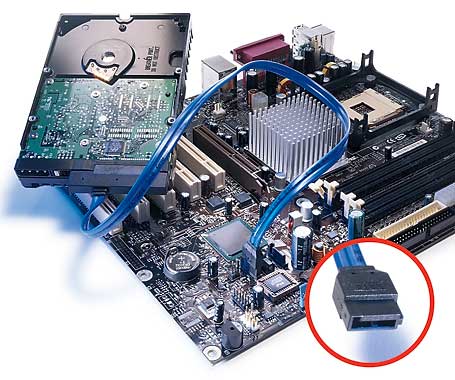 Bye-bye, bulky cables: Serial ATA's cabling is slimmer than IDE's and can help the flow of air in the system. Inset: Western Digital's strengthened SATA connector.
Of the drives we tested for this roundup, all but one (Samsung's SP1604N) are sold as boxed drive kits. If you buy the full retail kit instead of a bare drive, you'll get a few extras you may need. Typically, retail kits come with mounting screws, cables and connectors, diagnostic and setup software, and installation instructions.
Installation software accompanied most of the drives we tested, but the majority of the included apps are redundant in light of Windows XP's integrated tools for installing, partitioning, and formatting a drive. Maxtor, Seagate, and Western Digital provide DOS formatting utilities, too.
All of the kits offer usable instructions on paper. Seagate and Western Digital supply quick-install setup posters, while Maxtor includes an installation booklet; Seagate's CD-ROM comes with an installation video, too. Hitachi's installation guide is available on its Web site--an adequate arrangement if you have access to the Internet prior to installing the drive.
One difference we observed among the drives: The SATA connectors on Western Digital's SATA drives are noticeably bigger and sturdier than those on competing models. While still meeting the SATA standard, the connectors are a bit wider and have two additional male/female friction points on the outside for more-secure fastening. Also, Seagate includes backup software with its drives: CMS's useful (though inelegant) BounceBack Express.
Big, Speedy Drives
For this roundup we corralled six PATA drives: two versions (200GB and 250GB) of Maxtor's DiamondMax 10, Samsung's 160GB SP1604N, two Seagate Barracuda 7200.8 models (250GB and 400GB), and Western Digital's 250GB Caviar SE WD2500JB. On the SATA side, we tested Hitachi Global Storage's 250GB Deskstar 7K250 and 400GB Deskstar 7K400, Maxtor's 250GB and 300GB DiamondMax 10 units, Seagate's 400GB Barracuda 7200.8, and Western Digital's 74GB Raptor WD740GD and 250GB Caviar SE WD2500JD. The WD740GD is a 10,000-rpm drive; all of the others spin at 7200 rpm. Our Test Center evaluated all drives individually (see the sidebar at right for information about tests conducted on two drives in a RAID 0 array).
In our benchmark configuration for single drives, the SATA models tended to be impressive performers. In our time trials for transferring 3GB of files and folders, top honors went to Seagate's 400GB Barracuda 7200.8. Maxtor's 250GB and 300GB DiamondMax 10 models were runners-up, just over 20 seconds (about 12 percent) off the pace set by the Barracuda. In fourth, a few seconds behind the Maxtor drives, was Western Digital's 250GB Caviar SE WD2500JD, followed by Hitachi's 250GB Deskstar 7K250, Western Digital's Raptor WD740GD, and Hitachi's 400GB Deskstar 7K400.
In the PATA ranks, Western Digital's Caviar SE WD2500JB led the pack on our file-and-folder test, followed closely by Seagate's 400GB and 250GB Barracuda drives. A greater gap separated the Caviar SE from the fourth- and fifth-place finishers: Maxtor's 250GB and 200GB DiamondMax 10 drives. Samsung's SP1604N, which finished dead last in performance and missed our chart, trailed the number one Seagate Barracuda by 20 percent.
Given how close our test results were, all of these drives are easy to endorse. That said, we advise you to get SATA--even if that entails buying an affordable PCI controller card. Select a high-capacity, money-is-no-object SATA drive (like our chart topper, Seagate's 400GB Barracuda), or balance price and capacity with Maxtor's DiamondMax 10 6B300S0. For optimum desktop performance, a RAID 0 array with multiple Western Digital Raptor WD740GD drives is a sure but pricey bet.
Hard Drives Gain Racing Stripes
Photograph by Marc Simon
Stripes are cool. Zebras confuse predators with them, and the Beach Boys made millions wearing them. But they're also very handy when it comes to hard drives. RAID (Redundant Array of Independent Disks) comes in a variety of flavors. The one that is most commonly used with desktop systems, RAID Level 0, isn't really a type of RAID at all (thus, RAID "0") because it doesn't provide any redundancy.
RAID 0 stripes (or parcels out) data across multiple drives to create one larger logical drive, delivering much faster sustained reads and writes along with sometimes slightly slower random access. An analogy would be to have multiple waiters instead of one serving dinner to your table: It takes a while longer to organize things; but then the food and drink (or data, in this case) flow to you much faster.
Another advantage of RAID 0 is relatively low cost. Drive vendors charge a hefty premium for their largest models, so you can achieve a better cost per gigabyte by combining multiple smaller-capacity drives. Today, a single 400GB drive costs about $350, whereas two 200GB units combined into a single 400GB logical drive cost about $250, plus $20 to $50 for a RAID controller card if you need one.
Most mainstream add-in RAID cards and motherboards also support RAID Level 1 (mirroring), which writes the same data to two drives at once for data redundancy in case one of the drives fails. In addition, some cards let you combine RAID 0 and RAID 1 (RAID 0+1) so you can mirror a pair of striped drives (if you have four drives).
The Raptor WD740GD posted the fastest or the second-fastest time on every RAID 0 test. Its biggest gains came on our large-file and file-and-folder tests, with jumps of 32 percent and 43 percent over a stand-alone Raptor. This RAID setup also outperformed the average single SATA drive in some--but not all--of our tests (click here for more details).
You don't have to graduate to a 10,000-rpm drive to see performance improvements with RAID, though. When configured using RAID 0, Western Digital's SATA Caviar SE WD2500JD improved its times by 26 percent and 33 percent, respectively, on our large-file and file-and-folder tests.
Given the sizable boosts we saw in our tests, we'd recommend a RAID setup to anyone seeking optimum PC performance. Just be sure to back up regularly: The big disadvantage of RAID 0 is that if one drive goes bad, you lose the data on both.
Jon L. Jacobi