Stretching Wi-Fi
New Wi-Fi products use smart antennas to boost the range of 802.11b and 802.11g wireless networks--even if you upgrade only your router.
Becky Waring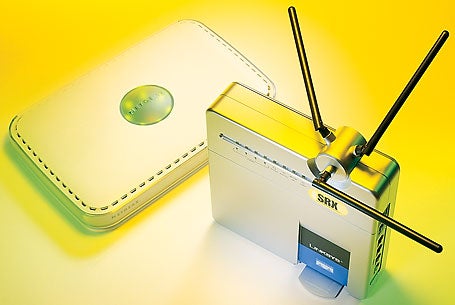 Instant cure for dead spots: Netgear's RangeMax router (left) and Linksys's Wireless-G Router with SRX use different antenna technologies.
Do you have a love/hate relationship with your home Wi-Fi network? One reason might be that the network is unable to reach every spot you want it to--the sunny patio, the upstairs bedroom, or the kitchen, perhaps. Now, new routers and adapters labeled "Pre-N" or "MIMO" promise to address the dreaded dead-spot dilemma while doubling or tripling the range of standard 802.11b and g devices.
Do these new products live up to their billing? Yes, but you'll pay for the improvement. The routers we tested--shipping versions of D-Link's Super G with MIMO and Linksys's Wireless-G with SRX, and a preproduction Netgear RangeMax--range in price from $150 to $199, compared with about $59 for a standard 54-mbps 802.11g router. Client PC Cards in the new product lines cost $99 to $129, versus approximately $39 for plain-vanilla 802.11g adapters.
Still, people who want their Wi-Fi to go where no wireless has gone before may decide that paying the price premium is preferable to undertaking a complex setup of secondary access points or purchasing a costly high-power antenna.
With the new equipment, you don't have to upgrade your entire network to get the benefits of the technology. Though our tests produced optimum results (including increased throughput) when the router and the client card belonged to the same product line, we found that just using one of the new routers significantly improved the performance of legacy gear. And finally, if you need added range for only a single notebook and you want to save money, consider buying a better Wi-Fi card: Hawking Technology's Hi-Gain Wireless-G Laptop Card (see "Reach on a Budget").
Reaching Out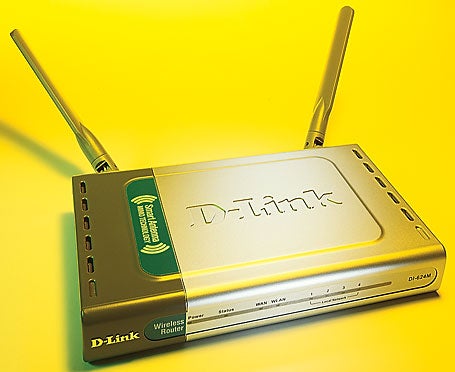 D-Link's Super G with MIMO router has two internal and two external antennas.
Our testing focused on replacing an old 802.11b or g router in a home network without buying new adapter cards for every device (which would multiply the cost).
To this end, we tested the D-Link, Linksys, and Netgear routers with a regular 54-mbps card from Motorola, as well as with their respective matching cards. Ideally Wi-Fi tests would be conducted in a controlled, interference-free environment that enabled testers to produce repeatable results, but real-world conditions are rarely so pristine. Instead, we opted to conduct our tests in a private home, using several tools to measure the time that each of the setups took to transfer data to a notebook with the client card at varying distances away.
All three routers did a great job of extending our Motorola card's range, nearly doubling the coverage area of our plain 802.11g router while speeding up performance. With a regular router, we couldn't use the notebook any farther away than about 50 feet (and two rooms) from the base station. In contrast, each of the three test routers gave us whole-house coverage with very little drop-off in performance. We could even connect in the garden, which was 70 feet away. Though throughput there was clearly lower, the performance difference would matter only if you were transferring large files across your local network; and bandwidth still exceeded the 1mb-to-1.5mb maximum of most broadband Internet hookups. We lost a usable signal only when in the street, some 150 feet away.
The star in our tests with the Motorola card was the Linksys SRX, which delivered the best overall combination of range and speed. Its performance was similar to that of Belkin's less expensive Wireless Pre-N Router, which we originally tested back in January (see "New Wi-Fi Nearly Doubles Speed")--not surprising since both are based on the same Airgo True MIMO chip set, which sends multiple unique data streams over a single channel.
Unlike the other routers in our test, these Airgo-based routers can switch to whatever channel has the least interference, giving them great flexibility in environments that are subject to interference from neighboring networks, cordless phones, microwaves, or any other 2.4-GHz radios.
The D-Link Super G with MIMO relies on a new Atheros chip set that combines D-Link's Turbo beam-forming and compression with two internal and two external antennas in the router. Though the Super G was speedy, it could not match the range of the two Airgo-based routers.
The Netgear RangeMax uses Atheros's non-MIMO Super G chip and Video54's BeamFlex smart-antenna technology, which works with seven antennas on the circuit board (there's no external antenna) and optimizes on the fly in response to changes in the environment by using different combinations of antennas.
The Netgear's range was on a par with that of the Linksys, but its speed fell short of the latter--likely because the Netgear must use channel 6 in a mixed-mode environment.
MIMO vs. MIMO
A caution about jargon: Pre-N (on some product labels) refers to the coming superfast IEEE 802.11n standard (products meeting this spec aren't expected until late 2006). Pre-N products use MIMO (multiple-in, multiple-out) antenna technology, supposedly.
But don't make a buying decision based on these labels. MIMO isn't an industry standard or a trademark, and companies use it to mean different things. Also, the technology in various Pre-N products is proprietary: You won't be able to upgrade them to the final Wi-Fi-certified 802.11n standard, and they won't be interoperable with certified N products in high-performance mode.
Still, these issues shouldn't keep you from buying MIMO products. "What [consumers] should be concerned about is performance and backward compatibility," observes Kurt Scherf, vice president and principal analyst with Parks Associates.
Any of these routers will improve coverage, but the Linksys (or the cheaper Belkin) would get our nod for its winning range-speed combination. Don't bother buying the matching adapters unless you routinely transfer large files within your network (the extra bandwidth won't impact Internet speeds).
And don't worry too much about issues of future compatibility with 802.11n products: Two years is too long to wait to cover those dead spots.
Wi-fi Card: Reach on a Budget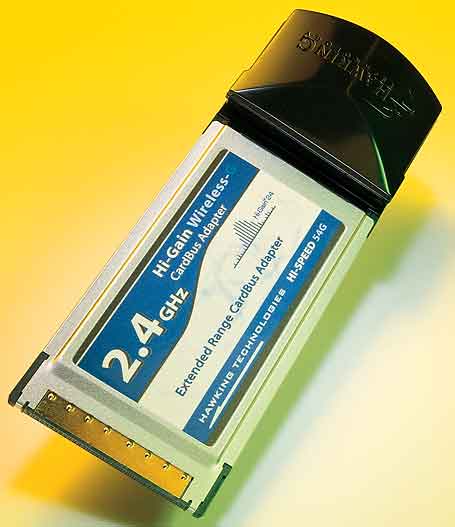 Far out: Hawking's Hi-Gain 802.11g PC Card has an antenna you can twist to optimize range.
The new range-extending routers aren't cheap. For a low-budget alternative, consider Hawking Technology's new Hi-Gain Wireless-G Laptop Card (HWC54D), a $45 adapter that maximizes the range and dead-spot coverage of an 802.11b or g gateway.
Basically, the HWC54D is a standard 802.11g card with a pop-up directional antenna that you twist to get the best signal. Tested with a plain 802.11g router, the Hawking card gave us almost as much extra range as did the new routers we tested with their respective cards--though at the outer edge of a garden (roughly 70 feet from the router), the Hawking card was about two times as slow. More pluses: The card connected on the first try to each of the routers we tested, and it costs only about half as much as the new cards we tested.
Since it has no proprietary performance enhancements, the Hi-Gain card is perfect for connecting at hotspots. Our one concern: The antenna looks as though it could snap off pretty easily. But that's a risk we're willing to take for such a big reward.
Becky Waring
Home Networks: New Technologies Vie to Carry Video
Illustration by Randy Lyhus
The new MIMO routers may do a great job of increasing the range of a Wi-Fi network, but they won't necessarily solve the next big challenge for home networking: streaming high-definition video.
For that job, you need both adequate range and high throughput (at least 20 megabits per second for HD video)--a combination that may require a network built on wires that already exist in your house (namely, power lines or coaxial cables).
Products based on the HomePlug 1.0 standard for transmitting data over power lines have been around for three years or so and performed at least as well as 802.11b Wi-Fi gear in our tests (see "Just Plug It In: Networking Via Power Circuits"). But HomePlug 1.0 seems to have lost the network wars to Wi-Fi.
HomePlug advocates believe the technology's next generation may do better, however. Called HomePlug AV, it will theoretically provide a throughput of 200 mbps, which translates into real-world speeds of 70 to 120 mbps, says Andy Melder, senior vice president of HomePlug chip maker Intellon. The HomePlug AV spec should be ratified in the first quarter of this year, with products expected in early 2006. Principal backers, aside from Intellon, include Comcast, EarthLink, RadioShack, and Sharp.
Another camp argues that the best wire for moving video around your house is the one that already does it: the coaxial cable used by cable TV. The Multimedia over Coax Alliance, whose members include Cisco Systems, Comcast, EchoStar (owner of Dish Network), Panasonic, RadioShack, and Toshiba, expects to complete a spec by midyear, with products due by fall, says MoCA president Ladd Wardani. Theoretical maximum throughput will be 270 mbps; actual throughput, about 100 to 135 mbps.
Both power-line and coaxial networks would be immune to the cordless phone or microwave interference that can cripple Wi-Fi. But devices on the same circuit--a vacuum cleaner or a halogen lamp, for example--can interfere. HomePlug backers say they've found workarounds.
Coaxial networks are the least susceptible to interference, Wardani says, because the wires involved are available only for TV.
Intellon's Melder says that no single network standard is likely to emerge victorious from this competition. "The network of the future in the home is going to be a hybrid network," he says, with one or two systems for video and another for data.
Edward N. Albro