Affordable Dual-Core
AMD comes out ahead in our first lab tests of mainstream dual-core systems. Plus: Hands-on with the new 64-bit Celeron and Sempron chips.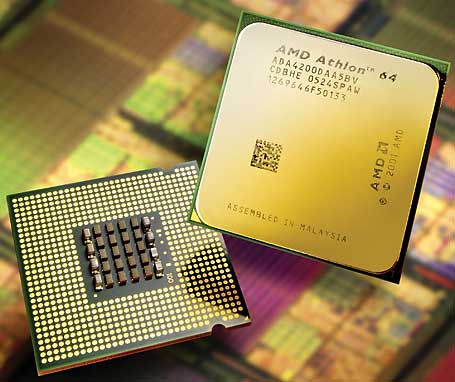 AMD's 2.2-GHz Athlon 64 X2 4200+ (right), and Intel's 3.2-GHz Pentium D840.
Have you been lusting after a dual-core processor but are unwilling to pay the premium price? Your wait may be over. New dual-core CPUs from AMD and Intel are showing up in desktop systems priced around $1500, within the budget of mainstream computer users. Our first tests of such systems indicate that dual-core chips provide good value.
If you wanted to own one of the first dual-core systems to hit the market, you had to pay the typical cutting-edge premium: Intel's first dual-core chip, the 3.2-GHz Pentium Extreme Edition 840, initially sold for $1100. Now the company's cheapest dual-core processor, the 2.8-GHz Pentium D 820, is about $250 online.
When AMD launched its dual-core chips in August, it also targeted the high end, with its 2.4-GHz Athlon 64 X2 4800+ processor. That chip still sells for almost $900. Now AMD is offering several more-affordable dual-core chips, including the Athlon 64 X2 3800+, which currently goes for as little as $359 online.
To rate the performance of affordable dual-core CPUs, we ordered two nearly identical computers from HP and ran them both through PC World's WorldBench 5 applications benchmark, as well as through our desktop graphics tests.
On our WorldBench 5 test, the AMD-based Pavilion outperformed the Intel-equipped system by 10 percent, with a score of 100 to the other's 91.
The results were similar on our graphics test, which tracks frame rates while running the games Return to Castle Wolfenstein and Unreal Tournament at several resolutions. The AMD-equipped Pavilion bested the Intel-based system 201 frames per second to 183 fps, a 10 percent difference.
The two computers were built around the same basic components, including 1GB of RAM, a 400GB hard disk, and an nVidia GeForce 6800 graphics card. The only differences involved the processor, the motherboard, and the RAM type. The AMD-based system we used, a Pavilion d4100e, incorporated a 2.2-GHz Athlon 64 X2 4200+ CPU and DDR-400 RAM; the Intel-based Pavilion d4100y was assembled around a 3.2-GHz Pentium D 840 processor and 533-MHz DDR2 memory.
The dual-core systems were fast for mainstream PCs, their scores running even with or slightly better than the marks of the fastest single-core systems we have tested for our value-PC rankings. For example, a Micro Express MicroFlex 35B system built around a 2.2-GHz Athlon 64 3500+ turned in a score of 101 on WorldBench 5, nearly identical to the mark of 100 that the dual-core Athlon box from HP posted. And HP's a1050y system scored 89 with its 3.4-GHz Pentium 4 530 processor, nearly matching the Intel-based dual-core system.
The fastest dual-core system we've tested is Xi Computer's $3897 MTower 64 AGE-SLI, which relied on an Athlon 64 X2 4800+ chip to speed to a WorldBench 5 score of 130. By comparison, the best mark for an Intel-based dual-core system is 98, from a PC with the superexpensive Pentium Extreme Edition CPU.
While the dual-core systems excelled at multitasking in WorldBench 5, many of the other apps we use for testing don't take advantage of multiple CPU cores. Individual software programs that support multithreading, such as Adobe's Photoshop and Acrobat, can exploit the advantages of a dual-core CPU, but multithreaded applications are scarce outside the spheres of digital content development, graphics, and digital video.
Any program that has you regularly "staring at an hourglass," says Nathan Brookwood, principal analyst for Insight 64, is a candidate to become a multithreaded application in the future. "But I'd be surprised if many mainstream office applications were converted in the near future," he adds.
When multiple applications are running, however, a dual-core system will greatly benefit mainstream business users, according to Brookwood. Routine chores, like scanning for viruses or defragmenting a hard drive, can run in the background without slowing everyday work tasks.
Overall, our dual-core test results are consistent with the outcomes of other PC World performance tests, which historically have shown systems built around AMD processors outperforming similarly configured machines built with Intel processors.
One possible explanation for AMD's superior performance is the design of the AMD dual-core processors. Intel took the "quickest path to market," says Jim McGregor, principal analyst with In-Stat, "and crammed two Pentium 4 Prescott cores onto a single die rather than designing a dual-core chip from the ground up [as AMD did]."
Future Cores
Intel is working now to address that situation with its next generation of processors. At the Intel Developers Conference in August, the company announced its next mobile, desktop, and server processors, code-named Merom, Conroe, and Woodcrest, respectively. The new chips are expected in the second half of 2006 and will be designed from the ground up as 64-bit, multicore CPUs based largely on the design of the company's current mobile processor, the energy-efficient Pentium M.
Introduced earlier this year, dual-core processors are the "new expression of Moore's Law," says Martin Reynolds, emerging technologies analyst at Gartner. Doubling up on processors offers a way to boost performance and increase the number of transistors per square inch while avoiding design problems and keeping heat-producing clock speeds at manageable levels.
Intel said at IDF that it's currently working on more than 15 multicore CPU projects for the future, and that by the end of 2006 it expects 70 percent of all desktop and mobile shipments to be multicore. AMD echoes the sentiment: Jonathan Seckler, AMD's product marketing manager for Athlon 64, says, "Dual-core processors should fill the mainstream PC market within 12 to 18 months."
Don't expect single-core processors to completely disappear anytime soon, however, says Shagorika Dixit, HP's product manager for consumer desktops. "Single-core processors will have a place in the value PC segment well into the foreseeable future."
High-End vs. Low-End Dual-Core Systems
What do you get by moving to a high-end system? The fastest dual-core PCs we've tested had fast graphics systems and 2GB of RAM, which account for some of the speed boost over our test systems.
64-Bit Systems for Every Budget
Dual-core isn't the only new chip technology to go mainstream--64-bit computing has entered prime time as well. This summer AMD and Intel, respectively, introduced 64-bit versions of their Sempron and Celeron CPUs--chips usually confined to the least expensive budget PCs.
We ran WorldBench 5 on two machines from Polywell: the MiniBox 915Gx-336, running a 2.8-GHz Intel Celeron D 336 CPU, and the MiniBox 900Ax-3100, running a 1.8-GHz AMD Sempron 3100+ CPU. Both PCs sell for $699 and have similar hardware configurations. The one with the AMD chip, despite its much lower clock speed, scored 82 on WorldBench 5, outperforming the Intel-based computer by over 9 percent.
Each test system relied on integrated video (ATI and Intel, respectively, for the Sempron-and Celeron-based PCs), so we didn't expect high graphics scores. Our near-identical results (see chart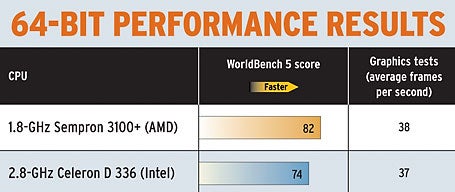 ) indicate that neither PC would excel at gaming.
As our tests indicate, 64-bit processors won't significantly boost the performance of value PCs. Most low-end PCs (and even high-end desktop machines, for that matter) aren't intended to take advantage of a 64-bit system's ability to run on 4GB of RAM, and they don't usually come with a 64-bit-aware operating system like Windows XP Professional x64 Edition. So why are AMD and Intel introducing these chips for low-end systems now?
Intel spokesperson Dan Snyder says there are two reasons. First, Intel is looking to the future and is working to standardize its "whole product line on 64-bit technology, from top to bottom." Second, he says Intel has received requests for the chips from the computer manufacturers it works with.
AMD's Jonathan Seckler offers a similar explanation: "Enterprises and midsize businesses that already use 64-bit hardware and software want to standardize all of their PCs on the same technology."
Prices for AMD's Sempron CPUs range from $60 for a 1.5-GHz Sempron 2200+ to $129 for the 2-GHz Sempron 3300+, purchased online. The six new 64-bit Intel Celeron D processors range in price from $145 for the 1.5-GHz Celeron D 326 chip to $351 for the 3.2-GHz Celeron D 351.