Follow these tips to gain usable space in Windows and in applications.
Break Through Windows' Workspace Limitations
Send Windows-related questions and tips to scott_dunn@pcworld.com. We pay $50 for published items. Scott Dunn is a contributing editor for PC World.
Illustration by Philip Anderson
Who isn't running out of room on their desktop? (Put your hands down; you are, too.) We tend to stick with the default screen layouts in both Windows and apps. But there are many ways to see more rows of your spreadsheet, more lines of your letter, and more pixels of your picture.
Toggle the taskbar: Your taskbar takes up space that you could be using to see more of the files you're working on. To toggle the taskbar in and out of view, right-click it and choose Properties. If 'Always on top' or 'Keep the taskbar on top of other windows' is checked (depending on your version of Windows), uncheck it. Your maximized window will become larger. You can access the taskbar by pressing <Ctrl-Esc>, <Esc> by itself, or <Windows> and then <Esc>. When you return to an open window, the taskbar hides again.
If you would rather use your mouse to bring your taskbar in and out of view, right-click the taskbar, choose Properties, recheck Always on top or Keep the taskbar on top of other windows, and check Auto hide or Auto-hide the taskbar (depending on your version of Windows). The taskbar will now stay out of sight until you move your mouse over to that edge of the screen. You can use this option in conjunction with the keyboard technique, though it doesn't work in Windows 98.
Bonus tip: To make each new window open maximized when you click its icon, right-click the icon, choose Properties, Shortcut, select Maximized from the Run drop-down list, and click OK (see FIGURE 1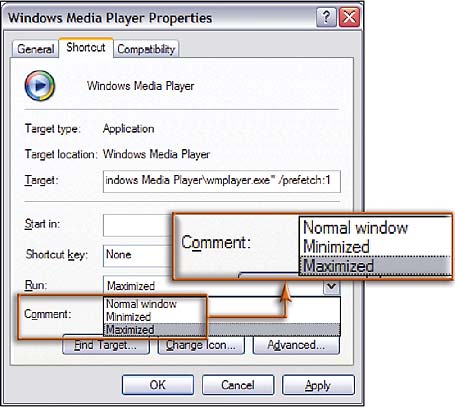 FIGURE 1: Get the most room for your apps when you launch them by choosing Maximized in the shortcut's properties.
). To toggle between a window's maximized and normal sizes, simply double-click the window's title bar.
Switch from landscape to portrait: If you work mainly with spreadsheets and other wide, landscape-oriented documents, put the taskbar at the bottom of the screen so that the remaining available space will be wider than it is high. On the other hand, if you work often with portrait-oriented files (such as most text documents), drag the taskbar to the left or right edge of the screen. In XP, you may need to right-click the taskbar and uncheck Lock the taskbar to enable dragging and resizing.
Tame your toolbars, part 1: The toolbars that grace the top of Windows Explorer and Internet Explorer (as well as most popular applications) are great time-savers, but sometimes they take up too much space. In the normal view, Explorer and IE allow you to determine what toolbars or menus you'll see at the top of the screen by right-clicking and choosing items from the context menu.
To make your work window bigger, put several toolbars on the same line. (Sometimes you can even have a toolbar share a line with the menu bar.) In most toolbars, buttons that run off the edge of the screen remain available via a menu that appears when you click the double chevron. Try a few toolbar arrangements until you find one with the buttons and menus you use frequently. To remove unneeded items from many toolbars and, often, add new functions, right-click the toolbar and choose Customize. While you're in the Customize Toolbar dialog box, select Small icons in the 'Icon options' drop-down menu near the bottom to give yourself even more work room.
To turn off toolbars in the Mozilla Firefox Web browser, click View, Toolbars and uncheck the ones you don't want; alternatively, you can click Customize and drag the ones you want onto the toolbar. Check Use Small Icons in the Customize Toolbar dialog box to save even more space.
Tame your toolbars, part 2: If you just want to move your toolbars out of the way now and then, Windows Explorer and Internet Explorer offer a quick way to hide them: Position your pointer below the toolbars until you see the direction arrows, and drag upward to collapse them (and the menu bar) into one or two rows. Just drag back down to expand them (see FIGURE 2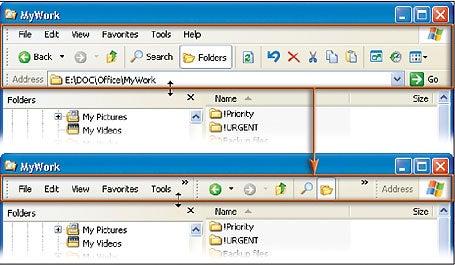 FIGURE 2: Just drag up or down to quickly collapse or expand toolbars in your folder and application windows.
).
Make room in Explorer and IE: For the biggest possible view of any Explorer or IE window sans borders, title bars, and other controls, press <F11>. Press that key again to return to normal view. (This keystroke also works in several applications, including the Firefox and Opera browsers.)
To close Explorer's folder-tree pane on the left (or any pane that you choose by selecting View, Explorer Bar), click the X icon in its upper-right corner. To make the pane slide in and out of view when you move your mouse to the left, click the pushpin icon (near the X icon) to toggle between showing it and autohiding it.
Eke out more pixels: To shrink the title bars at the top of every window, right-click the desktop and choose Properties, Appearance. In XP, click the Advanced button. In all Windows versions, either click the title bar in the picture or choose Active Title Bar from the Item drop-down list. In the Size box to the right, reduce the number to shrink the title bar (you might also want to lower the size of the title's font to keep the title bar from reverting to its default size). Some fonts are unreadable at small sizes, so you may need to choose another typeface as well (MS Sans Serif looks pretty good even at a point size of 8). Other options in this dialog box let you shrink scrollbars and reduce icon spacing.
Enlarge thumbnails in XP: If you use Explorer's Thumbnails view (choose View, Thumbnails), you can save some space--and maybe fit more thumbnails in the window--by hiding file name labels. If you're navigating with the tree pane on the left, <Shift>-click the folder whose files you want to view as thumbnails sans labels (see FIGURE 3
FIGURE 3: See more of your pictures by hiding file names in a folder that shows thumbnails.
). (If you're in Explorer's main window, you may need to select the folder and then
<Shift>
-double-click to open it.) The file names will remain hidden until you press <Shift> while reopening the folder.
If you want to see more thumbnails, or if they're too small, download Microsoft's free PowerToys for Windows XP, which includes the Tweak UI utility. After you install PowerToys, launch Tweak UI and navigate to Explorer, Thumbnails in the tree pane on the left. Set your desired thumbnail size on the right (see FIGURE 4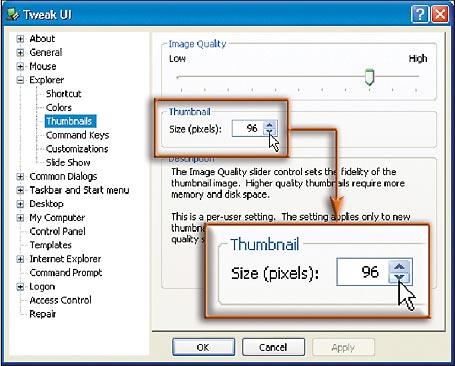 FIGURE 4: Shrink your thumbnails via the Tweak UI utility in PowerToys for XP.
). Use the Image Quality slider to set the thumbnail quality; just be aware that nicer-looking thumbnails consume more memory. When you're finished, click
OK
.
See more words and numbers: Microsoft Word and Excel offer an uber-maximized mode of their own. Click View, Full Screen to have the programs' workspace fill the display. In this mode, Word even hides its scrollbars, so it helps to have a mouse with a scrolling wheel. If you don't see a menu bar at the top of the screen, move your pointer up there to make it pop back into view. To go back to regular view, click the floating Close Full Screen toolbar button or choose View, Full Screen again (the keyboard shortcut is <Alt>-V followed by U).
Miniaturize your media player: If you use Windows Media Player while you work, you can move the player window out of the way by placing it in the taskbar. Right-click an empty area of the taskbar and choose Toolbars, Windows Media Player. Now when you minimize the program, its player controls appear in the taskbar. To restore the main player window, click the restore or full-mode icon on the mini-mode controls (see FIGURE 5

FIGURE 5: Place your media player controls in your taskbar whenever your applications need more screen room.
).
Slip into a svelter skin: Many of the downloadable interfaces (aka "skins") for Windows Media Player are more compact than the program's default look. Among my favorite space savers are Microsoft's Circle and The Dash by JellyBeanSoup, which even includes a tiny visualization window.
Compress to compact: Even without adding skins, you can save space in Windows Media Player by choosing View, Menu Bar Options, Hide Menu Bar (or Autohide Menu Bar to have it pop in and out as needed). You can still access the menus by clicking the button next to the minimize icon or by right-clicking anywhere in the title bar. To make the menu bar even smaller, drag any corner or horizontal edge to reduce the height of the player. When it gets small enough, it will snap into a bar shape that includes basic controls and provides information on the file currently playing. Drag horizontally until you get just the size you want. Again, when you drag to a certain point, the player snaps into an even smaller state that removes the current file information. To restore the player to its normal view, drag an edge or corner to enlarge the window until it snaps out of its shrunken state.
Stretch your Acrobat screen: You can toggle Adobe Acrobat's full-screen mode by choosing View, Full Screen or by pressing <Ctrl>-L. In full-screen mode, click the left mouse button to change to the next page, and the right mouse button to go back to the previous page. If you simply want to get all the toolbars out of the way quickly, press <F8> (press it again to return them).
Hide Adobe palettes: In many Adobe applications, including Photoshop, Illustrator, InDesign, Premiere Pro, and After Effects, you can quickly hide floating palettes to get a better view of your open documents. Simply press the <Tab> key. Press it again to bring the palettes back into view. Note that this shortcut works only if you don't have an active text-insertion point.
Get Multiple Monitor Support With MaxiVista
If you'd like to add a second display to a PC that doesn't support dual monitors, or if you're looking for a new use for your old laptop, the MaxiVista utility could be for you. The program lets you extend your desktop onto a second monitor even if your machine's video system doesn't support two displays. For just a few more bucks, you can extend your desktop onto as many as four computers to create a huge workspace. You can also use MaxiVista to run two PCs from a single keyboard and mouse, or to mirror your monitor's view on a networked computer (useful for training or demos). The downside is that the software requires two networked systems, not just one computer and an extra monitor. Prices range from $30 to $50, depending on the features. Want to try it out? A free demo is available.