23 Things to Do With a Thumb Drive
Put your USB drive to work as a portable desktop, PC recovery kit, entertainment platform, and more.
Christopher Null is a technology journalist and the former editor in chief of Mobile magazine.
Photograph by John Kuczala
Once known as simple little gizmos that were basically just modern replacements for floppy disks, USB flash drives have suddenly grown up. You can now replicate your desktop environment, encrypt files on the fly, and even rescue your PC with one of these formerly modest devices. Here are some of the coolest things you can do today with the innocuous-looking thumb drive on your desk, as well as details about some particularly useful new drives.
In This Article:
Your Desktop in Your Pocket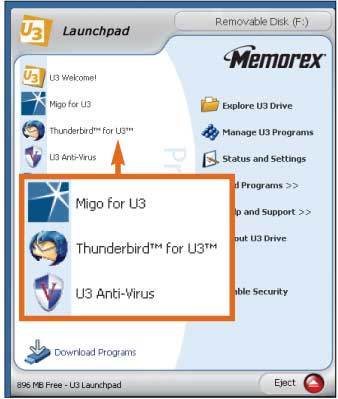 Run U3 programs and download more from the Start menu-like U3 Launchpad.
Can't install Firefox at work? Do you pine for your programs, set up your own way, at an Internet café? Try these options for taking the look and feel of your desktop with you.
Software gurus have reworked versions of assorted applications so that they run directly off your thumb drive. Our three favorites--John Haller's portable editions of the Firefox browser, Thunderbird e-mail program, and OpenOffice suite--are available here.
Migo software synchronizes files, Outlook data, Internet Explorer favorites, and other desktop elements between different PCs. You can install it on any thumb drive ($30 for the personal version, $50 for the professional edition), or buy a preloaded Migo-branded drive ($100 for 1GB).
If you don't mind buying new hardware, U3-ready drives let you run specially written applications straight from the drive. Preferences, data files, and the like all stay on the portable device, so you don't leave any traces on the computer.
Most U3 units come preloaded with various applications. You can run them or download new ones (which can cost up to $45 each) from the U3 Launchpad, which resembles Windows' Start menu and appears in the system tray when you connect the device (click on the thumbnail image above).
We tested several U3 thumb drives and found them very capable--and similar. The SanDisk U3 Cruzer Micro 1GB ($100) and the Memorex U3 Smart Mini TravelDrive 1GB ($90; memorex.com) came out ahead, mostly for their software. The TravelDrive includes Thunderbird, McAfee AntiVirus, and Migo. The Cruzer Micro has good free and trial apps. For more about U3 click here.
Pocket Gaming Without a PSP
Kill time (and maybe a few deserving alien spaceships) at grandma's house with a ready-to-go gaming thumb drive loaded with MAME. The program brings back the arcade and console hits of yesteryear by running ROM files, the individual pieces of code at the heart of all those games, and works great on thumb drives. Simply download the application and unpack it on your flash drive.
Note: Legally, you must own the original game to download any of the more than 5800 ROM files available. Visit www.mameromlinks.com to start.
Safe From Prying Eyes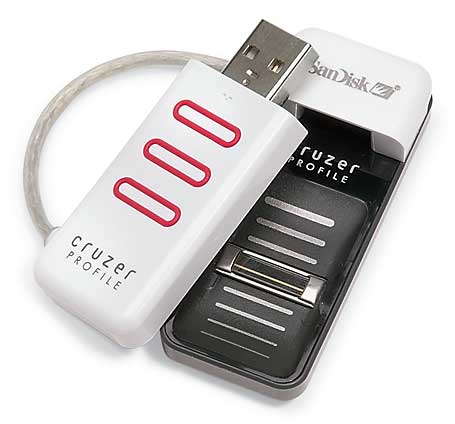 The SanDisk Cruzer Profile's fingerprint scanner.
The encryption and biometric safeguards on these security-first drives offer some peace of mind when you need to carry sensitive data on an easy-to-misplace thumb drive.
Built-in tools on drives like the Lexar JumpDrive Secure II 1GB ($100) and the Kingston DataTraveler Elite 1GB ($100) let you defend individual files with 256-bit AES encryption. You can also create a partition on the drive that encrypts any file dropped into it and that appears on screen under a different drive letter. And you can password-protect any U3 drive to achieve a base level of protection.
When security really matters, check out a thumb drive with a built-in fingerprint scanner. It works much like any biometric device, locking out access until you swipe the appropriate digit against it.
We looked at two models, the SanDisk Cruzer Profile 256MB (click on thumbnail image above; $100) and the Sony MicroVault with Fingerprint Access 256MB ($90). We slightly preferred the SanDisk because the Sony requires an extra cable and software installation.
Itty-Bitty Linux
A bootable Linux thumb drive allows you to tinker with the popular open-source operating system without having to risk modifying your hard drive.
The easiest option is to buy a drive with Linux already installed. The most established version is Damn Small Linux, which comes preinstalled on a 256MB drive for $60. If you want to try installing the OS yourself, download Damn Small Linux from the same Web site, or check out Puppy Linux. Both OS versions include a bevy of productivity applications--and both, of course, are free.
Create a Cleaning Kit for Spyware-Infected PCs
One of the handiest uses for a thumb drive is as an emergency security kit with applications for reviving compromised computers. This is especially important if you have to disconnect the machine from the Internet and can't download the required software, or if you need to pay a house call to a beleaguered friend with a virus-laden PC.
To make a good Windows security kit, pack a drive with a range of applications from the following essential categories.
Antivirus tool: A clear necessity. AntiVir PersonalEdition Classic (free) is a good budget choice that runs off a thumb drive. Keep an installation file handy to load on the PC after it's cleaned, too. Users with U3 drives can also download the McAfee VirusScan and Avast scanners.
Spyware scanners: The more the merrier--no single utility finds everything. Three good ones are Spybot Search & Destroy (free), Ad-Aware SE (free), and PestPatrol 2005 (free trial). Unfortunately, none of them will run directly from the thumb drive, so grab their installer files for quick installation on a PC.
Disk wiper: If worse comes to worst and you have to give up on an infected machine, a secure disk shredder is good to have on hand. A number of wiping applications run from thumb drives, including Eraser ($18 for the full version).
Whether you run security apps from a thumb drive or from a PC, the same caveat applies: They're not much good if you don't keep them current. Run your antivirus program's update function from a clean PC just before using your kit, and download updated antispyware installer files once a month or so.
Trek With Books, Not a Backache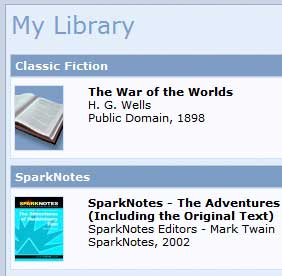 Student tools and books line the SanDisk Cruzer Freedom's virtual shelves.
If you get anxious without anything to read on hand, load up your thumb drive with some of the thousands of free e-books (in text format) available from
Project Gutenberg
. Or to help a student get in the reading habit, try
SanDisk's Cruzer Freedom 256MB
($40), which is preloaded with e-book software (click on image at left). You can download the Merriam-Webster dictionary, one SparkNotes study guide, and a 30-day trial version of graphing calculator software for free; hundreds of e-books are also available. Additionally, students can access, through the drive's interface, the Scholastic.com Homework Hub, where teachers can upload lesson plans and assignments. Even if you aren't a student, the device makes the job of carrying dozens of books around a whole lot lighter.
When Speed Is King, Flash Flies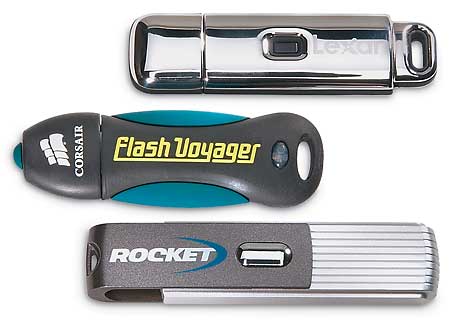 Similar performance, different looks: These thumb drives were all two to three times faster than older models. Top to bottom: Lexar JumpDrive Lightning 1GB, Corsair Flash Voyager 1GB, and Memina Rocket 1GB.
A number of thumb drives claim nothing more than raw speed, a trick they achieve with newer flash memory and special circuitry.
We put three high-speed models to the test to see how well they stack up to their claims: the polished Lexar JumpDrive Lightning 1GB ($130), the rubberized Corsair Flash Voyager 1GB ($70), and the flip-top Memina Rocket 1GB ($85). (Click on the thumbnail image at left.)
Sure enough, all three drives had considerably better throughput than any plain thumb drive. At about 9.5MB per second on reads and 5.5 MBps on writes, these high-performance units had two to three times the speed of a current standard drive and they blazed past older hardware. However, like most USB 2.0 products, none sustained anything approaching the theoretical maximum throughput of up to 30 MBps on reads.
Although the makers claim various theoretical maximum transfer speeds, the three drives performed nearly identically in our tests, which used a variety of small files. So shop around for the best price and a design that works for you.
Free, Easy File Syncing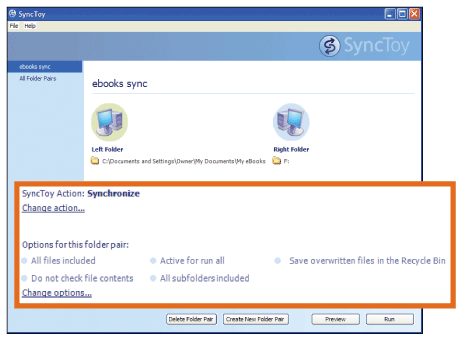 Briefcase on steroids: Microsoft's SyncToy, a free download, offers sophisticated options for synchronizing files between your PC and a thumb drive.
Transporting files is a thumb drive's most basic function. But If you keep versions of a document on a PC and on the drive, you're eventually going to run into trouble when they get out of sync and you overwrite something new with something old.
The good news is that two free Microsoft tools mitigate this problem. The first is a utility you've probably been ignoring for years: Windows Briefcase. Well, it's still there, and it actually works very simply. In Windows Explorer, select your drive and click File, New, Briefcase. Then copy files from your hard drive into the new Briefcase folder.
To keep files in the Briefcase synchronized with the source files on the PC, select the Briefcase and choose Briefcase, Update All. A dialog box will show what needs to be updated and offer options.
Microsoft has quietly released another, more powerful tool called SyncToy, a sort of Briefcase on steroids (click on thumbnail above). SyncToy lets you specify (on a folder-by-folder basis) whether updates go both ways or only one way, and it handles renamed files. SyncToy may be overkill for casual users, but for those with complicated synchronization needs, the utility is a fantastic add-on. Get more details and download it here.
Revive Your Crashed PC
If the unthinkable happens and your PC goes south, your modest little thumb drive can come to the rescue--if you've spent some time customizing it as a recovery drive.
Recovery thumb drives are most useful if you make them bootable so that they can help if your system won't start. The task isn't quite as simple as formatting a floppy disk in Windows, but enterprising users should have little trouble.
You need two things: a utility that can create a master boot record (MBR), and a floppy or CD that is already bootable. Both are readily available online, including downloadable MBR creators (try MKBT) and bootable drive images (take your pick at bootdisk.com). As well, you need to set your PC's BIOS to boot from a USB drive before other drives, something that older systems in particular might not support. Click here for extensive step-by-step instructions on creating a bootable thumb drive.
Once your drive is bootable, load it with applications that repair common system errors and pin down elusive hardware problems. Free or shareware programs are more likely to run straight from the drive. Essential tools include disk- and RAM-testing apps such as Memtest86, Registry tune-up tools like Registry Mechanic, and backup and recovery programs such as DriveImage XML. Partition management tools like Disk Director and file undelete tools such as Undelete can also turn around a potentially very bad day. You can find plenty more at The 46 Best-ever Freeware Utilities page and at Ultimate Boot CD.
Tunes on Wheels
Photograph by Rick Rizner
A thumb drive is great for carting music around, and if you're in your car, you can play the tunes right from it, too--no software required. Devices like the
Thumbdrive Car FM Stereo Transmitter
($37) play music off any thumb drive you attach.
Plug the transmitter into your car's cigarette lighter and tune your radio to the unit's frequency (choose the clearest). Results vary depending on the size and location of your car's antenna, and the controls are limited to play/pause, previous and next track, and FM channel.
But if you want to play MP3s on the road without having to buy an iPod plus accessories, this inexpensive little tool will do the job.