Also: The pros and cons of screen savers, and archiving at a distance.
Why Is My Hard Drive Slowing Down My PC?
Send your questions to answer@pcworld.com. We pay $50 for published items. See the link for more Answer Line columns. You'll find Contributing Editor Lincoln Spector's humorous and other writings at www.thelinkinspector.com.
Something is constantly accessing my hard drive, which has slowed my PC's performance to a crawl. How can I find the culprit?
Wade Frazier, Tucson, Arizona
Assuming that the symptoms you describe can't be attributed to a scheduled antivirus scan or other normal activity, the two most likely sources of the problem are a spyware or virus infestation, or (easier to diagnose) a mechanical problem with the drive itself.
Shut down your PC and restart it without loading Windows. To do this, you can use a bootable floppy or CD, or you can open your PC Setup program (when you turn your PC on, an on-screen message will tell you which key to press). If the hard drive continues to thrash when Windows isn't running, you probably have a hardware problem. Back up everything on the drive immediately, and buy a replacement. But don't assume that your hard drive is fine just because it doesn't make a racket with Windows closed. See this month's Hardware Tips column for descriptions of free and low-cost utilities that test your drive and your PC's other hardware.
If your hard drive is okay, the slowdown is likely due to malware. Don't trust your installed antivirus program; it may be compromised. Several free online virus scanners are more reliable; if one draws a blank, try another. First, read Erik Larkin's "Threat Alert: Antivirus Killers" from last November's issue. Scroll down to find links to two good virus scanners.
Other online virus scanners are available from BitDefender, McAfee, Panda Software, Symantec, and Trend Micro. Some of the scans require Microsoft's Internet Explorer browser.
Don't depend on just one antispyware program, either. I recommend three free spyware zappers: Lavasoft's Ad-aware, Safer Networking's Spybot Search and Destroy, and Microsoft AntiSpyware. See last November's "Best Defenders" to get these programs, as well as trial versions of our favorite low-cost security tools.
If you find these sites and programs blocked, you definitely have an infection. For advice on what to do next, read my column from last August, "Prevent Viruses From Disabling Your Protection."
Here's a final suggestion: Sysinternals' free Filemon program will show you which files are accessing your hard drive at any given time (see Figure 1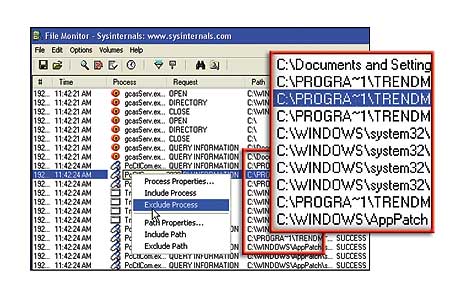 Figure1: Sysinternals' free Filemon utility tells what programs are accessing your hard drive.
). You can download the version for 98/Me or for XP/2000
here
.
Screen Salvation?
Is there any good reason why I should use a screen saver to protect my monitor these days?
Alexander M. Hinz, Fairview Heights, Illinois
A conventional crt monitor theoretically can still suffer from burn-in--the problem that screen savers were invented to overcome. But I haven't heard of a burned-in PC monitor in what seems like ages (though it does remain a problem for screens on ATMs, airport displays, and both CRT and gas-plasma wide-screen TVs). Flat-panel LCDs don't have burn-in issues.
Screen savers won't cut your system's power consumption, either. For that, use Windows' Power Options: Right-click the desktop, choose Properties, Screen Saver, and click the Power button.
But a password-protected screen saver will keep others off your PC while you're at lunch. Right-click the desktop, select Properties, Screen Saver, and check On resume, password protect. Windows Me and 98 will ask you for a password; XP and 2000 use your log-on password.
And if this world still has room for some frivolity, there's one more reason to use a screen saver: They're fun.
Archive Around Town
Last September, I recommended making multiple copies of important files ("Preserve Your Most Vital Data for the Long Haul"). This way at least one copy will likely be readable a few decades hence. Don Glenn of Bellevue, Nebraska, points out that you should store those copies in different locations. Keep one copy at home, and put the other at the home of a friend or relative, or in a safe deposit box. That way, if your house is burgled or burns down, your digital photos and tax information will still be safe.