Motherboard Mania!
With support for dual-core CPUs and the latest graphics, motherboards pack more power than ever. The PC World Test Center's evaluations of 14 AMD and Intel models will help you find the best motherboard for your next computer.
Richard Baguley is a freelance writer based in the San Francisco Bay Area.
Richard Baguley; testing by William Wang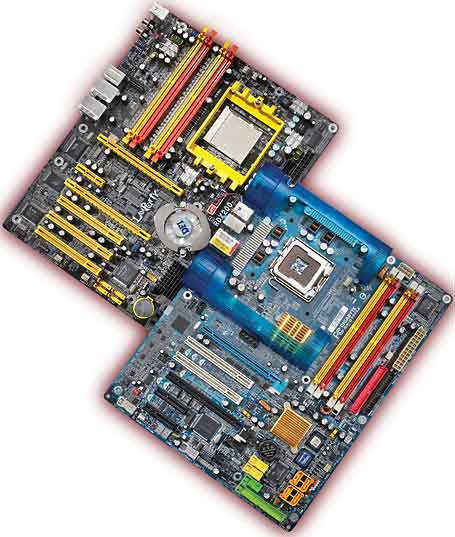 Gigabyte's GA-G1975X motherboard for Intel CPUs (lower right); DFI's LanParty UT RDX200 motherboard (upper left).
Want to build the perfect PC? The first thing you'll need is a motherboard. If the processor is the brains of your computer, the motherboard is its nervous system: It provides the pathways that allow the processor to talk to the other components. Finding the perfect motherboard means navigating a minefield of technical jargon and marketing buzzwords,
And it can be tricky for even the savviest PC enthusiasts. But with a bit of inside knowledge, you can determine which board is right for you.
Some of the best boards aren't even that expensive. Though our two top picks--Asus's $215 A8N32-SLI Deluxe for AMD chips and its $200 P5N32-SLI Deluxe for Intel CPUs--cost a significant chunk of change, other highly rated models come in at around the $100 mark. Both Asus products provide a great selection of features, one of which is an external SATA port. In addition, they support nVidia's SLI dual-graphics card technology, another performance-friendly feature. But even some less-expensive motherboards, like Gigabyte's $105 GA-K8N Pro-SLI, support dual graphics boards and advanced RAID features.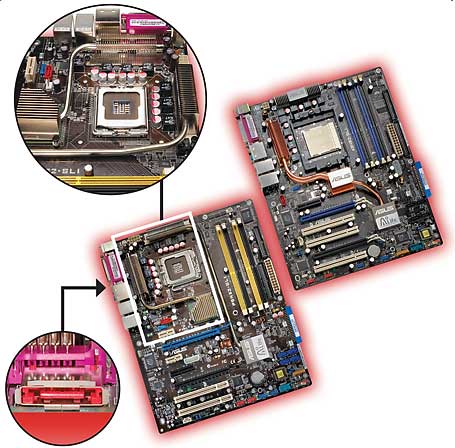 Asus's A8N32-SLI Deluxe and P5N32-SLI Deluxe earned our Best Buy awards with useful features such as heat-pipe cooling (top) and eSATA ports (left).
We rounded up 14 motherboards and then set the PC World Test Center loose on them, using similarly priced Intel and AMD dual-core processors (a $450 3.2-GHz Pentium D 940 and a $460 2.2-GHz Athlon 64 X2 4400+) and fast memory (2GB of Corsair DDR2-667 RAM for the Intel boards and 2GB of DDR400 RAM for the AMD models). Other components of the systems were identical. The Test Center ran our WorldBench 5 test suite and several of the gaming tests we use to assess graphics boards; however, it found few performance differences that we could attribute to the motherboards themselves. The seven boards designed for AMD processors were an insignificant three points apart on WorldBench 5. The $120 Abit AN8 Ultra tied for the highest score, 123, but missed our chart due to poor ratings for design and features. DFI's $169 LanParty UT RDX200 CF-DR wasn't very far behind with a score of 120. On the Intel side, the Test Center saw a slightly broader array of WorldBench 5 scores, ranging from 107 for the Intel D975XBX motherboard to 113 for the Gigabyte GA-G1975X board. In tests of 3D game performance, we saw differences of only a few frames per second between systems with the same CPU.
These negligible differences in our performance tests convinced us that performance isn't a compelling factor in choosing among the motherboards in a given category. Instead, you should look for a well-designed board capable of supporting the processor you want while also offering the features and specs you need.
In this Article:
First, Choose a CPU
Now that mainstream dual-core processors are available from both AMD and Intel (AMD's least-expensive dual-core chip cost around $300 at press time, while Intel offered a $150 dual-core CPU), there are few reasons not to spring for one. But which should you get? At the moment, AMD's Athlon 64 X2 chips are the better choice for power users: In our tests, desktop systems with Athlon 64 X2 CPUs have consistently outperformed Intel Pentium D-based counterparts with similar specs and prices. Our motherboard tests bear this out: The AMD-based systems turned in an average WorldBench 5 score of 122, compared with an average of 110 for the Intel systems.
Motherboards are often categorized according to the type of CPU socket they have. If you're looking for a board that supports dual-core chips, that translates into either a Socket 939 motherboard for AMD chips or an LGA775 board for Intel's Pentium D processors. In the latter (introduced in 2004), the pins reside in the socket instead of on the processor itself. Motherboards using older socket styles (such as the Socket 754 and Socket 478) can be decent choices for extremely low-cost systems.
A Word on Chip Sets
Once you've decided on a CPU, you'll want to look at the different chip sets that support that type of processor. The chip set provides the core logic and manages the motherboard's functions. Several companies (including ATI, Intel, and nVidia) make motherboard chip sets, most of which offer the same basic features. The variants of nVidia's nForce4 chip set were the most widely used on the boards we looked at, though Intel's 975X Express has become increasingly popular for Intel-based motherboards.
If you want an Intel board that can run two ATI graphics cards, for instance, you might go for one that uses the ATI Radeon Xpress 200 CrossFire chip set (such as the Asus A8R-MVP), which supports ATI's CrossFire technology. If you'd like to build a system that uses nVidia's SLI (Scalable Link Interface) multiple-graphics-card technology, you'll need a board with one of nVidia's nForce4 SLI chip sets.
Your CPU and chip set will determine which type of memory your system needs. Although both AMD and Intel boards support dual-channel memory (where pairs of DIMMs are used to boost memory bandwidth), the Intel boards support newer, faster DDR2 memory. We recommend buying the fastest memory your motherboard will accept. That means pairs of DDR400 DIMMs on the AMD boards we tested. The fastest memory the Intel boards support is DDR2-667, though they also take slower DDR2-533.
Graphics and Storage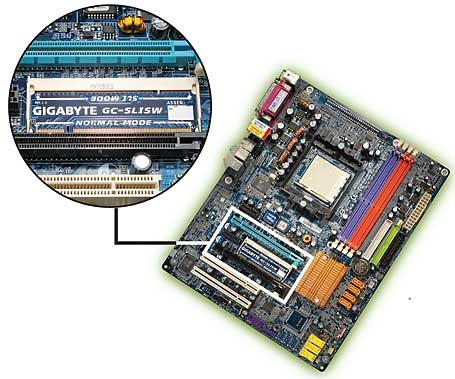 Gigabyte's GA-K8N Pro-SLI was one of many SLI-equipped boards we tested.
Most of the motherboards we tested offer dual graphics capability, a gaming-focused feature that lets you run two graphics cards in tandem for maximum speed. Our tests have shown that this approach can seriously
boost gaming performance
. Both ATI and nVidia offer graphics cards that support dual graphics. Two motherboard chip sets, ATI's own Radeon Xpress 200 and Intel's 975X Express, support ATI's CrossFire technology. nVidia's SLI technology necessitates using one of nVidia's nForce4 SLI chip sets.
All of the dual-graphics chip sets support a pair of PCI Express x16 slots, but nVidia's nForce4 SLI X16 was the first to dedicate a full 16 PCI Express lanes to each slot, increasing the bandwidth available to each card. Both of our Best Buys employ this chip set; however, whether the additional bandwidth will improve performance with today's graphics boards and games is debatable.
Fortunately, even less-expensive boards like the $105 Gigabyte GA-K8N Pro-SLI have dual-graphics-card support. Just be aware that the two PCI Express x16 slots can limit your other expansion options. The trade-off is worthwhile if you want the option of running a pair of graphics cards, but Asus's P5N32-SLI Deluxe, for instance, leaves little space for PCI add-in cards as a result: The board houses only one PCI Express x1 slot and two standard PCI slots along with the two x16 slots.
Whichever motherboard you choose, storage connections are unlikely to be a problem, even if you're building a system for space-grabbing tasks like editing video or storing music and movies. Every motherboard that we looked at supplies enough parallel ATA and Serial ATA (SATA) connectors to attach more hard drives and optical drives than the average system needs; even basic motherboards like the Asus A8R-MVP provide four SATA ports and two parallel ATA channels. This should be plenty unless you're planning to use a sophisticated three- or four-drive RAID setup on your machine.
Every motherboard we saw supports RAID 0 (which combines two or more hard drives for speed), RAID 1 (where two drives mirror data so it's preserved if one drive fails), and RAID 0+1 (a composite of both approaches that requires twice as many disks). Most also support RAID 5, which uses three or more drives to blend speed and reliability. For users with vast storage needs, the Foxconn 955X7AA board includes three separate RAID controllers, good for attaching scads of 500GB drives.
But not all of the boards support the latest SATA standard, with its maximum transfer rate of 300 MBps; the Intel and DFI models support the older SATA-150 standard. That's not a critical factor, however, because no hard drive today (whether it supports SATA-300 or not) can max out the SATA-150 interface's bandwidth. So think of motherboards that provide SATA-300 connectors as offering a hedge against obsolescence. Two of the Asus boards and both ECS motherboards (the latter missed our chart) have an eSATA port, a new type of connector that lets you add an external SATA drive more easily. With a port multiplier, this single port can accommodate up to five drives.
Working With the Boards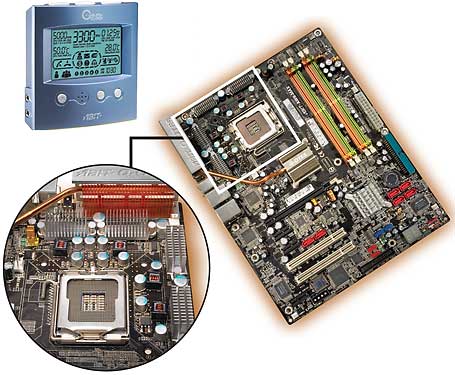 The ABIT AW8-Max features a serious heat-pipe assembly for silent cooling (left) and the optional Guru Clock (top) that tracks system temps.
Even the most full-featured motherboard won't do you any good if it's a pain to set up and work with. Most of the boards we looked at offer clean design and easy access to their ports and sockets. But the more feature-packed models can get a bit crowded. For example, on the Asus P5N32-SLI and the nonranking ECS PA1-MVP, some of the SATA ports are right behind one of the PCI Express x16 slots. If you install a large graphics card, it may obstruct one or more of those drive connections. On the Asus, that becomes a problem only if you plan to use two graphics cards (if you're using a single graphics card, you should insert it into the primary PCI Express x16 slot, at a distance away from the SATA ports); but on the ECS, the primary PCI Express x16 slot lines up with the SATA ports. Two other SATA ports remain unimpeded, but it is still an uninspired design.
In another odd layout decision, ECS put one of the PA1-MVP's chip-set components onto a large daughterboard that plugs into a proprietary slot that's nearly as wide as the motherboard. The card is large enough to impede airflow over the motherboard and leaves space for just one PCI Express x1 and two PCI slots--significantly fewer than on many boards.
Carefully consider layout and design concerns like these when you shop (most vendors and online stores like NewEgg offer detailed images of the products).
And since a properly cooled system is a stable system, you should pay attention to cooling as well. Many of the boards add a fan to cool the chip set, but some take different approaches. The Asus and Abit motherboards use heat pipes--metal tubes filled with liquid that conduct the heat away. The Abit boards go a step further and put the heat sink in the back panel. That type of cooling helps you build a quiet PC, but it doesn't obviate the need for fans completely. Placing these heat sinks near the processor does mean that they can make use of the flow of air over the CPU, however.
The Gigabyte GA-G9175X mounts four small but noisy fans in plastic ducts to direct hot air from the processor and the chip set out of the case. The ECS PA1-MVP uses a similar design, with a small fan and a plastic duct directing air out the back panel. It's quieter than the Gigabyte's fans, but still adds some noise.
If your system has cooling to spare, you can try overclocking the CPU to gain a little extra speed. All of the boards we tested offer overclocking features. Most reside in the PC Setup program, which you can enter before the OS boots, and several motherboards (from Abit, Asus, and ECS) include screens in Setup that supply easy access to all of these settings at once. The ECS boards also let you create four alternative settings that you can select with a press of a key at boot--very useful if you have different configurations for different tasks. The Abit boards provide the easiest overall overclocking experience: Their Guru software can even overclock the processor automatically, increasing the speed gradually to determine how far it can safely go.
Each motherboard we tried has at least four USB 2.0 ports on its back panel; but for connecting lots of devices, the Abit AW8-Max is a good bet. It has six USB 2.0 ports on the back, plus another two on an included PCI slot cover. The motherboards all supply "headers" that can connect to USB or FireWire ports built into your PC case.
All of the boards also come with gigabit ethernet adapters, for connecting to a network and to the Internet. And the Abit, Asus, DFI, ECS, and Foxconn motherboards all include a second ethernet adapter, which can be useful for running two separate networks (one for transferring files and another for Internet connections, say).
The trick to selecting a motherboard is to decide which features you want. Asus's A8R-MVP is a smart pick for a simple AMD system: It's inexpensive and its features will satisfy most users' needs. For a basic Intel PC, the EVGA nForce 4-SLI Intel (not on the chart) is a good choice, though it lacks a FireWire connection and other extras. Our Best Buys, Asus's A8N32-SLI Deluxe and P5N32-SLI Deluxe, are great for AMD and Intel power users. Both offer plenty of expansion and overclocking options that make building a high-performance system easy.
Future-Proofing: Will You Be Able to Upgrade?
You may have a shiny new PC now, but what if you want a speed boost a couple months down the road? If you're hoping to upgrade your processor, you should pay attention to how long AMD and Intel plan to stick with their current CPU sockets.
Intel introduced the LGA775 socket in 2004, and the company's subsequent processors have all used it. According to spokesperson Dan Snyder, Intel's next-generation CPU will continue to use LGA775. But it's unclear whether you'll be able to upgrade to this processor (code-named Conroe) with current motherboards: Snyder could not say whether Conroe will work with existing chip sets.
Meanwhile, AMD plans to introduce new processors later this year to support the faster DDR2 memory that now works only with Intel-based motherboards. Those new chips will require a new socket called AM2 that's incompatible with today's Socket 939. AMD spokesperson Damon Muzony claims that the company will continue to support Socket 939 "for as long as there is a customer demand," though whether the company will introduce any new Socket 939 chips is uncertain.