Symantec's new backup program simplifies the process of backing up files, folders, and partitions.
Norton Save & Restore Is an Old Ghost Reborn
Jon L. Jacobi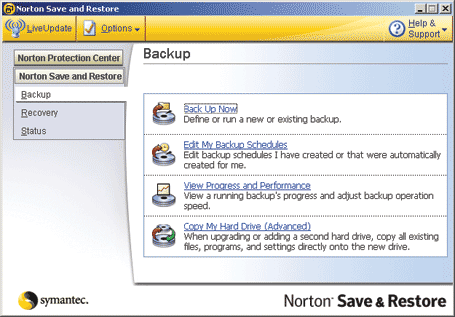 With Save & Restore, Symantec has finally provided a simple, versatile upgrade to its popular Ghost imaging application.
The popular norton Ghost imaging and backup program is dead. Long live
Norton Save & Restore
--a direct successor that completes the degeekification that Symantec initiated with Ghost 10 a mere six months ago. This move is good news for click-and-pray users, as there's now virtually no way to mess up a backup if you follow the prompts.
Still, aside from the new name and a few tweaks to the renovation, the only major added feature is the (exceedingly handy) ability to back up files and folders by selection or filter. Ghost 10 imaged only entire partitions, so the new ability can save you a lot of time and space. There's also tighter integration with Symantec's Protection Center, which includes virus protection and will invoke a Save & Restore backup if it detects a serious virus threat.
At $70, Save & Restore costs $20 more than its main competitor, True Image 9 from Acronis, but the Symantec product is easier to use, since it automatically takes care of a lot of details. For example, it can determine the most suitable backup location, consolidate backups, and reduce disk usage on its own. It also creates and restores images faster than True Image does. Unfortunately, its CD recovery disc works very slowly, and the disc environment's inability to create new images may be a deal-killer for pros.
That said, Save & Restore is definitely the better fit for the average computer user.
Symantec Norton Save & Restore
Symantec's Ghost is reborn as an easier-to-use backup program.Price when reviewed: $70 ($20 rebate for users of Ghost 10)Current prices (if available)