Video Everywhere
All of a sudden, videos are all over the Web. Here's how to find them and watch them anywhere, whether on your PC, TV, or mobile device.
Jim Feeley is a writer and a producer at POV Media, a California production firm.
Jim Feeley
Illustration by Doug Ross
Apple says it has sold over 30 million videos through its iTunes Store since October 2005. That's impressive. But YouTube, currently the most popular site for sharing amateur video, claims to serve up 100 million video viewings each day. That's stupefying.
These days, everything from Hollywood films and TV shows to clips from ordinary users is available right in your browser. Even cell phones are in on the act, with news, sports, and lots of short video segments just a dial away. But although video options are proliferating at an astonishing pace, problems persist, including format incompatibility across platforms, license restrictions on content, and--still--a limited selection of good videos.
Following is your guide to surfing the new video wave, with tips for viewing movies on your PC and on the go, plus pointers on sharing your own Oscar-caliber material.
Video on Demand, the Web Way
You come home tired and eager to watch a film or a TV show. Trudging over to the video store or waiting for Netflix is out, and Arrested Development was cancelled. So you turn to the mother lode of all media, the Web. You should be able to find what you want there, right?
You have a lot of options these days, from TV shows and short films on sites like iTunes or Google Video to movies on CinemaNow or Movielink (see the chart on the next page). Such sites make it easy to watch films on a laptop or PC, or perhaps a mobile player (without illegally ripping a DVD). And of course, you never have to leave home to get the film, or worry about returning it.
The challenge remains finding material that is worth watching and that approaches the kind of image quality you're used to--and that is better or cheaper than what's on your home recorder, or what you can get from Netflix or Amazon.
Web of Film
Sites such as CinemaNow and Movielink offer downloads of new and old films and videos. A standard film runs around 1GB and costs $1 to $4 to view for 24 hours from the first viewing. The Starz-sponsored Vongo, which also provides movies, lets you have unlimited downloads and viewing for $10 per month; the other sites, however, get new movies months earlier than Vongo does, and Vongo's list of available titles changes frequently, just like cable, so a movie there one week may be gone the next.
With broadband service, you can start watching a movie soon after it begins downloading, though the file transfer may take an hour or three to complete. To be safe, wait 10 to 15 minutes to begin viewing; I had occasional problems when playback caught up with the download. Images are worse-than-DVD quality, and you may have to watch the film with the service's own player, and be restricted to viewing it on the PC you download to.
The selection of titles can charitably be described as mixed, though some recent releases are concurrent with their DVD debut. Compared with the 60,000 titles on Netflix, each online site offers a small array of titles. Even a typical independent video store has more titles--for now.
Selection and quality should improve. Many industry experts believe online services will inevitably become the primary form of video delivery--even Netflix has discussed plans for a download service.
Must-See Net TV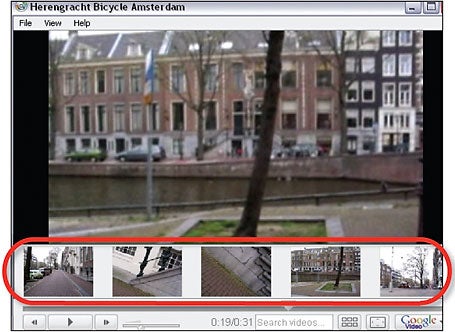 The Flash-based Google Video Player provides pop-up thumbnails to ease navigation in downloaded videos.
Most major networks and producers make some recent and archival TV shows available through their own Web sites, as well as on iTunes, AOL's In2TV, Google Video, and others. Each site may offer only a few shows from one or two studios.
For example, CinemaNow carries just two series, one season each of Babylon 5 and The Dukes of Hazzard. iTunes carries about 150 series from Disney/ABC, NBC, and MTV, including current shows like Law & Order and The Office. Network shows typically cost $2 to $4 per episode.
A growing body of content is viewable for free, with the revenue coming from commercials. As a trial, ABC released free downloads of a few popular shows such as Desperate Housewives and Lost the day after they aired, with ads. Google Video, too, is experimenting a bit with ad-supported video. AOL's ad-supported In2TV presents many old Warner Brothers shows, such as Max Headroom and The People's Court, with new ads.
Increasingly, you see well-produced, original Web content, as well. For example, both CBS's Innertube and MTV Overdrive offer clips from broadcast shows along with online-only reality, talk, and magazine shows.
ABCnews.com, NBC, and others present free nightly newscasts along with single-story videos. Some local stations have good content, too: Check out southwest Florida's Studio 55, which has a high-quality, daily news video podcast.
However, most free programs play as Flash Video (.flv) files on the provider's site--no easy downloads for offline viewing. And you can't subscribe to or watch content from all sites with one viewer. Although Blinkx.tv and Yahoo both offer improving Web-wide video search, no one has the equivalent of a comprehensive program guide that makes both commercial and sharing sites searchable in one place. Also, with today's broadband, high-def video takes too long to download, and content is scarce. (If you want to try HD, CinemaNow does have 80 titles.)
Moreover, unless your PC is connected to your TV, you have few ways to easily bring Web content to your living room. TiVo's TiVoCast and Akimbo offer two of the few alternatives: Each service downloads videos from partner sites to its set-top box for TV viewing. TiVoCast has launched with ten partners, such as iVillage and the New York Times, while Akimbo has 100 partners, with video ranging from A&E's biography and history shows to short movies from iFilm to clips from the Karaoke Channel.
Most commercial content providers currently avoid distributing their libraries via RSS feeds and peer-to-peer, presumably due to concerns about file trading. However, Warner Brothers' agreement with P-to-P developer BitTorrent to use its technology to sell and distribute movies and shows suggests that Hollywood's hesitancy may be lessening.
Commercial Video Sources: iTunes Stands Out
iTunes' selection, video quality, and ease of use distinguish it from the rest of the pack, though it lacks feature films.
Video service
Price range1
Number of commercial titles2
Stream or download
Viewable on
Comments
AOL In2TV
Free
400
Stream
PC
Currently has up to ten episodes of about 40 Warner Brothers TV series, including The Ben Stiller Show, Kung Fu, and Welcome Back, Kotter. No downloads or feature films.
Apple iTunes
$2
6000
Download
PC, Mac, iPod
Has approximately 150 television series, 60 short films, and 3000 music videos. Provides decent searching, consistent pricing, and good video quality. Must access through iTunes. No rentals, feature films, or burning to DVD for TV.
CinemaNow
$3-$4 to rent,3 $10-$20 to buy
5000
Both
PC, select Windows portables
Provides about 600 Hollywood films, 3300 minor films and videos, and 80 HD titles. Lots of music videos, some adult material. Some films are downloadable on the DVD release day. Requires Internet Explorer. Downloads can take 1 to 3 hours. Allows limited burning of DVDs for living-room players; most burned DVDs play only on a PC.
Google Video
$0.50-$15; most $1-$5
6000
Both
PC4
Offers a dozen CBS TV series. Has NBA games 24 hours post-game ($4). Some files available for only a 24-hour rental. Most downloads require its player; some play only while the PC is Web connected. Good search, but poor browsing. Good and goofy paid content. No burning to DVD for TV.
Movielink
$1-$5 to rent,3 $9-$20 to buy
1500
Download
PC
Has about 650 Hollywood titles, plus over 800 independent and foreign films, cartoons, and TV shows, to rent; has about 800 titles to buy. Some films are downloadable on the DVD release day. Requires Internet Explorer. Downloads can take 1 to 3 hours. Burned DVDs play only on a PC.
Vongo
$10/month, $4 for pay-per-view titles3
1600
Download
PC, Microsoft's PlaysForSure portables
Includes a live stream of Starz TV. Supports a few portable players, such as the Toshiba Gigabeat S. Requires Internet Explorer. Files average 0.5GB to 1.5GB, and take 1 to 3 hours to download. You must download and view files within Vongo's application.
CHART NOTE: Features listed are as of June 2006. FOOTNOTES: 1Price ranges are per download, unless otherwise stated, and reflect the majority of the service's options. Deals or special content may be priced lower or higher. 2As of June 2006. 3Unlimited viewing during a 24-hour period. 4Free video content is also available for iPod and PSP.
Video on the Go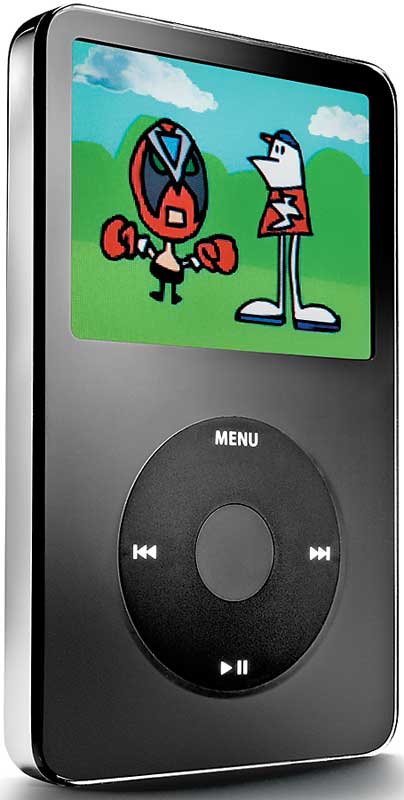 Apple's video iPod can store and play back hours of video.
With the right gear, your favorite shows, movies, and video clips can accompany you wherever you go. Mobile video devices come in two categories: lightweight players such as the Apple iPod, Creative Zen, and Sony PlayStation Portable (PSP), onto which you download content from your computer or the Web; and video-capable cell phones that pull in prepackaged clips of news, sports, and other short content. You'll find a wider selection of material--and slightly better video quality--with the players, but phones offer fresher content.
Prepped to Play
The iPod and PSP have the most market share and thus have the broadest support from tool developers and content providers. In addition to the iTunes Store and the 250 films on PSP-compatible 2.5-inch UMDs (Universal Media Disc), inexpensive programs such as MoviePod ($10) and PSPWare ($15), both from Nullriver, provide drag-and-drop batch conversion of common video files into clips compatible with iPods or PSPs, and then automatically download the files to the players.
The Web has plenty of content, too. Google Video, for example, has downloadable iPod and PSP versions of the free videos on its site. Even CinemaNow, a movie download site partly financed by Microsoft, has hinted at possible future support for iPod and PSP. Want an easy way to receive RSS video feeds for your iPod or PSP? FireAnt, Videora, and soon Democracy Player each can find, download, convert, and sync RSS video feeds to these mobile devices, not just to your PC. FireAnt is currently the most evolved, and it integrates Yahoo video searching, but Democracy Player has a lot of potential. All three are as easy to use as a typical RSS news reader.
Apple and Sony aren't the only players in town. Palm Desktop, which is bundled with all Palm OS devices, includes QuickInstall, an app that can perform drag-and-drop conversion of many types of video for playback on the handheld. The open-source Core Pocket Media Player is a bit finicky, but also lets Palm, Windows Mobile, and other devices (though not the iPod) play a wide range of popular video files.
Windows Media devices have less downloadable video available than iPods and PSPs do, with CinemaNow the main commercial source for films. But you can use Windows Media Player 10 or 11 to convert several video formats into files compatible with the increasingly interesting Portable Media Center players from Creative, iRiver, Toshiba, and others. Prices for such devices range from $200 to $800, with 20GB to 30GB mainstream players available for around $300.
To watch TV shows as you go about town, you have several options. If you already subscribe to TiVo, download the company's new $25 Desktop Plus software, a one-time purchase that lets you move video from your TiVo onto an iPod, a PSP, a Treo, or certain Nokia devices. If you already own a Windows XP Media Center Edition PC, you can use WMP 10 or 11 to easily transfer your stored video from the PC to compatible devices.
Some services go further, like the $30 SlingPlayer Mobile. Although not all the glitches have been worked out, it lets you use a newer Windows Mobile device, such as the Motorola Q, on a 3G (third-generation) phone network to remotely watch and control your TV and DVR via the $200 Slingbox TV-streaming device (see our Slingbox review, "Take Your TV With You"). For free, Orb Networks offers similar features for devices with Windows Media Player (see our review, "Orb Offers Easy Media Streaming").
Call for Video
While handhelds let you easily watch video anywhere, in most cases you must load the player before you leave home, or use a separate service. New cell phones and networks let you receive video anywhere--well, anywhere there's a fast 3G network such as EvDO or UMTS. Check with your provider to find out if you have service in your area; if so, for $15 to $25 per month added to your cell phone bill, Cingular, Sprint, and Verizon will give you unlimited access to a rather small selection of games, music, and video (see the chart below).
The services have a lot of content overlap. All offer short clips from the usual suspects such as CNN, The Discovery Channel, ESPN, Fox, The Weather Channel, and others. Typically you can view a few music videos, recent sports and news highlights, or movie trailers. Most channels aren't live but are updated regularly.
Currently Sprint offers the most options and has a feature the others don't: live video feeds. Your device can get live news feeds from ABC, C-SPAN, Fox, and other sources. You can also see over a dozen channels that show the same video feed going to television sets.
But just because you can see video on your cell, doesn't mean you'd want to.
Navigating the menus, plus waiting for the media players to load and the content to buffer, can take 10 to 30 seconds. The clips are often highly compressed files at 176-by-144-pixel resolution and 15 frames per second, playing on just part of the phone's screen. Even good images are so tiny that it's not fun to look at them for long. Not that you can--most phone content is less than 3 minutes long; anything longer may rebuffer every minute or so.
My rule for mobile video is simple: The smaller the screen, the more basic and personal the content. Lawrence of Arabia? No. Sports highlights? Perhaps. Talking heads and short, focused clips? Okay. Hilarious video podcasts from Strong Bad Emails? Now you're talking!
Sprint Has Mobile Video Advantage
For now, Sprint offers more video choices than its rivals do, at a reasonable price.
Phone video service1
Pricing2
Claimed download speeds
Technology
Comments
Cingular Video
$20/month
400-700 kbps
UMTS3
Smooth playback. Slow menus, basic-cable-like channels, disappointing $5-per-month HBO clips. Service in only 16 metro markets.4
Sprint TV
$15-$25/month
400-700 kbps
1xEvDO
Numerous channels, including oddball and live content others lack. Somewhat complex setup and pricing. Videos buffered slowly.
Verizon V Cast Video
$15/month
400-700 kbps
1xEvDO
One of the least expensive plans. Channels buffered less slowly than others. Content by usual suspects, such as CNN, ESPN, and Fox.
CHART NOTE: Features listed are as of June 2006. FOOTNOTES: 1 T-Mobile has no current offering. It plans to roll out a North American mobile-phone video service in 2007. 2 In each case, the cost is in addition to your regular phone plan. 3 Some areas already have the faster HSDPA network available. 4 As of June 2006.
Your Video, on the Web
You just came back from a vacation in Cancun, and you want to wow your family with videos of your Jet Ski prowess. Or maybe you got your friend's "sick day" hole-in-one on your cell phone, and you want to share it with your buddies but not your boss. Or perhaps you caught dramatic rescues of flood victims and want to share the clip with the world.
YouTube and the dozens of easy-to-use, free video-sharing sites like it can help you do all those things. Many of the sites offer the same core features; where they differ is in their popularity, their support for video to and from mobile devices, and their ability to restrict viewing to people you select (see the chart below).
Share and Share Alike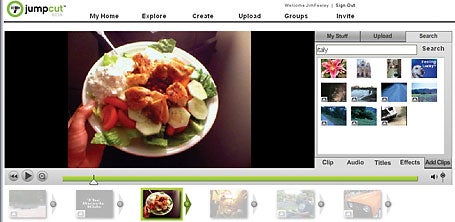 Jumpcut lets you edit your own and others' clips via a browser-based interface, then publish to the Web or deliver to a cell phone.
Video-sharing sites are currently more similar than they are distinctive, and the services will probably become even more alike as they draw inspiration from one another. Typically they let you upload MPEG, QuickTime, and Windows Media formats, which the sites will then convert to Flash Video (.flv) files for hosting and playback. Flash offers good image quality and fast playback, and over 95 percent of systems already run it. Practically every site gives HTML links to embed your video in your blog or other Web page, or you can e-mail the link to friends and family.
All the sites present some hassles, as well. Over most DSL and cable lines, expect to spend 3 to 20 minutes uploading a 3-minute clip. Most services have a license to use your clips any way they want, and you must indemnify them from any liability for your content.
But such sites still have differences, a key one being traffic. According to online market researcher Hitwise, in late spring YouTube was by far the most frequented sharing site with 43 percent of all visits to video sites. Popularity has its downside: Although recent, well-known, and highly rated videos are called out to visitors, the 35,000 new clips added each day make it easy for your opus to get lost in the YouTube video jungle.
If you want a breadth of video options for delivery to different devices, other services merit consideration. Google Video automatically generates downloadable iPod and PSP versions of free content. Several services, like Eyespot, offer delivery to mobile phones. If you're creating longer pieces, you may need a site that doesn't limit file size or length, like Google Video or Ourmedia.org.
Several sites, like Eyespot, Jumpcut, and YouTube, also let you send clips via MMS (Multimedia Messaging Service) over high-speed cellular networks such as EvDO and UMTS directly to your account's page. Sprint and Verizon offer similar--though less flexible--features that let their users upload and share videos. And services such as Abazab.com and Umundo.com let you send phone video via MMS directly to your pages on MySpace and My Yahoo, for example. All are free (for now), with Jumpcut's simple editing making it the most attractive.
Once your video is posted, controlling who sees it is difficult--just ask Hollywood. Or Paris Hilton. If you need some privacy, send clips to a site that supports private groups where you specify who can see your video. Know, however, that privacy features can be defeated, so if you're worried about any dire consequences if your video gets out, don't post it at all.
No site stands far above the rest, but Eyespot's balance of innovative cell-phone features, private groups, downloadable clips, and online editing and mixing raises it just a bit above its peers.
However, with many of these services being up-front about their beta status, and others in denial, the situation may change tomorrow as new features debut and sites try to figure out how to pay for all the technology and bandwidth they're giving away. Sites like VideoEgg get revenue from licensing their uploading technology to AOL, while Revver and others insert ads into submitted videos (some share revenue with submitters).
Video sharing has become so popular, Microsoft is getting into the game. Its YouTube-like project, code-named Warhol, is scheduled to go live by year's end, though no details are currently available.
Regardless of coming changes, one thing will remain constant: On the Net, only a thin line separates professional and amateur content--which means you could be the next Web-video idol.
Eyespot Tops Competing Video-Sharing Sites
In an ever more crowded field, Eyespot has the edge for now, thanks to its editing tools and mobile delivery options.
Sharing site
Playback format
File upload limit
Upload from cell phone
Integrated video editing
Make videos private
Download videos
Comment
Eyespot
Flash
50MB
Yes
Yes
Yes
Yes
Edit tool supports trimming, transitions, effects, and a separate audio track. Members can mix other members' clips in their own. Downloads for PC and iPod but no auto-conversions. Phones get videos via MMS. Limits files to 50MB.
Google Video
Flash for Web viewing, MPEG-4 and/or GVI for downloads
Unlimited
No
No
No
Yes1, 2
Unlimited file uploads, a simple interface, plus high viewership. All users will soon be able to charge for video viewing. Most downloads must be viewed with its player app. Google must approve and post clips, which can take days.
Grouper
Flash for previews, WMV for downloads
Unlimited
No
Yes
Yes
Yes2
Lets you post directly from a Webcam. Uses peer-to-peer for download distribution. Up to 3 minutes of a video can be streamed as a preview or downloaded; longer files must be downloaded and viewed in the Grouper app.
Jumpcut
Flash
50MB
Yes
Yes
Yes
No
Nice editing tools with trimming, transitions, effects, and audio, plus useful search, in a single interface. Encourages members to share and mix clips with other members. No downloads or mobile player support. Small community.
Revver
.mov
100MB
Yes
No
No
Yes2
Short ads attached to the end of each video; submitter gets about half of the ad revenue. Videos are also formatted for iPod and registered on local iTunes application. Site may delete videos not generating enough views.
VideoEgg
Flash
5 min
Yes
Yes
No
No
Can post directly to Blogger, eBay, and TypePad. You must install its plug-in to edit (trim start and end points), encode, and upload; the plug-in handles all file conversion. Inserts ads into videos (submitter does not share in the revenue).
YouTube
Flash
100MB
Yes
No
Yes
No
Can post directly to Blogger, BlogSpot, and LiveJournal. Allows you to create a channel--a mix of your own content and other content you aggregate. Very popular, but videos can get lost in the crowd.
CHART NOTE: Features listed are as of June 2006. FOOTNOTES: 1 Some copyrighted content cannot be downloaded. 2 Supports downloads to iPod and PSP as well as to PC.
Digital Video Rights and Wrongs
What can you do with the video you buy and download off the Web? The answer depends on where you got the content. Most sites that have copyrighted content such as commercial movies prohibit reselling or redistributing the video file and use digital rights management schemes to back that up.
Beyond that, restrictions vary by the site. For example, you can use the videos you buy from iTunes on up to five authorized devices such as PCs and iPods. Google Video's copy-protected content--which includes most of its good commercial videos--plays only in its viewer app or on a PC with a live Net connection. Neither site lets you burn video to DVD for living-room playback.
CinemaNow has started allowing customers to burn a limited selection of purchased movies to DVD. These DVDs will work in your living-room player. Movielink recently said it plans to offer the same capability--via Sonic Solutions' software--once studios give the go-ahead. Prior to this change in policy, both services allowed you to burn mainstream-movie DVDs that played only in your PC.
Broadcast TV on Phones?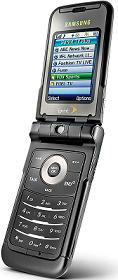 Sprint TV's live channels today offer a preview of future services.
Current cell-phone video offerings are underwhelming, but two (incompatible) technologies coming soon will let more carriers provide multiple live TV channels. DVB-H (Digital Video Broadcasting-Handheld), promoted by Motorola, Nokia, and Intel, and FLO (Forward Link Only), from Qualcomm's MediaFLO USA division, will both beam live video to your phone; each requires an overlay network on top of a 3G network.
Current 3G nets have unicast capabilities, which work well for calls with a signal traveling between a single transmitter and receiver. But unicast networks bog down if many users demand the same content; extra bandwidth is needed for each additional viewer of, say, a live World Series clip. DVB-H and FLO will let 3G networks multicast: One transmitter will reach many receivers.
In the U.S., Hiwire and Modeo are building DVB-H networks; no cell carriers have announced plans to use them yet. Verizon has signed up for FLO.
The network roll-outs should begin in late 2006 and throughout 2007. Also on the way: TDtv, from the Sprint-funded IPWireless, which runs over existing 3G nets. You may also hear talk of firms' using WiMax, also known as 802.16 (a wireless broadband standard with longer range than 802.11 Wi-Fi), on handheld devices, but no plans have been announced.
Prep Your Video for Sharing
To whip your raw video into shape and make it into a pretty good file for Web sharing, you don't have to spend much--or anything at all. Microsoft's free Windows Movie Maker 2.1 provides enough tools to perform simple file edits. Its output is limited, however, to Windows Media and DV-AVI.
To save in other formats, you'll need a tool like Apple's $30 QuickTime 7 Pro for Windows. It's easy to use and will export in many formats, including MPEG-4. If you don't want to use two apps to prep your video, you could let your chosen sharing site do the conversion and compression for you, or use more complete tools.
In $100 apps such as Pinnacle Systems Studio Plus 10.5 Titanium Edition and Ulead VideoStudio 10 Plus, you get more features and output flexibility. They handle all common video formats (plus high-def video from HDV camcorders), allow more flexible editing, create nice graphics, and can output to MPEG-2 or MPEG-4 for DVD, Web, iPod, and PSP playback. (For reviews of these applications and compression tips, see our video reference guide.)
You can eliminate desktop editing entirely with sites like Eyespot, Jumpcut, and VideoEgg, where users first upload raw footage and then edit it through Web-based interfaces. Uploading your raw files might take a while, and the editing features are more limited than those in Windows Movie Maker. But the sites simplify editing phone video, encourage users to let others integrate their footage and projects with their own, and make such integration easy--very Web 2.0.
Video Podcasts: Vodcast Playlist
Most vodcasts aren't worth your time. These are.
Tech Focus
Just for Fun
Video Reference Guide
"Video Everywhere" gives a rundown of what's happening in commercial video, portable video, and Web-based video sharing. If you're a true videophile and want more, check out the reference guide below and on the next page. You'll find numerous tips from PC World on how to edit and transfer your video, as well as product reviews of camcorders, video editing software, and video-capable mobile devices (including cell phones).
Video Handling Tips
Mobile Computing--Copying Video to a Handheld: We discuss the in and outs, the pros and cons, and the thorny legal issues.
Mobile Computing--iTunes Video to Go: Download video to your notebook to watch on screen or on your TV.
Making Movies--From VHS to DVD: Copying your home movies from videotapes to more-durable DVDs doesn't have to be difficult or time-consuming. Here's how we did it.
Making Movies--Set Your Movies to Music: Looking for legal music to enhance your videos? Here's where you can find all sorts of cool tunes that won't get you in trouble.
Making Movies--Video & Camcorder Jargon Decoded: Got jargon? Here's how to bluff your way through the world of digital-videospeak.
Making Movies--The Fixers: Tips and tricks for restoring sound and images in videos that didn't come out as you intended.
Burning Questions--The Skinny on Burner Bundles: Every retail drive comes with software, but not all software bundles are created equal. Here's how to understand what you're getting.
Video Editing/Burning Software Reviews and Camcorder Roundups
Adobe Production Studio Produces Spare Time: Video editing suite bundles powerful, well-integrated apps.
Adobe Encore DVD 2: DVD authoring application gets nifty slide shows and better project management.
Nero and Roxio Put New Spin on Traditional Disc-Burning Suites: Advanced features in both updates, but one targets power users while the other goes for ease of use.
Pinnacle's Video Editor Handles HD: Inexpensive video editor has excellent features but crashes far too often. (Note that this software has been updated to version 10.5.)
Burning Questions--Ulead DVD MovieFactory 5: Nero and Roxio may have the dominant packages, but other options are out there. Here's a look at one of them.
VideoStudio 9 Brings Video Editing to the Masses: Ulead's latest VideoStudio makes DVD movie editing and creation simple. (Note that this software has been updated to version 10.)
High-Quality Video on a Budget: MiniDV camcorders deliver features for novices and serious videographers--for as little as $400.
Making Movies--HD Camcorders Not Ready for Prime Time? Here's what you need to know if you're thinking of buying a high-definition video camera.
Sony's Slick New HD Camcorder: The HDR-HC3 brings high-definition video recording to consumers.
For reviews of video-capable portable devices, see the next page.
Bonus Tip: Video Compression Cues
You shot a great video of your camping trip to Yosemite, you've edited it to showcase the highlights, and now you're ready to share it. Before you output anything, however, you must set your file's compression. For clips from a camcorder or TV, select the deinterlace option if your software offers one; it will help the codec create smoother-running files for Web and mobile playback.
From there, you must balance image quality with patience: Bigger files generate better images, but uploading to a sharing site can take from 1 to 5 minutes or more per megabyte. In general, I would recommend exporting your video as a 320-by-240 MPEG-4 file running at 30 frames per second with MP3 audio and a 1200-kilobits-per-second data rate, which generates a good-looking file that runs around 10MB per minute. Google Video prefers clips that are 640-by-480 MPEG-4 files at a 2-megabits-per-second data rate; these files run around 15MB per minute and look noticeably sharper.
For iPod playback, I'd let iTunes handle the conversion or use QuickTime to create a 320-by-240-pixel H.264 file with AAC-LC audio and a data rate up to 768 kbps. For PSP, a good starting point is a 368-by-208 MPEG-4 file at a 1500-kbps data rate, for about 11MB per minute. You can also simply use the iPod or PSP output settings in the free Videora conversion utilities or in your video editing application.
Jim Feeley
Video Reference Guide, Continued
Reviews of Portable Video Devices
Apple's Video-Ready iPod: New iPod has a nice screen that displays video, but it's still primarily an audio player.
Archos Pocket Video Recorder AV420: This slim $500 device handles your music, photos, and TV and movie viewing in style, but hooking it up to your entertainment center and dealing with the video conversion are not for novices.
Creative's Impressive-Sounding Zen VisionM: A superb screen highlights this capable iPod alternative.
Tiny iRiver Does Video: The iRiver U10 digital media player can handle video files as well as audio ones.
Ovideon's So-So Media Player: Device features an impressive OLED screen, but the unit is expensive and awkward to use.
We Test-Drive Sony's PSP: The portable gaming device is finally available, and looks to be worth the wait.
Plus: Ready for a pocket-size video player? In "The Big Picture on Small-Screen Players," we'll tell you what you need to know before you take your shows on the road. Or, take a look at some of the first portable media players.
Looks at Video-Capable Cellular Phones
Dialed In--Do You Watch TV on Your Cell Phone? Wireless carriers are delivering snippets of your favorite television shows, movie previews, news, sports, and more straight to your phone screen.
Let These Entertain You: New cell phones come outfitted for listening to music and watching TV on the go.
Plus: Looking for a more general-purpose cell phone? Check out "Pick the Perfect Cell Phone." Most cell phones today specialize--in handling e-mail, surfing the Web, taking sharp snapshots, or playing music. We tested 17 popular phones to find the best for every task.
Calling the Future: Cellular Networks Speed Upgrades
To truly take advantage of the new video services and live TV offerings that will soon be coming to your cell phone, you'll need faster networks. Here's a rundown of the improvements you can expect in the next few years.
The Rev. A update to 1xEvDO (Evolution Data Only, or Evolution Data Optimized) networks will increase download speeds to phones from standard 1xEvDO's theoretical maximum of 2.4 megabits per second to 3.1 mbps, and will raise upload speeds from 150 kilobits per second to 1.8 mbps.
HSDPA (High-Speed Downlink Packet Access) upgrades UMTS (Universal Mobile Telecommunications System) networks to a theoretical maximum of 10.8 mbps down and 384 kbps up; the first version of HSDPA, already available in some areas, offers maximum speeds of 1.8 mbps. Real-world speeds will be lower, but sending video from your phone to the Internet or to another phone will become less painful.
In the United States, Sprint and Verizon run their 3G (third-generation) networks with 1xEvDO. Sprint expects to roll out Rev. A during the first three quarters of 2007; Verizon has made Rev. A technology announcements, but hasn't announced rollout dates. Cingular has rolled out HSDPA in 16 markets and plans to add more throughout 2006. T-Mobile has been rolling out an HSDPA network in Europe this year, and is expected to launch one in the United States in 2007.
Jim Feeley