Sean Captain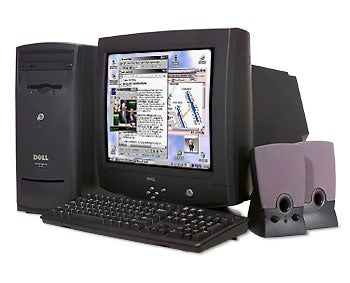 Dell Dimension 2100
The Dimension 2100, successor to the Dimension L series, brings design style to Dell's budget line of home PCs. All of the visible components--the case, monitor, keyboard, mouse, and speakers--have the slick midnight-gray color that Dell is rolling out for all new Dimension PCs. The system is also compact, with a minitower design that you can easily tuck away on or underneath a desk in cramped quarters. The 2100 also fits into cramped budgets: Our review unit was priced at $819.
Overall performance was disappointing. Equipped with a Celeron-900 processor and 128MB of SDRAM, the 2100 scored just 131 on PC WorldBench 2000. We haven't tested other Celeron-900 systems with Windows Millennium Edition, but we have tested Duron-800, Duron-850, and Duron-900 systems that scored about 10 points higher (about 8 percent higher) on average. In addition, one of the earlier Dell L-series models scored only one point lower with a Celeron-800 processor.The 17-inch Dell E771P monitor was also lackluster. Smaller letters did not appear sharp in our text screens. In our photograph test, we noticed washed-out colors and poor detail. And judging from our test system, this is not a machine for gaming: It posted some of the slowest frame rates among PCs we have recently evaluated, and its integrated Intel 810e graphics cannot handle a 32-bit color depth.
The new 2100 case includes several features to make access easier. Push a lever on the top of the PC, and half of the plastic shell pops off. Replacing it is also relatively easy, as long as you are careful to line up the plastic tabs that anchor the bottom of the shell. Dell makes working inside the cramped case a bit easier by providing a power supply that swings out and away from the motherboard, but a thick trunk of cables running from the power supply to the motherboard and drives still hinders access considerably.The hard drive, mounted vertically on a bracket, can be removed without tools, though snapping it into place is a bit tricky. You can also remove externally accessible drives by popping off the front bezel and squeezing two tabs to release them (installing such drives is just as simple). The system provides just one free, 3.5-inch, externally accessible bay. Two standard PCI slots and one RAM slot were also open in our configuration. This model's keyboard and sound system are of average quality. Typing is smooth and quiet, but the keys lack a tactile feedback and an obvious "click." Dell's old QuietKey keyboards, though less fashionable, were more responsive. The twin Harman/Kardon satellite speakers sounded mediocre when compared with the sound from other home PCs we have tested. On our test audio-CD tracks, the bass was weak and we noticed a slight hissing sound in the vocals. Setting up the Dimension 2100 was trouble-free. Its documentation includes a simple setup poster, a quick reference card for obtaining tech support, a setup guide, and an excellent system-specific manual with upgrade information, technical support details, and a very extensive troubleshooting section.
The Dimension 2100 is an inexpensive and attractive compact system that may suit first-time buyers or families seeking a second PC for light-duty computing.
Buying Information
Dell Dimension 2100
PC WorldBench 2000 score of 131, Celeron-900 CPU, 128MB of PC133 SDRAM, 128KB L2 cache, Windows Me, 20GB hard drive, 22X-48X CD-ROM drive, integrated Intel 810e graphics with UMA, 17-inch Dell E771P monitor, integrated sound, Harman/Kardon HK-195 speakers, V.90 modem, minitower case; Microsoft Works Suite 2001. Three-year parts warranty, one-year labor warranty; free unlimited 24-hour tech support.
$ 819
PC WorldBench 2000 score of 131, Celeron-900 CPU, 128MB of PC133 SDRAM, 128KB L2 cache, Windows Me, 20GB hard drive, 22X-48X CD-ROM drive, integrated Intel 810e graphics with UMA, 17-inch Dell E771P monitor, integrated sound, Harman/Kardon HK-195 speakers, V.90 modem, minitower case; Microsoft Works Suite 2001. Three-year parts warranty, one-year labor warranty; free unlimited 24-hour tech support.

http://www.dell.com
800/388-8542