Apple IPod: Coming to a PC Near You
The impressive IPod MP3 player will become even more appealing with the help of new third-party Windows software.
Seán Captain
Apple's sleek, white-and-silver IPod is not only the best-looking MP3 player we've seen, it's also the easiest to use--provided you own a Macintosh. But PC users take note: software to make it Windows-compatible is on the way.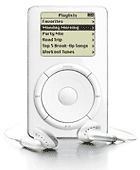 The IPod's 5GB hard drive lets you fit about a thousand 160-kbps MP3 files into a package no bigger than a deck of cards. The IPod also works as a portable Mac hard drive; with it, you can carry not just your whole music collection in a coat pocket but also most of your critical files, if you like.
Apple was far from the first company to think of using a hard drive for portable music storage. For instance, the Archos Jukebox, which came out earlier, offers even bigger hard drives--from a 6GB, $240 version to a 20GB, $307 model. But the $399 IPod outshines the Jukebox in all other measures: It's about 30 percent smaller, weighs half as much, and feels twice as easy to use.
The IPod's 2-inch LCD screen beautifully displays scads of information. When music is playing, you can easily read the song title, album, artist, duration, and volume information, plus the battery meter. And a brilliant set of controls lets you jump from viewing song information to tweaking the contrast or sleep-timer settings, or to turning on the LCD backlight, in an instant.
The secret to the IPod's design is its clever use of the oldest invention: the wheel. The IPod's main screen lists five key menus, including Playlists, Artists, and Songs. A thumbwheel lets you smoothly scroll up or down the list of items, and pressing the Select button in the center of the wheel advances you to the next level of menus. Pushing the Menu button above the wheel takes you back one level. Buttons to the left and right of the wheel let you jump back or ahead one song. With these simple controls, you can navigate through hundreds of songs in seconds.
And listening to any song, anywhere, is a joy: The IPod's unusually large 32MB buffer kept the music flowing no matter how hard I shook the device. While full-size headphones are still more comfortable, Apple's included earpieces feel better than most, and they sound great. Still, your ears will get sore if you listen long enough, and that's easy to do: Our informal tests backed up Apple's claim that the IPod runs for 10 hours on a charge.
You recharge the built-in battery--and load music--via an IEEE 1394 (FireWire) port, which is far faster than using the USB 1.1 interfaces on other MP3 players. In our tests, we were able to load 117 songs totaling 400MB in 1.5 minutes. The same transfer to an Archos Jukebox with a USB 1.1 interface took just over 10 minutes. To charge the battery when you're away from a computer, you can plug the FireWire cable into the included electrical outlet adapter.
The IPod is not without flaws, however. The moment you pick the unit up, the brilliant stainless-steel backing turns into a mess of fingerprints. A smudge-proof finish, such as brushed aluminum, would look much better.
But many potential customers may never even consider getting their fingers on the device, since they aren't Mac owners. The computer-based player software, ITunes 2.0, works only on the Mac. That's a shame, because it's as intuitively designed as the IPod is for organizing MP3 music, and it includes features such as an equalizer, CD ripping and burning utilities, and the ability to automatically update the IPod's music collection when the device is attached to the system. ITunes will not recognize (and the IPod can't play) songs in other compression formats such as Microsoft WMA or RealAudio, though Apple says it isn't ruling out adding this capability in future software and firmware upgrades.
While I'd consider spending $399 on the IPod, I wouldn't drop an additional $1000 on an iMac just so I could use it. However, the software vendor MediaFour is working on bringing the IPod to the Windows world. Known for its Mac-PC compatibility software MacDrive, MediaFour is now developing Windows-compatible IPod software, called XPlay. We tried alpha versions of XPlay on PCs (with IEEE 1394 cards installed) running Windows XP and 2000. With the software, the PCs recognized the IPod as an external drive under Windows Explorer, and they were able to transfer songs to it via Microsoft Windows Media Player.
The final version, which MediaFour is planning to release at the end of February, will allow Windows Media Player to perform the same key functions as ITunes, such as adding and deleting songs, creating playlists, and syncing the music collections between your IPod and your PC. According to MediaFour, XPlay will sell for under $40 and will work with PCs running Windows 98 SE, Me, 2000, and XP.
Buying Information

Apple IPod
4 stars (02-04-2002)

This is the best-looking, easiest to use MP3 player we've seen, but it's pricey, and third-party Windows support is still in the works.
Street: $399