Wireless Sound for Your MP3s
An inexpensive add-on lets you play music files on your PC through your home stereo--without wires.
Gordon Meyer, special to PCWorld.com
With the exploding popularity of the MP3 music file format, building a massive library of sound files is easy. But let's face it: Filling a room with sound from that library is difficult.
Turtle Beach, a popular purveyor of sound cards, has a cool solution in its $139 Sonic Link sender and receiver system, which can transmit sounds from your PC over radio frequencies to any standard audio receiver. With the included AudioStation 4 Digital Music & Media Control Center software and 2.4-GHz universal remote, you have the tools to navigate through MP3, WMA, or.wav file playlists, even if you're several rooms away from your computer.
To get started, you'll need a computer system with a Pentium-166; a 16X CD-ROM drive; 32MB of RAM; a 9-pin serial port; Windows 95, 98, 2000, or NT (some features are not supported in Windows 2000 and NT); a sound card; an SVGA display; Internet Explorer 4 or higher; and a stereo receiver.
Stereo Setup
We were able to set up the Sonic Link system fairly easily, though we had to pay attention to what parts got plugged in where. Testing Sonic Link with an IBM ThinkPad 390 notebook, we connected the audio sender module to the line out on the ThinkPad and hooked the RF remote transmitter--which is how Sonic Link's remote control communicates with a PC--to the notebook's 9-pin serial port. Then we hooked the separate audio receiver module to the auxiliary audio input of a Pioneer VSX-24TX A/V receiver.
One important note: Because the sender and receiver modules looked exactly the same and were not interchangeable, we had to keep looking at the modules' port labels to make sure they were connected to the correct components--sound out to audio in. Unfortunately we couldn't use the phono jacks because they distorted any signal other than that from a turntable.
When the hardware was properly connected, Sonic Link performed well, with audio sounding as good as if we had run a physical cable between the ThinkPad and the A/V receiver. You can connect the sender module to any computer with standard audio outputs, and you can connect the receiver module to any sound system with standard audio inputs, with the caveat that you can't use the included remote control with them. (The remote included with Sonic Link works only with the AudioStation software to toggle playlists, jump from one file to another within the playlists, and advance.)
Easy Listening
The AudioStation 4 software is the glue between the hardware components; it serves as a universal audio player with support for CD-audio playback and converting CD-audio tracks into MP3 files. But we would've liked to see a more comprehensive help file.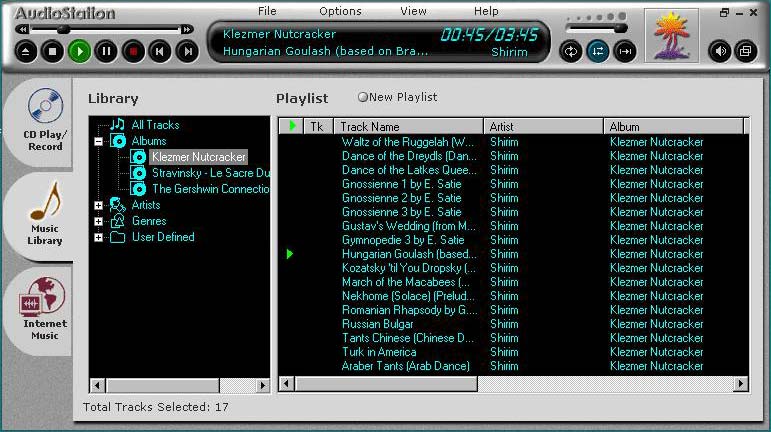 As many of the MP3 utilities on the market do, if you're online when an audio CD is being read the AudioStation software will access a database on the Internet--in this case one called CDDB--and download album information. We thought this was a cool feature, but privacy advocates may be a bit concerned about CDDB's insistence that users register with a valid e-mail address. It is possible to turn this feature off.
AudioStation 4 also lets you preprogram up to 20 playlists of audio files, so you can essentially create your own albums. Unfortunately this feature was buried in the Remote Control Options section; the software's online documentation wasn't as thorough as we would have liked. But once we found the instructions, we found the feature useful.
Now comes the really slick part: When you want to listen to your preprogrammed playlists, you simply press a button on the remote to automatically launch AudioStation on your computer and toggle between selected playlists. Like the remote of a CD player, the Sonic Link's included remote also gives you the ability to play, pause, and skip from one track to another within each playlist. The transmitter provides a 100-foot range, more than enough for you to keep the computer and stereo in just about any room you want in an average-size house or apartment.
Though the software documentation and interface leave something to be desired, the Sonic Link is a slick, easy-to-use enhancement to both your stereo system and your computer system. If you play a lot of MP3s, it's well worth the investment.