Outsourcing Your Payroll
Let someone else process your business payroll and relieve your tax headaches.
Richard Morochove
Richard Morochove is an IT consultant and writer. He can be reached via e-mail.
If I had to pick just one task where effective automation could help save time and money for a small business, it would be managing the payroll. The big problem usually isn't calculating the gross pay--determining all the deductions, including ever-changing taxes, is what can have you tearing your hair out.
Filling out government payroll-tax forms consumes precious time that is better devoted to other aspects of running a business. If you use an Excel spreadsheet to calculate the payroll details, you have better options that will also print the checks and complete the official forms.
If you decide to outsource the calculation of your business payroll, you have plenty of choices. How do you pick the best one for your circumstances?
Intuit, the maker of the popular QuickBooks small-business accounting program, offers a mind-boggling array of services at its QuickBooks Payroll site:
Standard Payroll handles the basics of pay calculations and check printing.
Enhanced Payroll Plus also helps businesses fill out federal and state tax forms.
Assisted Payroll Plus includes some outsourced services, such as tax payments.
Complete Payroll is a full-service package that includes some human resource management.
Online Payroll processes payroll for QuickBooks Online Edition customers.
Enhanced Payroll for Accountants is for those who process payroll for several businesses.
Direct Deposit, an optional add-on to most other Intuit payroll services, electronically transfers employees' pay directly from your business's bank account to theirs.
The most basic payroll services, such as Intuit's Standard Payroll add-on for QuickBooks users, ensure that you have the updated tax tables to properly calculate income tax and other statutory deductions when you print your paychecks. The Intuit service starts at $17 per month.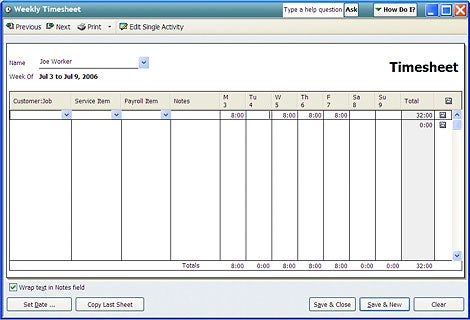 If you're currently using a spreadsheet for payroll, you'll appreciate how even this entry-level service simplifies the process: Just enter each employee's daily work hours on an easy-to-use, spreadsheet-like Weekly Timesheet, and the software calculates the total and uses it as the basis for determining gross pay.
At the other end of the scale, Intuit's Complete Payroll will print the paychecks and send them to you (via your delivery method of choice), remit payroll taxes to the government, and guide you through the procedures and paperwork for basic human resource functions such as employee hiring, leaves of absence, and termination. This service costs $100 per month and up. QuickBooks is not required, though use of it would save you even more time since you could then seamlessly import the payroll results into your accounting records. (You can also import the data into accounting packages that support QuickBooks formats.)
Another option for small businesses seeking to outsource payroll is PayCycle, which offers three different services starting at as little as $15 a month, suitable for firms with up to 50 employees.
Payroll giant ADP says that it processes the payrolls for nearly half a million clients in the United States, covering 24 million employees. But ADP also has services for small businesses.
With ADP, you can outsource even more payroll-related tasks than you can with Intuit, including functions that would typically be performed by a human resources department: administering pension plans, answering employee questions about insurance options, and creating employee policy manuals. ADP lets you choose the services you need from an online menu and then request a quotation on the costs.
As you would expect, the more payroll-related services you outsource, the more you must pay. Other factors that typically affect the costs of the service are the number of employees and the number of pay periods per year.
I recommend you get a good fix on the costs of payroll outsourcing options and then assess the value of the time you'll save in order to determine whether the services are worthwhile. Almost every business will find that getting help with pay calculations is desirable, but HR outsourcing may not always be cost-effective.