Moviemaking for One and All
Adobe Premiere 6.0 improves its tool set for experienced video editors, and is now more accessible for editing neophytes, too.
Jeff Sengstack, special to PCWorld.com
More than just a minor update, Adobe Premiere, the highly regarded video-editing application, improves its editing tools and techniques in version 6.0. This version of Premiere offers expanded plug-and-play capabilities with many IEEE 1394 (FireWire) products, and can easily port video projects to the Web.
While the $549 Premiere's solid features will satisfy professional video editors, its newfound intuitive ease of use will draw in newcomers willing to pay a premium for a high-end product.
Premiere 6.0 represents a marked leap over its predecessor, version 5.1--so much so that we strongly suggest current users make the $149 upgrade. (The $299 competitive upgrade price is good deal as well.)
No More Barriers
Typically, high-end editors like Premiere prove overly complicated to novice users who aren't familiar with the conventions of video editing. Premiere 6.0 elegantly solves this problem with its new, optional automated storyboard.
Moving from video capture to finished product can take minutes, not hours: Simply drag and drop video clips or images to the storyboard window, rearrange as needed, and select a default transition to be used between all of your scenes. You can render your video directly from the storyboard, or choose to automatically transfer your project to a timeline for additional fine-tuning, including adjusting the length of individual clips.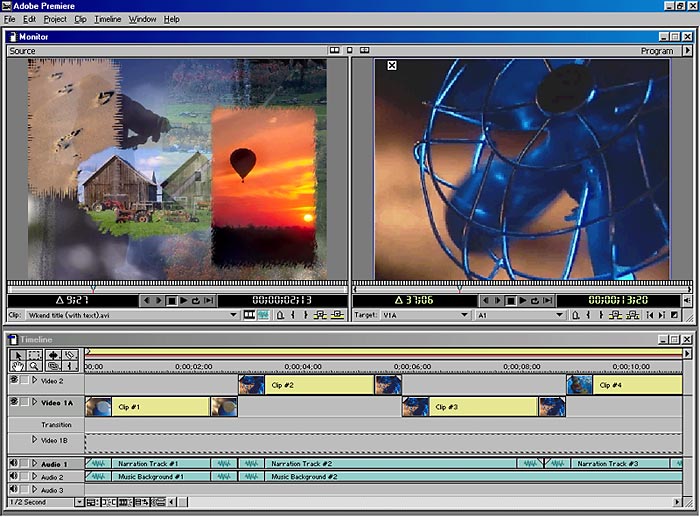 Perhaps the most valuable improvement is that Premiere 6 is now truly WYSIWYG--what you see is what you get. Although the minimum processor requirement for using Premiere is a 300-MHz Pentium II, if you have a faster processor--about 700 MHz or more--you can choose to have all of your edits, special effects, and audio fixes render on the fly (also known as "real-time") or while you drag or "scrub" your cursor through your project. Most video editors require you to manually render any such effects, usually a time-consuming and disruptive process. Of course, even in real time, slower processors may see some minor delays during more complex transitions.
Indispensable Pro Tools
Version 6.0 now supports OHCI, which means that Premiere no longer requires custom drivers in order to work with IEEE 1394 devices. The software now directly supports third-party video capture cards, and supplies its own drivers for controlling IEEE 1394 cameras (for more detail on the specific supported third-party video capture cards, see Adobe's Web site). Simply attach your DV camcorder or editing deck via an IEEE 1394 connection, and Premiere recognizes the device automatically. You can control connected devices from within Premiere, and display frame-specific controls and capture video in batch mode or by user-selected scenes. It also offers compatibility with analog devices such as Hi-8 camcorders.
Video professionals will particularly appreciate the new audio mixer, which fills a huge void in version 5.1. One clever feature lets you manually operate volume and balance controls during editing while Premiere captures your actions as you adjust the sound. If you need to make adjustments later, Premiere's "rubber band" audio tool lets you easily change volume levels on the timeline.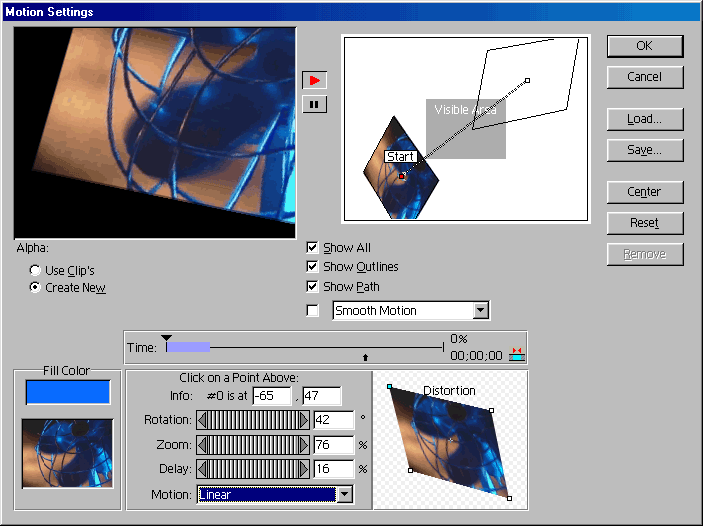 The program supplies several dozen special effects from one convenient window. To apply any of the effects, simply drag the desired effect into the timeline and position it between the elements. Your video can have motion as well as special effects; for example, you can change the shape and size of the video, give it animated motion so the video will move around a specified trajectory on the screen, and even have up to 99 different layers of video in a given project. Text creation--typically used for opening titles, scrolling credits, and interviewees' names--is very straightforward, and each piece of text is stored as a separate file for use in multiple projects.
Premiere 6.0 encourages experimentation, in part because missteps can easily be repaired. A new History tab (a feature found in other Adobe products) tracks up to 99 changes and readily lets you move backward and forward in your projects to let you try again. And managing the elements within a project is simplified thanks to the new project manager interface, which offers an organized and unified window for previewing images and audio and video clips associated with the project.
Once a project is completed, Premiere lets you optimize your edited video into a format that's playable on the Web, either as a streaming media file or as a download. Premiere supports QuickTime, RealMedia, or Windows Media Player, and can save files that are optimal for downloading at common bandwidth speeds. Premiere also supports other video formats like NTSC, PAL, AVI, MPEG-1 and 2 for DVD-ROM videos, and MP3 audio.
A nifty tool lets you place markers in your Web-based videos to have HTML data pop up around the video window during playback on your Web site. For instance, if you have a video about African jungle safaris, you can add a marker cue that automatically displays links and background information about a tour operator during the interview with the company's owner.
The features we covered here are just a few of the enhancements you'll find in this powerful upgrade. Advanced users will find Premiere 6.0 provides all the tools they'll need to make high-end, broadcast-quality videos. Inexperienced editors who want to learn more will find this version more accessible than ever before.