Top 20 Tips for Keeping Windows XP Fresh
Vista may be on the way, but XP hasn't outlived its usefulness. These tips will help you keep the older operating system vibrant.
Send your Windows-related questions and tips to scott_dunn@pcworld.com. We pay $50 for published items. Scott Dunn is a contributing editor for PC World.
Scott Dunn
Mon, 6 Nov 2006 09:00:00 UTC
Microsoft's new Windows Vista operating system is almost here, but do you really need it? If you don't yet feel the need to invest in a new OS, or if your hardware doesn't meet Vista standards, you'll find that a regular maintenance regimen--along with an occasional checkup--will keep XP rolling along for years to come. In fact, a few simple tweaks can tip the scales in favor of keeping XP around while early-adoption pioneers work the bugs out of Vista.
These 20 tips will keep your XP system lean and mean by tuning its performance, minimizing some of its bells and whistles, and tweaking the six-year-old OS to bring it up to speed with more recent applications, such as media playback and wireless networking.
Tip 1: Get Off the Upgrade Bandwagon
If you constantly upgrade to the latest powerhouse versions of your favorite applications without also upgrading your hardware and Windows version, your system will seem older and creakier than ever. Instead of listening to the siren call of endless upgrades, stick with application versions that you know work well with your system.
In the same vein, consider turning off the auto-update features that so many applications have these days (with the exception of your firewall, antivirus, and anti-spyware tools). An example is Adobe Reader, which seems to phone home faster than you can open a file; to block automatic updates in Adobe Reader 7, click Edit, Preferences, Updates and select Do not automatically check for critical updates. Why should developers decide when and how you update your apps? If you're experiencing a specific problem with a program, or if you need a particular new feature, surf over to the vendor's Web site and download the upgrade manually.
Individual products use different methods tomonitor for upgrades, so you'll have to check the documentation of each one. It also helps to have a tool like Startup Control Panel to help you remove software that runs in the background and constantly checks for updates (see Figure 1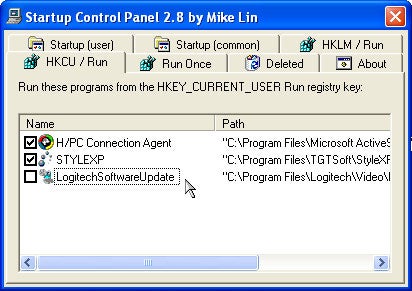 Figure 1: Stop endless updates by deactivating startup applets that constantly phone home.
). See December's
Answer Line
column, "
Common PC Problems Solved: The Ultimate FAQ
" for more on managing your auto-start apps.
Tip 2: Swap When You Need To
Windows designates a portion of hard-disk space as virtual memory (also called the "swapfile" or "pagefile") to supplement RAM. The OS assigns some virtual-memory space to all processes, and the virtual memory itself gets used even if some RAM is still available. Accessing a hard disk is always slower than using RAM, so if your system has oodles of memory, you may improve performance slightly by telling Windows not to use the pagefile for some of its own code until it has used up available RAM. How much memory is in an oodle? That depends on the number and types of applications you typically run on your system--but don't make this adjustment unless your PC has at least 1GB of RAM.
To make Windows use virtual memory only as a last resort, you have to edit the Windows Registry. And because anything can happen when you change your Registry, you must back it up first; see "Care and Feeding of the Windows Registry" for instructions. (Note that Microsoft recommends against eliminating your pagefile entirely.)
With your Registry backup in place, choose Start, Run, type regedit, and press <Enter>. In the tree pane on the left, navigate to and select HKEY_LOCAL_MACHINE\SYSTEM\CurrentControlSet\Control\Session Manager\Memory Management. Double-click the Disable, Paging,Executive icon in the right pane. Change the '0' in the Value data box to 1, click OK, and restart your computer.
For other ways to tweak virtual memory and get more out of your hardware, see Kirk Steers's performance advice in "Eight Fast, Simple Ways to Give Your PC More Pep."
Tip 3: Go With the NTFS Flow
If you've been hanging onto your old FAT32 hard-disk format, it's high time you switched to NTFS. Besides being faster and more secure, NTFS also gives you encryption, folder and disk compression, and other superior features. About the only reason to stick with FAT or FAT32 is if you need to be able to access your disk from DOS or Windows 98 (puh-leaze!)
Don't worry; you can switch to NTFS without reformatting your hard disk and restoring your apps and data from a backup. Just choose Start, Run, type cmd.exe, and press <Enter> to open a Command Prompt window. Now type convert followed by a space, the drive letter, a colon, another space, and finally /fs:ntfs. For example, enter convert c: /fs:ntfs if you want to convert your C: drive to NTFS.
Tip 4: Reset Your System Restore Priorities
System Restore has saved my bacon many times, so I reserve as much disk space as possible for its restore points. (Not everyone feels the way I do about System Restore, however, because it doesn't always work. Answer Line columnist Lincoln Spector discusses a System Restore alternative in his FAQ item "Why is My PC Acting Oddly?"
To adjust the amount of disk space System Restore claims, right-click My Computer in Explorer or on the desktop and choose Properties. Click the System Restore tab and select a drive whose storage settings you want to change. Choose Settings, drag the slider to the desired level, and click OK twice. Refer to my article "Windows Hacks: Registry Remedies"; for more on tweaking your System Restore settings.
Tip 5: Relocate System Stuff
Some files--System Restore points, for example--must be stored on your Windows drive. But if you have multiple hard disks or partitions, you can free up space on your Windows drive by moving other system files elsewhere. Check out my strategies for doing so in "Five Steps to a Leaner, Cleaner Windows."
Tip 6: Sacrifice Hibernation
When you use Windows' hibernation feature to start up faster, the OS puts everything in RAM in a single hidden file named 'hiberfil.sys' on your hard disk. The file is roughly the same size as your RAM--for example, 512MB for a machine with 512MB of RAM. Like System Restore points, your hibernation file must be on the same drive as Windows. If you're running out of space on your Windows drive and you don't use the hibernation feature (or don't find it terribly useful), you can save a huge chunk of disk space by turning the feature off, and thereby deleting the hiberfil.sys file: Choose Start, Run, type powercfg.cpl, and press <Enter>. Click the Hibernate tab, and uncheck Enable hibernation (see Figure 2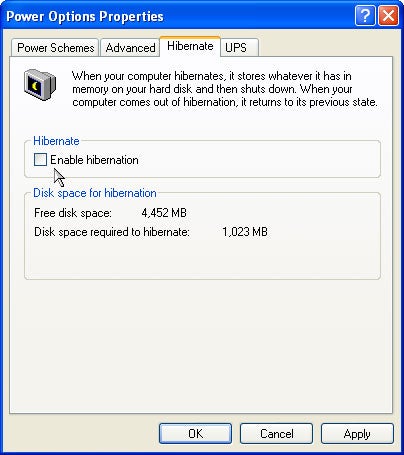 Figure 2: Don't hibernate much? Save tons of disk space by disabling this feature in the Power Options control panel.
). Click
OK
.
Tip 7: Eliminate Clutter
The easiest way to keep your disks free of clutter is by using Windows' Disk Cleanup tool to create custom cleaners. This utility lets you discard the junk you don't want while keeping your Internet cache intact for optimum browsing performance, among other options. For details, see "Superscrub Your Drive Automatically."
Tip 8: Clean Deeper
Unfortunately, the Disk Cleanup tool misses certain temp files. Here's a little batch file to complete the task: Open Notepad or your favorite text editor and type del /s /q C:\Documents and Settings\Username\Local Settings\Temp\*.*", replacing 'Username' with the name of the user account and adjusting the drive letter as needed. Save the file with a name like deltemp.bat (be sure to use the .bat extension) and store it with your other batch files (if you don't have other batch files, your Desktop or any other easy-to-access folder will do). Then add the file to your Startup folder (Start, All Programs, Startup) so that it deletes the files every time you log in to Windows.
Tip 9: Clean Up the Backup
Be sure to check out the Disk Cleanup tool's advanced options, available on the More Options tab. For example, click More Options, and under System Restore, choose Clean up to delete all but your most recent restore point (see Figure 3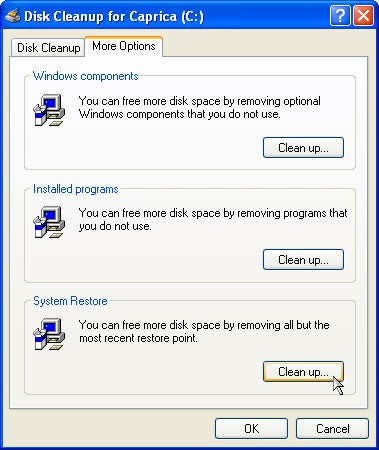 Figure 3: If your system is running okay, clear some disk space by having Windows delete old restore points.
).
Tip 10: Avoid Musical Duplicates
If after ripping CDs in the Windows Media Audio (WMA) format, you decide to go with a tool like iTunes to interface with your portable music player, be aware that importing songs into iTunes means converting them to the Advanced Audio Coding (AAC) format, resulting in duplicate music files that will hog your hard disk. To save space, stick to one music player, or at least to one format (such as MP3) that multiple players can handle. Windows Media Player 10 can rip music in MP3 format without any additional software. To select the format for ripping music from CDs to hard drives in Windows Media Player, choose Tools, Options and click the Rip Music tab. Choose your desired option from the Format drop-down list and click OK (see Figure 4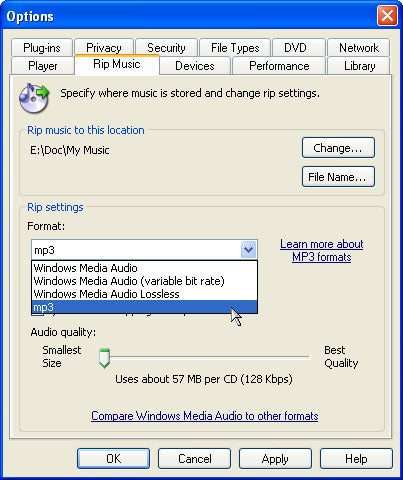 Figure 4: For a ripping good time that avoids creating duplicate files, choose a format that is compatible with all the players and audio tools you might use.
).
Tip 11: More Music-Management Magic
Many people who have learned the joys of using their PC as a jukebox soon discover that they have scads of music files downloaded from the Web or ripped from their massive CD collection. To get your PC's music collection under control, check out my article "Six Quick Tips Help Tame Oversize Files and Folders."
Tip 12: Make Your System Multimedia-Friendly
On the other hand, you may be struggling to get a handle on the photos you've transferred from your digital camera. If so, check out "A Better Way to Manage Sound and Image Files" for ways to improve Windows Explorer's photo-management capabilities. (The article includes tips on previewing music and video files, too.) For more on previewing image files in a jiffy, see "Windows' Hidden Image Viewer."
Tip 13: Store Pics Online
Running out of room on your hard disk? Of course you should keep your photos backed up at home and with family members, but for little or no money (depending on the service), you may also be able to store and access your photos online, where it's much easier to share them with Uncle Bert and Aunt Ernie. Major players to check out include Flickr, Yahoo Photos, and Google's Picasa Web Albums).
Tip 14: Become a Wireless Wonder
If you just got a wireless router (a router that broadcasts a wireless signal) and want to set up a wireless network, you can use the wizard in Windows XP Service Pack 2 to accomplish just that: Choose Start, Programs (or All Programs), Accessories, Communications, Wireless Network Setup Wizard. But if you already have a wireless network and are just adding a laptop or other new device to receive the signal, don't bother with the wizard. You'll probably have better luck using the software and instructions that came with your wireless hardware for the installation and for subsequent additions.
Tip 15: Fix Glitches
Nevertheless, Windows' built-in wireless tools can be helpful. For example, to see what wireless networks are available to you, look for the wireless-network icon in your system tray (the part of the taskbar near the clock). If you don't see the icon, choose Start, Programs (or All Programs), Accessories, Communications, Network Connections. (Alternatively, you can open this window by right-clicking My Network Places in any Explorer window and choosing Properties.) Select the icon for your wireless connection and, in the task pane on the left, click Change settings of this connection. Check the box for Show icon in notification area when connected and click OK.
Once you see the icon, it's a simple matter of right-clicking it and choosing View Available Wireless Networks. If this doesn't open the Wireless Network Connection window (see Figure 5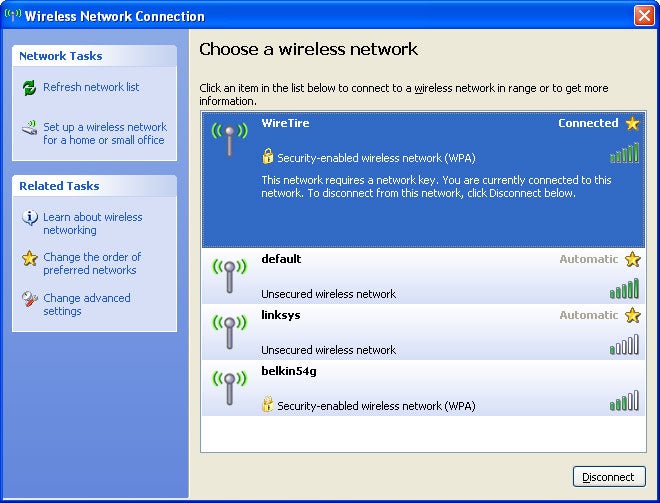 Figure 5: Pick a connection, any connection in XP's Wireless Network Connection window.
), the software for your network may be intercepting the command to display its own dialog box. If so, you can get to the Windows version by opening the Network Connections window (see steps above), selecting your connection, and clicking the
View available wireless connections
link in the task pane on the left.
If no networks are listed in the Wireless Network Connection window, or if you don't have a Wireless Networks tab in your wireless connections properties dialog box (right-click the connection icon in the Network Connections window and choose Properties to see whether you do), you may not have Windows' Wireless Zero Configuration service started. To fix that, choose Start, Run, type services.msc /s, and press <Enter>. Find Wireless Zero Configuration in the list of services and double-click it. Choose Automatic from the Startup type drop-down list, click Apply, choose the Start button, and click OK. Finally, return to the Wireless Network Connection window (if it isn't still open) and click Refresh network list in the task pane on the left.
Tip 16: Jump From Signal to Signal With the Greatest of Ease
You may spend part of your day using your notebook computer on your home wireless network, another part of the day using the wireless signal at your office, and yet another block of time linked to a signal from your favorite coffee shop or Internet cafe. Do you really want to open your wireless hardware's utility (or Windows' own dialog boxes, for that matter) to switch networks manually each time you change locations? I think not. Fortunately, you can set up XP's wireless settings to connect to your favorite networks automatically when they are available, and even set the priority order.
To do so, right-click your network tray icon and choose View available wireless networks as described above. If you're already connected to a network that you normally use, the word 'Connected' and a yellow star will appear to the right of its name. If you don't see any other networks that you want to use, you may need to take your laptop to the location where you'll get the other signal that you commonly use and then return to this window.
Once you see a network that you are not currently connected to--but would like to use regularly--double-click its name in the Wireless Connections dialog box to initiate a connection. Enter any passwords or network keys you need. Repeat these steps for all wireless networks that you use regularly. As you do this, the network entries will get marked as 'Automatic' in the list of available networks.
While still in the Wireless Network Connection window, click Change the order of preferred networks in the task pane on the left. Doing so will open the Wireless Network Connection Properties box. In the Preferred networks list in the middle of the dialog box, select your most frequently used network and click Move up--repeatedly, if necessary--to move it to the top of the list. Continue selecting networks and using the Move up or Move down button until the list reflects the priority order you desire (see Figure 6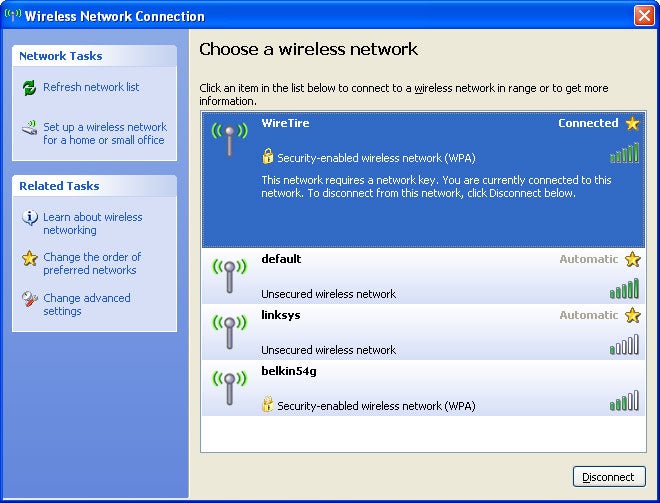 Figure 6: Tell Windows your wireless priorities, and let it do the rest as you roam through the Wi-Fi jungle.
). Click
OK
.
The next time you move your notebook to a new location, Windows will try to link to your preferred, or automatic, networks in the specified order until it finds a connection, without any fuss or bother on your part.
Tip 17: Boost Your Bandwidth
Wireless networks continue to run faster and faster, but that doesn't mean you're PC is connected at your network's top speed. If you'd like to give your wireless network some pep, read Glenn Fleishman's "Beating the Wireless Blues."
Tip 18: Emulate Vista
Modernizing Windows may mean adding a few low- or no-cost enhancements. If your hardware can handle some degree of upgrading but you don't want to risk a whole new OS, check out these free and nearly free options to get some of the glitz that Vista offers.
Tip 19: Check Directory Sizes at a Glance with Folder Size
When you view Windows Explorer in Details view, the Size column shows the space consumed by individual files but provides no information on the size of directories. Not to worry. Rather than find a different file managing tool, just download and install the free Folder Size utility, which adds this feature to Windows Explorer (see Figure 7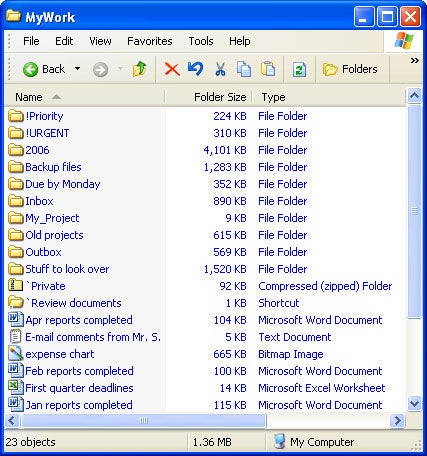 Figure 7: See the size of your folders at a glance in Windows Explorer with the free Folder Size utility.
). Once you've installed Folder Size, choose
View, Choose Columns
, and check the box for
Folder Size
. You may also want to uncheck the
Size
box, since this column is now superfluous. Click
OK
. The new Folder Size column will show the size of folders and of individual files. Calculating the size of large folders can take a while, which is probably why Microsoft never added the feature to begin with. Still, this approach is much better than having to open a Properties dialog box for each folder one at a time.
Tip 20: Master Maintenance
Ta-da! you've successfully re-engineered Windows XP to face the future. To keep it fresh, you need to get on a regular maintenance schedule. Fortunately, these days, you can set up your housekeeping chores to take care of themselves automatically. For detailed set-it-and-forget-it strategies, see my earlier columns "Check Your Disks for Errors, With a Single Click"--on automating disk scans--and "The Fast, Simple Way to Defragment Your Disks"--on disk defragging.